With thanks to Iain Richardson.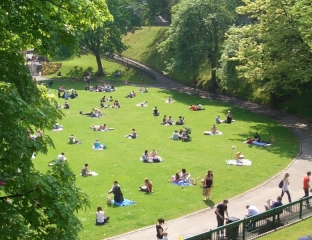 Campaign group " Common Good Aberdeen " will demonstrate at 10am outside tomorrow's special Council Meeting. Councillors will be voting on proposals to progress the City Garden Project.
Common Good Aberdeen campaigns for better stewardship of the Common Good Lands, of which Union Terrace Gardens are a prime example.
Common Good Land is owned by the community and should managed on their behalf by the Council.
The campaigners believe these proposals are flawed because:
 1. Union Terrace Gardens are Common Good Land. The Gardens are a highly valuable asset owned by the people of Aberdeen. It is wrong for the Council to vote these development proposals through, before the citizens of Aberdeen have had a chance to vote.
 2. A report costing £100000, paid for with taxpayers' money, has failed to demonstrate a business case for the City Garden Project. The "TIF Business Case" report was released to Councillors only last Friday. It lumps together a total of 10 development proposals. These include two large industrial zones in Dyce and Bridge of Don. The report forecasts job creation and economic gains for all 10 projects. There is absolutely no evidence for economic benefit arising solely from the City Garden Project.
Councillors should reject all proposals at the special meeting. They have been given misleading and unclear information about the supposed economic benefits of the City Garden Project.
The Council has no mandate to decide the fate of Union Terrace Gardens ahead of a public referendum. As no economic case has been provided for the City Garden Project, Councillors have no choice but to reject these proposals.
For more information, contact:
Iain Richardson, info@commongoodaberdeen.org, tel 07833 453961