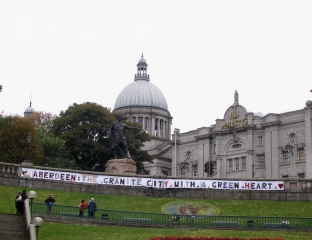 By
 Mike Shepherd.
The jury for the City Garden Project will announce the final scheme for the proposed development of Union Terrace Gardens sometime in January.  The choice will be between two designs, one with a web-based motif and the other with a big glass building in the middle which looks like a giant worm.
It is clear from both designs that most of the existing trees will be removed to build the new 'garden', whichever is built. 
New trees could of course be planted, but it would be decades before these grew to a comparable size, and this may not even be possible in those areas with a shallow concrete substrate. There will be claims that some of the smaller trees could be replanted, although the practicalities of this are obvious.
The big trees are particularly important as they absorb carbon and filter more pollution from the air compared to smaller trees. One study concluded that for this purpose:
"Big trees, the ones the Victorians planted for us, are what we need to maintain, but they are few and far between."
See: http://www.theecologist.org
This week saw the shocking news that people living in Scottish cities are being exposed to dangerously high levels of pollutants. A WWF Scotland report identified three pollution hotspots in Aberdeen; Union Street, Market Street, and Wellington Road. These show  levels that are in breach of EU targets intended to protect human health. The main problem is the high levels of nitrogen dioxide caused by traffic fumes.
See: http://www.pressandjournal.co.uk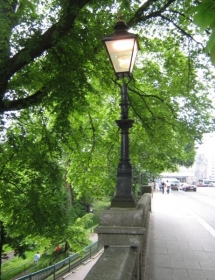 Aberdeen has a highly-polluted city centre. The solution to the problem would be to reduce the level of traffic in the city centre; pedestrianising Union Street has been suggested as an option.
It is also clear that we need to maintain the tree population of the city centre to help absorb the pollution. The key areas are Bon Accord Gardens, St. Nicholas churchyard and Union Terrace Gardens itself. Otherwise, Aberdeen city centre can hardly be described as awash with trees.
Yet, the proposed City Garden Project will remove a population of mature trees from the city centre. The problem is acknowledged in the Technical Feasibility Study for the project.
"Removal of mature trees and existing ecological habitat; 78 mature trees would be lost including 17 number mature Elm trees. The ecological value of these trees would take decades to replace as many of the trees are up to 200 years old."
The City Garden Project will itself be a major source of pollution while it is being built (for the duration of almost two and a half years according to the same study).
"Excavation of rock/earth; It is anticipated that 30,000m3 of earth and 35,000m3 of granite will need to be removed from site. This which will cause large environmental impacts from noise, dust, transport and energy use. The removal of this volume of material is equivalent to approximately 3,947 dump trucks of earth and 4,605 dump trucks or more of granite to be removed from site or re-used where possible on site. This would have large environmental and social impacts on the local area and community surrounding the gardens."
See:  http://www.acsef.co.uk
It is clear from this, that the ecological downside of building the City Garden Project is substantial. The construction phase will see a protracted period of dirt and pollution in the city centre. By contrast, it is no exaggeration to describe Union Terrace Gardens as the green, living heart of the Granite City; its big trees acting as a natural washing machine, helping to keep us healthy by removing noxious pollution.
Those living in Aberdeen City will receive a postal ballot in mid February allowing them to decide between retaining Union Terrace Gardens or sanctioning the construction of the City Garden Project.
I will vote to retain Union Terrace Gardens.