Another day at the Menie Estate, another breach of the approved planning permission occurs, and another retrospective planning application appears:  it certainly seems like business as usual. However, this latest application is a step too far for residents.
Suzanne Kelly provides background, and tells you how to object to the application and thereby help the residents of Leyton Cottage get their sunlight back.
Trump came, saw and continues to conquer both nature and our planning laws. What was meant to be temporary 'stockpiling of earth' has turned into a nightmare for Susan Munro and her family at Leyton Cottage.
Currently, there is an application and an accompanying report (written by environmental consultants working for Trump, Ironside Farrar) which would see giant bunds made permanent between Leyton Cottage and the rest of the estate to the detriment of those who live there.
Susan Munro has this to say about the bunds:-
"The bunds caused  drainage problems with water unable to get away due to the car park [formerly a green space, now tarmac] and washed our road away for weeks – we were unable to get home.  The large bund is blocking light from the house and also our views."
Dirt blows into the house, into car engines; dirt and sand have killed many garden plants. The law as it stands doesn't care about the views – but surely it must care about blocking light and property damage?
Anyone opposed to this proposal to keep and enlarge the bunds is advised to lodge their objections to Aberdeenshire Council's Planning offices before 6 October.
Objecting is straightforward and can go a long way to helping one of the many long-suffering families. Again, people are literally living in Trump's shadow, and this giant wall of earth serves to immure a cottage and its residents.
The application can be found here:  http://www.aberdeenshire.gov.uk/planning/apps/detail.asp?ref_no=APP/2013/2469
Here is where to lodge your objection: – http://www.aberdeenshire.gov.uk/planning/apps/comment.asp?ref_no=APP/2013/2469&sector=F
-and here is why you may wish to do so.
In an audacious, unannounced, callous move which was captured by Anthony Baxter in documentary You've Been Trumped, a huge mound of sand and earth was bulldozed into place between Leyton Cottage and its view of the land and sea back in 2010. No warning was given. At one point the assurance was given that these bunds were just part of construction and were temporary.
In fact Sarah Malone Trump VP, wife of supportive local newspaper editor Damian Bates said at the time:-
"With regard to the stockpiling of soil … this is a necessary part of the golf course construction process, for which we have full planning permission…  No-one is being intimidated – we are merely getting on with the business of building. The landowners in the vicinity know that they are now living in the middle of a very large construction site and work will only increase over the coming years." http://www.scotsman.com/news/donald-trump-s-star-greenkeeper-sacked-over-wall-of-earth-1-833456
Perhaps Ms Malone should attend the hearing and explain the construction process and the engineering requirement for the bunds.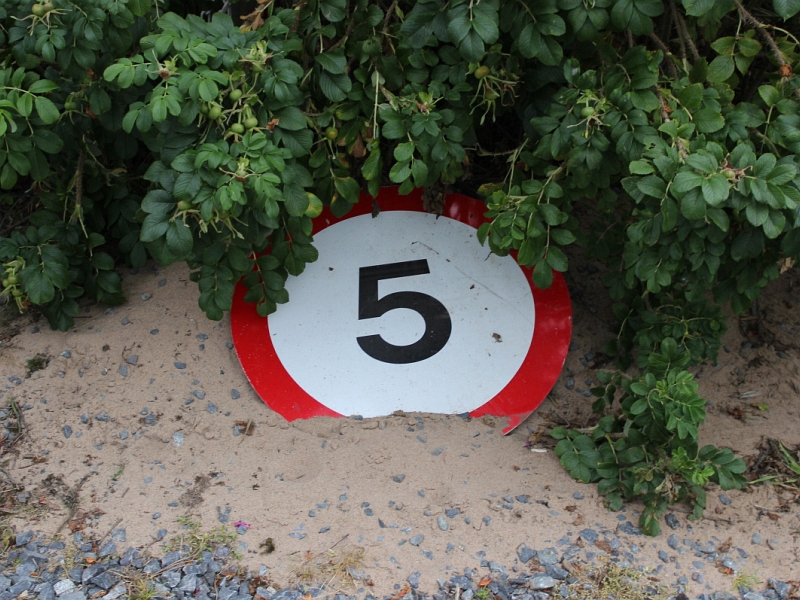 This 'stockpiling of soil' ruined car engines at the Munro property, killed many of their garden plants, damaged their home – all from soil and sand blowing from the mound into their property from the bund.
They have not been able to view the sea from their home since.
A wooden bench on their land sits empty; it is on a hillside, and they used to sit up there and look out to sea.  Now they look out on a mound of earth covered with dying pines on top of it.
Perhaps Ms Malone – a woman who admits she has zero experience of building golf courses or housing complexes – believes this mound was business as usual, and was an approved, temporary measure. It's still there, landscaped on the side viewed by the golf club visitors, covered with weeds and dying trees on the Munro side.
While there is some grass slightly lessening the effect of the blowing earth and sand, this constant stream of windblown dirt can be seen on a sign outside the cottage.
Ironside Farrar have not answered any emails from Aberdeen Voice, nor has its professional body, the Royal Institute of Town Planners. The RITP's website boasts of the professional calibre of its members. Despite Ironside Farrar writing in its report to the Council the bunds have been lowered, the largest one is still there, unaltered, and the bunds do not appear to have been part of the approved original plan.
There has been some lowering of a short, tiny bund between the parking lot and the Munro house.
Trump said he didn't want to see the houses – so he basically walled the people in, or so it seems.  Now he's fighting to keep the bunds, submitting the Ironside report with his application concerning parking. If this nodded through, it will be a dark day for more than just the Munro family; it will mean seeking retrospective planning permission is an acceptable way to build.
I have been dealing with Susan Munro for some years now, I have seen the bunds and the damage they have done, the bunds have been a topic of conversation at every meeting we've had:  the family want the bunds gone.
Photos of Susan by her kitchen window looking out at the bund where sun and sea used to be seen, are both iconic and symbolic of how Trump treats his neighbours – with contempt.  Can you imagine looking out of your home one day at sea, sky, wildlife and sunlight – and the next day looking at nothing but a mound of earth?
This bund must not be allowed to stay. There is some possibility that this action breaches her human rights – it certainly looks to any feeling person like a gross act of bullying and intimidation.
The Report
The report by Ironside Farrar is at best illogical; at worst it seems to be misleading.  The report can be found here:  http://www.ukplanning.com/aberdeenshire/doc/Other-9855674.pdf extension=.pdf&id=9855674&location=VOLUME7&contentType=application%2Fpdf&pageCount=5
While Ironside Farrar start off their report by acknowledging  the conditions which were put on Trump for his non-spec parking lot, they have decided that the best thing to do is to ignore this rather clear directive, decide that they know what it really means, and then things get even less logical from there.  They start off:-

Of course, no reinvention or reinterpretation of the condition was required.  They did so anyway with their design proposal:-

When it comes to audacity, the report has no equal:
"This will in turn protect the residential amenity of the owner/occupier of the property."  is their astonishing and easily disproved claim.
In an ideal world, planners, councillors and objectors would complain about this unsupported and illogical conclusion appearing in the report. In summary, rather than sticking to the instruction to take the bund down, the environmental consultants working for Trump decided a bund is somehow needed, and they have the nerve to suggest it is Susan Munro's amenity they are being considerate of.
The consultants talk of using native species on the bunds which they propose to be made even larger. Clearly their concern for Susan Munro doesn't extend to the drop in her property value these bunds so blatantly would mean.   They seem to be aware that the existing bunds are very steep (not great for tree root systems) and mostly composed of sand (perhaps why the doomed pine trees keep dying).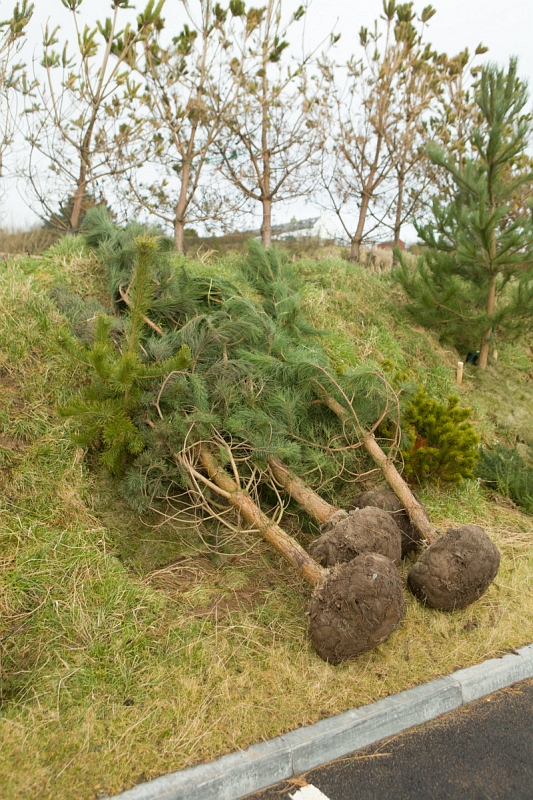 These trees by the way are perpetually planted in the sandy bund, watered by clumsy, unattractive plastic pipe systems, and inevitably die and get replaced.
It is wasteful and disrespectful to the environment that these trees are used in such a manner, but surely the report writers can't stretch the truth so far as to say removing the trees constitutes reducing the bunds in height, can they?
Not that there is any sign of the trees actually coming down, until they finally turn brown and are dragged away to one of the rubbish tips on the estate.   The report closes with drawings showing massively high bunds, mature trees – but with no trace of the cottage on the plan; this is quite an oversight.
If you didn't know precisely where the cottage was, these drawings are of little use.
They do however give you an idea of a massive wall of earth, a Great Wall of Menie, which will cut the Munros off from light even more so than the present bunds do, leaving the cottage in a claustrophobic cell: and these environmentalists, Ironside Farrar, have the gall to say it is for the Munro's benefit.
It is hard to think that the planning authorities can possibly grant permission for the bunds to stay, or that any councillor, sworn to uphold the rights and needs of their constituents, would allow a neighbour to build a great wall of earth on a property boundary.
What they decide to do will speak volumes, and it will be widely reported.  Again, objections are due before 6 October; your help is needed.
Comments enabled – see comments box below. Note, all comments will be moderated.