By Duncan Harley.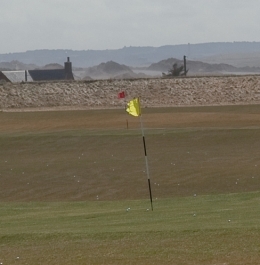 When Donald Trump bought the Menie Estate just outside Aberdeen, he may have thought he could ride roughshod over the people of Scotland and to a great extent it appears that he has so far succeeded.
Depending of course on your viewpoint, an SSSI has been converted into a luxury golf course leaving only a coastal strip of sand dunes as testament to the habitat which had existed on the Aberdeen coastline for thousands of years.
Environmentalist's arguments seemed to have proved useless against the promise of wealth and jobs in the oil capital of Europe where unemployment runs at only about 2% but where those who make decisions about these things look to a future when "the oil will run out".
Mr Trump is now challenging Scotland's renewable energy policy vowing to bring a lawsuit to halt a 230 million pound ($349 million) wind farm development, consisting of 11 wind turbines, planned off the coast near Aberdeen in Scotland.
The output from the offshore scheme is estimated at up to 100MW and over twelve months would be capable of yielding, on average, enough clean, green electricity to power the equivalent of over 68,000 UK households according to Aberdeen Offshore Wind Farm Ltd (AOWFL) – a joint venture between Swedish Energy Company Vattenfall and Aberdeen Renewable Energy Group (AREG), a consortium of local business and university groups.
The National Record Office for Scotland estimated the number of households in the city in 2011 to be 103,843 which makes this groundbreaking scheme an attractive proposition to those who see offshore wind energy as a way forward.
Fergus Ewing, the Scottish energy minister on announcing the go ahead for the scheme told journalists that:
 "Offshore renewables represent a huge opportunity for Scotland, an opportunity to build up new industries and to deliver on our ambitious renewable energy and carbon reduction targets. The proposed European offshore wind deployment centre will give the industry the ability to test and demonstrate new technologies in order to accelerate its growth. [It] secures Aberdeen's place as the energy capital of Europe."
In response to the announcement of the go ahead by the Scottish Government Donald Trump, head of Trump International Golf Club Scotland Ltd, said:
"We will spend whatever monies are necessary to see to it that these huge and unsightly industrial wind turbines are never constructed,"
The rhetoric seems familiar somehow. Prior to his appearance in front of the Scottish Government Economy Energy and Tourism Committee in 2012 he was quoted as saying that there was not a shred of evidence that turbines benefit the environment. During a press conference following this hearing he told journalists that:
"If Alex Salmond was smart, he would stop right now because what he's doing to Scotland is terrible. This is the same thing as al-Megrahi, when they let him out of prison because he would die in two weeks. And guess what, he was running around the park last week"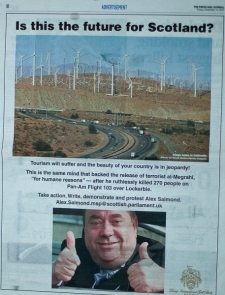 Many Scots were however bemused when in December 2012 a full page advertisement appeared in some regional newspapers featuring an image of a Californian wind farm next to a US freeway and a photo of First Minister Alex Salmond, the suggestion being  that these were in some way linked.
The full page advert, dated 14th December 2012, also appeared to link the Lockerbie terrorist bombing with the Scottish Governments policy on renewable energy and asked "Is this the future for Scotland?" Readers were urged to "Take action. Write, demonstrate and protest Alex Salmond".
Some suspected left wing anti capitalist rhetoric and others wondered if April 1st had come early.
However on close inspection, tucked away in the corner of the page was an indication that the advert had been placed by a local golf course. Trump International Golf Links Scotland no less!
The full text of the advert reads:
Is this the future for Scotland?
Tourism will suffer and the beauty of your country is in jeopardy!
This is the same mind that backed the release of terrorist al-Megrahi
"for humane reasons" — after he ruthlessly killed 270 people on Pan-Am 103 over Lockerbie.
"Take action. Write, demonstrate and protest Alex Salmond"
Alex.Salmond.msp@scottish.parliament.uk
For many the Lockerbie link was particularly offensive. Not only was the claim that 270 people were killed on Pan-Am 103 over Lockerbie inaccurate, the correct figure is 259 plus the eleven residents of Lockerbie who were killed on the ground, but the use of the tragedy to bolster an argument against renewable energy seemed frankly quite wrong particularly since the anniversary of the 1988 bombing falls on 21st December just a week after the adverts publication.
Scottish Green MSP Patrick Harvie was quick to label the Trump comments as sick saying:
"Trump has sunk to a new low"
and
"Trump's organisation has already trashed a unique environment on the coast of Aberdeenshire and trampled on the rights of local people, now he appears to be determined to buy up chunks of the Scottish press."
Dr Jim Swire, whose daughter Flora died in the 1988 bombing, said the murders had "no place in a confrontation between an entrepreneur who is interested in making money in Scotland and the government".
This was not the first time the Trump organisation had attracted criticism following the placing of adverts in the Scottish press.
Complaints about a previous advert had been upheld by the Advertising Standards Authority (ASA) with Trump being warned "not to exaggerate the number of turbines likely to be installed or the possible consequences of the Scottish Governments plans to use wind turbines".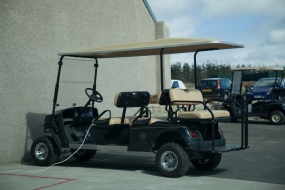 This followed a regional press advert dated 19
th
September 2012 for Communities Against Turbines Scotland, and was headed
"Welcome to Scotland!"
above a photograph of broken and rusty wind turbines with text stating,
"Alex Salmond wants to build 8,750 of these monstrosities – just think about it! Join us in Edinburgh for a march and a rally."
Inevitably the ASA were again faced with complaints, 21 in all, about the new advertisement.
The grounds for complaint centred around three topics.
 That tourism will suffer and the beauty of your country is in jeopardy.
 The image of turbines overlooking an American freeway was misleading.
 The references to al-Megrahi and the Lockerbie bombing were inappropriate and likely to cause offence.
On point one, despite Trump International's argument that they had secured clearance from the Committee of Advertising Practice (CAP) for the advert, the ASA found that the complaint was upheld since the statement that tourism would suffer could not be substantiated. The statement in the advert breached the rules on grounds of misleading advertising and substantiation.
On point two, the ASA considered that the image alongside the claim "tourism will suffer and the beauty of your country is in jeopardy" implied that the wind turbines overlooking an American freeway was representative of a proposed wind farm in Scotland.
In the absence of evidence that this was the case, they upheld the complaint and concluded that it was misleading. The image breached the rules on grounds of misleading advertising and substantiation.
On point three, the ASA considered that the claim "This is the same mind that backed the release of terrorist al-Megrahi "for humane reasons" — after he ruthlessly killed 270 people on Pan-Am 103 over Lockerbie." drew attention to the Lockerbie bombing in order to comment on Alex Salmond's policies on renewable energies.
However they considered that readers were likely to find this distasteful rather than offensive and judged that the claim did not breach the advertising standards code.
In conclusion, the Advertising Standards Authority state:
"The ad must not appear again in its current form. We told Trump International Golf Club Scotland Ltd not to make claims unless they could be substantiated with robust evidence and not to use misleading imagery."
A victory for truth and democracy? Perhaps we shall have to wait and see.
As a footnote, it is noteworthy that the Aberdeen Press and Journal, one of the two Scottish newspapers to publish the Trump advert, carried a follow up news item the day after entitled "Trumps turbines link to Lockerbie 'sick'", and quoting the Trump Organisation ex -vice president George Sorial as saying that he had "wanted the content" of the advert "to be much stronger because Scotland is facing an economic and environmental meltdown if wind turbines are not stopped".
Don Quixote would have been hard put to make sense of it all. Perhaps, however, time is running out for Trump.
Sources
Offshore Turbines Aberdeen Bay: http://www.vattenfall.co.uk/en/aberdeen-bay.htm
Lockerbie Bomb: http://lockerbiecase.blogspot.co.uk/2012/12/jim-swire-criticises-donald-trump-over.html
The Trump on Wikipedia: http://en.wikipedia.org/wiki/Donald_Trump
Scottish Parliament Trump Submission: http://www.bbc.co.uk/news/uk-scotland-scotland-politics-17837110
and: http://www.guardian.co.uk/world/2012/apr/25/donald-trump-appearance-scottish-parliament
Advertising Standards Authority: http://www.asa.org.uk/Rulings/Adjudications/2012/9/The-Trump-Organization-LLC/SHP_ADJ_195478.aspx
Comments enabled – see comments box below. Note, all comments will be moderated.