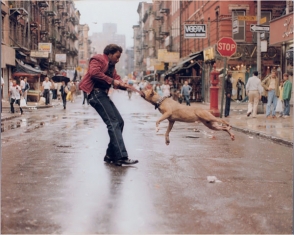 Lets talk about …..Dogging.
Dave Watt
writes.
Dogging is a predominantly British activity that involves outdoor exhibitionism in car-parks, wooded areas and the like.
The term dogging originated in the early Seventies to describe men who spied on couples having sex outdoors. These men would 'dog' the couples' every move in an effort to watch them.
When uninhibited couples discovered that open-air sex has its own special thrill they began meeting in car-parks, and the doggers found a new and rich supply of voyeuristic fun.
Moreover, the doggers soon realised that couples were actively encouraging them to watch, even performing for them, and sometimes allowing them to join in.
Is Dogging legal?
Currently in the UK dogging is mentioned in the sexual offences act under Section 66 – Exposure and Section 67 – Voyeurism.
Section 66 of the law specifically states that if doggers intend to cause alarm or distress to members of the public then they are breaking the law and face consequences. In other words, it is not illegal to have sex outdoors but you can get in trouble if an innocent passerby spots you and is offended.
So, if you've got a spotty bum let's get Mr Clearasil to work and give those cheeks a good airing.
Dogging Requirements – A car. No matter how well developed your calf muscles, turning up on a bike is a real 'no-no'.
To attract the attention of fellow doggers: flash either headlights or interior car lights.
Participation etiquette :
Interior car light on – invitation for any nearby doggers to watch.
Car windows open – invitation for any nearby doggers to touch, grope or feel.
Car door open – invitation for any nearby doggers to participate in sex act.
Bent naked over bonnet of your car – basically an open invite to all comers although a certain amount of decorum in the shape of an orderly queue should be maintained. Play nice, people.
Why dog at all?
Although obviously the protagonists main motivation is sex many doggers cite such other benefits as getting out in the fresh air and meeting lots of new people.
Dogging in Aberdeen
The Counteswells Car-Park opposite the EquestrianSchool has a thriving evening turnover with Friday and Saturday nights apparently best for the serious dogger. Daytime action tends to be most common at Parkhill Picnic Area at the Bridge of Don although there are other areas around the city – down beside the river near Baker Hughes in Stoneywood and the road at the end of Leggart Terrace towards Banchory Devenick being two other favoured locations.
Top Dogs in the UK
A survey recently showed that the top areas for dogging in the UK are Essex (where their desire to embrace Nigel Farage is surpassed only by their desire to embrace each other naked in secluded car parks) Kent and London with our own Strathclyde and Lothian, sadly, in the bottom ten. Hang your heads in shame, as they say, Strathclyde and Lothian.
A Window of Opportunity
However, with the failure of Southern Scotland in the dogging stakes is this not a golden opportunity for the Granite City to seize the moment by becoming Scotland's Dog City? After the disappointment of Aberdeen not getting the UK's City of Culture by apparently not sticking two million tons of concrete on top of a city park let us not be dismayed.
Let us instead look upward and onward and above all, innovatively. Since Union Terrace Gardens aren't going to be home to a conglomeration of chain stores that will bring in more tourists every year than the Grand Canyon how can we best utilise it in its present format?
Simples. Let's turn UTG into Britain's first custom made Dogging Centre.
Commercially, this could be a goldmine for the city
Obviously a certain amount of work will need to be done, planting bowers and creating dogging bays around the perimeter of the Gardens and of course, some sort of one way system will have to be introduced for traffic control.
Other innovations could include the discreet lighting of trees lit from below as per the Tivoli gardens in Copenhagen which would add much to the nocturnal dogging scene and, for those inclement winter months, some outdoor heaters for the fair weather dogger.
Commercially, this could be a goldmine for the city with an entry dogging fee and fast food licences to be sold to prospective outlets. Obviously, after an evening of trouser antics out in the fresh air Mr & Ms Dogger (or Mr & Mr Dogger for that matter) are going to be dying for a fag and a good feed.
Perhaps Ann Summers might want to open a stall for those 'last minute things' that one of the protagonists has forgotten to pack. Attendants could also roam the Gardens selling KY Jelly, Viagra and 'interesting' condoms.
For those doggers who wish to 'show what they've got' there could be the establishment of an entry fee spectators gallery overlooking the main action spots and for those doggers who want a record of the event we could initiate the sale of discreetly packaged DVDs.
Another nice earner could be the sale of souvenir t-shirts. with such 'witty' messages as 'My Mum and Dad spent four hours dogging in Union Terrace Gardens and all they brought me back was this lousy t-shirt and some penicillin.'
Enterprising garages could tender for a combined MOT and Service While You Dog offer. The commercial possibilities are endless. This is not the time for shilly-shallying – we must seize the moment to put Aberdeen on the Dogging Map.
Over to you, Comrade Barney.