Aberdeen Voice received an advance copy of Adam Ardrey's book, 'Finding Merlin The Truth Behind The Legend'.  Suzanne Kelly read the work and found not a sword-in-the-stone work of sorcery, but a well-constructed case for Merlin's being a historical figure – from Strathclyde. Suzanne explains.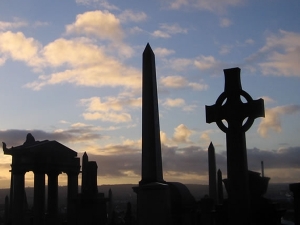 'Merlin' is a very compelling work which attempts to unravel the famed tale of Merlin and Arthur.
Virtually every corner of the UK lays claim to being the true home of the actual historical figures which were morphed by time and embellishing writers into the heroic figure of Arthur and the magical figure of Merlin.
The emergent Catholic church played a significant role in what was and what was not recorded of the Sixth Century world of Merlin. If you are looking for a tale of Camelot or a mystical account of the age and its people, you will be disappointed.
If on the other hand you have some curiosity as to what forces shaped the era, who were the key players and what motivated them, and if you are receptive to new theories as to whom Merlin may have been, then you've found a great resource in this book.
The author has a legal background, and has the ability to conduct research on a wide range of subjects. Ardrey offers impressive, thought-provoking, logical theories and clearly explains the rationale behind his well-constructed conclusions.
He notes that spellings varied greatly and were largely phonetic; he examines literature and fiction from several centuries, and offers insights into what truths may be hidden behind allegory and myth. He takes fantastic tales of fantasy, strips away the clearly impossible elements and seeks grains of truth using wholly reasonable deductive logic. There are coincidences in his family name, Ardrey, and some of the areas he comes to research which make the work all the more personal and intriguing.
If as the author suspects Merlin and his sister Langoureth were born in Strathclyde, then he has also found many jigsaw puzzle pieces to support the claim. Explanations of the term 'Pendragon' are offered, suggesting that this was a title and not an individual's name. The influence of St Mungo and his evangelical, ambitious promotion of the young Christian church come into direct conflict with the older way of life championed by Merlin. All this religious conflict was set in the age of constant warfare between the British people and the Angles.
If the author is correct then Merlin had a formidable sister in Langoureth, queen of Rhydderch; she was well-educated and powerful, and likely used great diplomacy to balance Mungo and the new church with Merlin and the old ways.
It would be unfortunate if the author is correct and a burial site which may have been Merlin's was opened nearly 200 years ago and its contents are now lost. But I found myself buying into many of Ardrey's theories, and unfortunately I think he may be correct on this point as well.
For me 'Merlin' was an absorbing, thought-provoking read; one I can happily recommend.
More Info –  Finding Merlin The Truth Behind The Legend
Buy 'Merlin' at Amazon – www.amazon.co.uk/Finding-Merlin
Image credit:  http://finding-merlin.com/