Hundreds of  homeowners could be in for a nasty shock.  Transport Scotland has taken title on lands needed for the AWPR.  Like or loathe the idea of the new road, it is coming.  If you are affected by its progress, you cannot afford to sit by and do nothing.  Suzanne Kelly reports.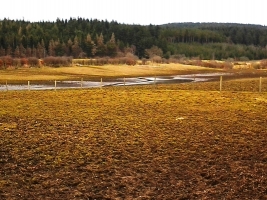 As reported in the Press & Journal, a staggering number of land/property owners have failed to take action to ensure they get compensation.
Do you live in the path of the Aberdeen Western Peripheral Route (AWPR)?  Did you receive any correspondence from government or Transport Scotland?
If this applies to you, and you have not taken any action yet, you are urged to seek legal advice and/or contact the Citizens Advice Bureau.
According to the Press & Journal article of April 5, Larry Irwin of Strutt & Parker said:-
"… less than 50% [of land owners] have so far submitted their claims for advance compensation under the 90-day notice form.  Affected owners can claim 90% of the provisional value calculated by the district valuations office.  It is important to note that this does not prejudice any further claim negotiations.
"Now that Transport Scotland has title to the land in question, previous owners re at a disadvantage if they do not claim as they no longer own the land or have any rights over it.  They will not receive any compensation unless they submit their 90-day notice form."
Those affected who are unsure what course of action to follow first might do well to get in touch with either a legal adviser or their local Citizens Advice Bureau .
A CAB spokesperson said:-
"Aberdeen Citizens Advice Bureau is funded to provide free, independent, confidential and impartial advice to the citizens of The City of Aberdeen and its environs. The city boundary at that point is from the River Dee in the South and Easter Ord in the North.
"We will not advise on class actions but individuals are welcome to come to our offices at 41 Union Street where they will be helped by a trained advisor."
Advice can be found online at:    www.adviceguide.org.uk/scotland   .  Additionally, there are three CAB offices serving areas potentially affected by the compulsory purchases which are being used for land in the path of the AWPR.
Aberdeen Citizens Advice Bureau,
41 Union Street, Aberdeen, AB11 5BN
Advice Line 01224 210510
Kincardine & Mearns CAB, 9 Cameron Street, Stonehaven.
Westhill & District CAB, First Floor, Westhill Shopping Centre, Old Skene Rd, Westhill
Appointments should be booked in advance.
A CAB representative said:-
"…the CAB network is organised along Local Authority lines.  Every CAB is separate and is funded by its Local Authority, and so can only help people who live in that Council area. So, the Aberdeen CAB – which is based in the city centre – serves anyone who lives within the Aberdeen City area.
"But those who live just over the boundary in Aberdeenshire would have to go to one of the CABs that is funded by that Council (there are a few of these: one in Stonehaven, one in Westhill, and 2 others further north). Obviously, all CABs work together, and the service you get is the same wherever you go, but it's important that people know to go to the right one."
Comments enabled – see comments box below. Note, all comments will be moderated.