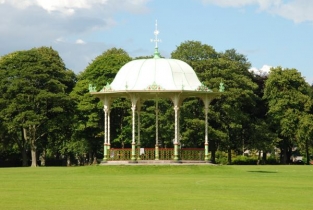 With thanks to
Dave Macdermid
One of the objectives of the ongoing DuthiePark restoration project is to create, in conjunction with the Park Ranger Service, a natural wildlife area with frogs, ducks and swans which, it is hoped, will attract a variety of new visitors to the park can also be utilised for school projects.
To assist in this becoming a reality, the Friends of Duthie Park and Aberdeen Greenspace have organised for the Middle Lake to be planted with natural Scottish wildlife plants this Sunday, 17th March and are seeking volunteers to help with this exercise.
Duthie Park Outreach & Training Officer Arthur Gill commented:
"Members of the public are invited to join us on Sunday for what will be a different type of planting than that we normally tackle.  
"It will be muddy so wellington boots are a necessity."
Anyone interested in assisting should come to the Middle Lake at noon this Sunday.  All ages are welcome!