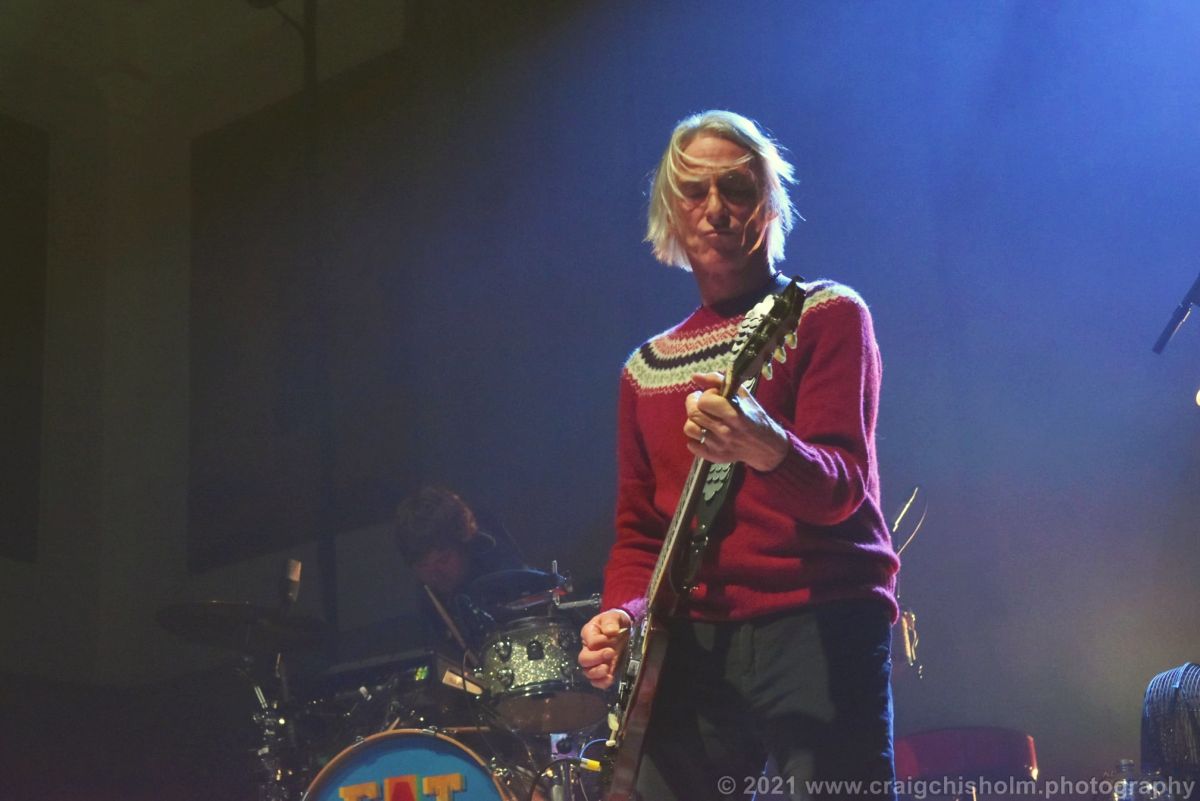 Craig Chisholm reviews.
Like every other gig happening just now, it's a been a long time coming.
It's been two long years since tickets went on sale for The Modfather's Music Hall gig.
But Weller hasn't been sitting idly by – he's released a couple of albums – On Sunset and Fat Pop Vol 1.
There's been a live stream – Midsommermusick – and there's even an orchestral live album out this month.
So, that alone would be a lot to cram into a setlist for the new tour – but add in another 14 solo albums, 5 Style Council albums and another half dozen by The Jam then there's a wealth of material to choose from.
But if choosing a set from such a large back catalogue is daunting, it must be nothing compared to being the opening act for such an icon.
However, if John Rush is nervous then he doesn't let it show. In fact, his solo set is a confident and accomplished performance.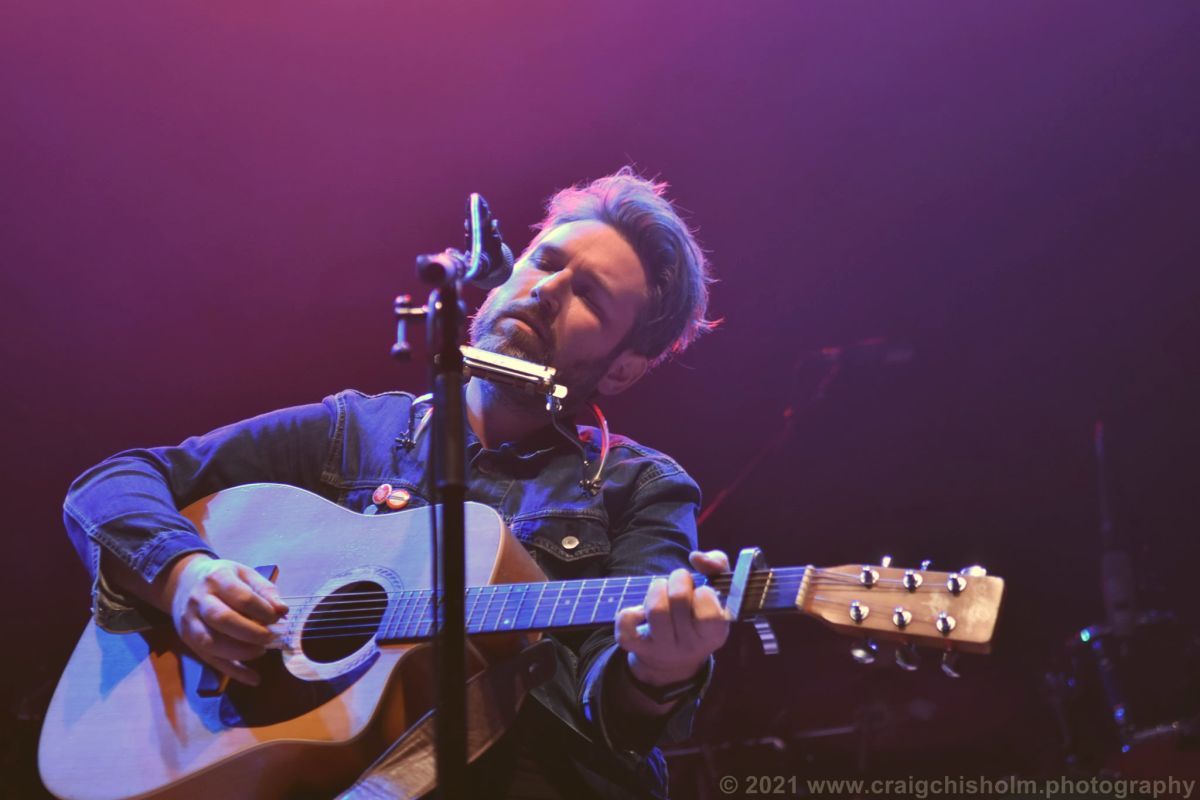 Hunched behind an acoustic guitar, absorbed in his songs he is humorous, appreciative and seems genuinely happy to be given the opportunity to perform in front of a decent sized crowd.
His folk-tinged pop tunes go down well, and he even gets a sing-a-long going near the end with the crowd joining in on backing vocals. In front of a crowd that likely didn't know about him before tonight, he does well and will have gained a few fans.
Striding confidently onto stage in a seasonally appropriate crimson jumper, Weller oozes confidence and is every inch the rock legend.
Flanked by two drummers, a bassist, keyboard player, sax player and, crucially, Ocean Colour Scene guitarist Steve Craddock, he blasts through a set that lasts well over 2 hours but feels like it passes in half that time, such is how enjoyable it is.
It's a confident and measured set – just enough of the hits to please the more chart minded fans; a couple of tracks by The Jam to send the punk fans home happy; a nod to The Style Council for the 80s fans and a fine spread of solo tracks from the last 30 years for the solo performer fans.
It's a tricky skill to keep everyone happy but Weller retains that skill whilst ploughing his own furrow, not afraid to cut loose and experiment.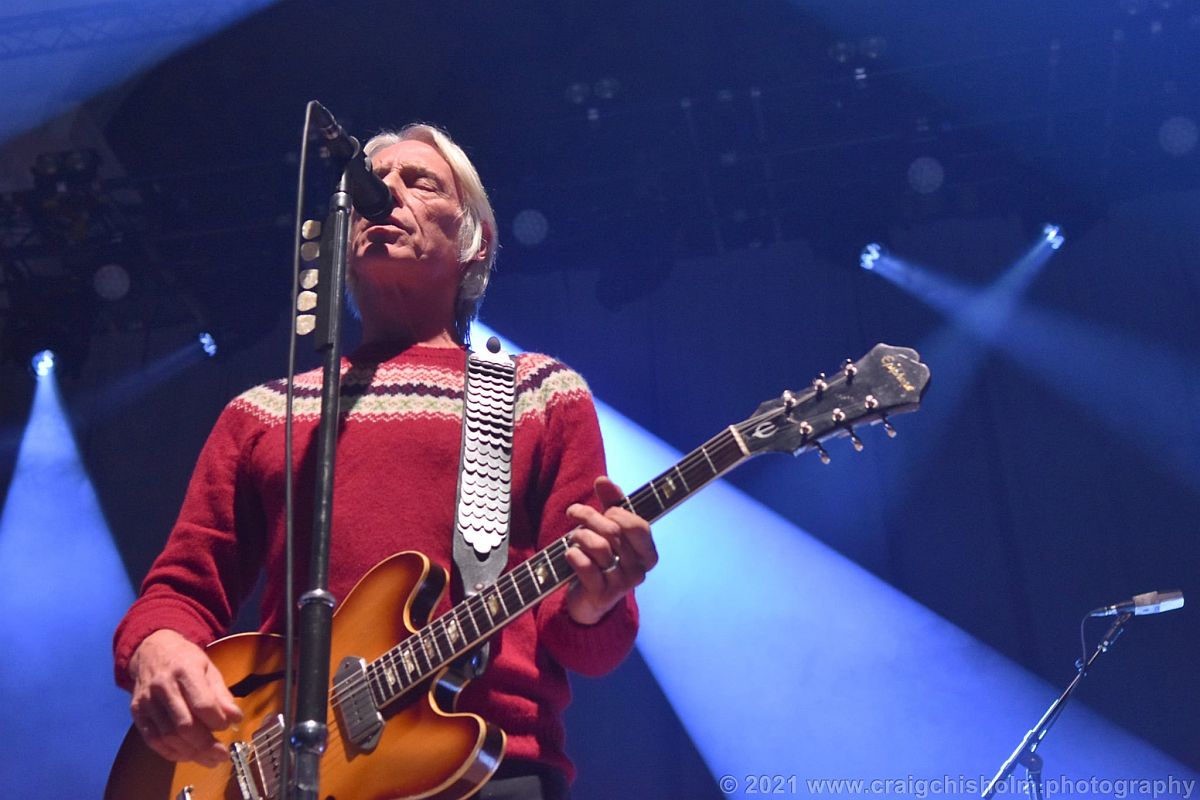 Highlight of the set is a quintet of tracks from the solo commercial high point, the classic 'Stanley Road', performed back-to-back – the title track itself, followed by 'Broken Stones', 'The Changingman', 'Porcelain Gods' and a sublime 'You Do Something to Me'.
But the biggest cheers of the night go to a couple of classics by The Jam – 'That's Entertainment' and 'A Town Called Malice' which bring the house down at the end of the night.
An epic set by an epic performer.
Set List:
White Sky
Cosmic Fringes
Peacock Suit
My Ever Changing Moods (The Style Council song)
Hung Up
Saturn's Pattern
Old Father Tyme
Shout To The Top
Village
More
That Pleasure
Stanley Road
Broken Stones
The Changingman
Porcelain Gods
You Do Something to Me
Still Glides the Stream
Shades of Blue
Above the Clouds
Wild Wood
Brushed
Into Tomorrow
Friday Street
Can You Heal Us (Holy Man)
On Sunset
That's Entertainment (The Jam song)
Town Called Malice (The Jam song)