Melancolia meets the hideous nutcracker named Donald J Drumpf whose odd shaped mouth and repellent hair don't put her off, neither does the fact he's actually loaded.  After waging a battle it seems unlikely the nutcracker can possibly win, they are miraculously victorious. Together they go on a journey around the world visiting wondrous lands etc etc. Now read on.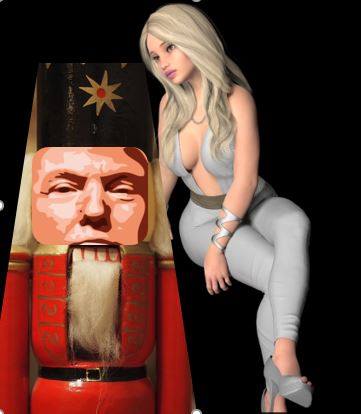 IT WAS A cosy Christmas eve at young Melancolia's photoshoot; photographers, stylists, other nude models and various reptilian types were gathering for a
Christmas themed girl-on-girl shoot – but a tasteful one.
Melancolia was one of the top glamour models ever to share a full page spread with another woman and guns.
Her sparkly eyes, perfect teeth, chiselled cheekbones and enviable physique were only matched by her perfect pout.
And all her features were perfectly natural, with only a few boob jobs, teeth work, nose re-sculpting, tummy tucking to tweak her natural beauty a wee bit.
Some of the girls had their reservations about the current shoot, but the stylists said 'this will make your career; it will be very artful – just think of Hannah Montana and the sexualized giant teddy bears only nude – now put on these tassels. What a cracker!'.
But young Melancolia had no such qualms. Rather, she was transfixed by something in the room. It looked like a bloated, oversized animated – overly-animated – nutcracker.
To be clear, this was one of the most repellent looking things at the shoot. It seemed wooden for a start. But it was grossly misshapen – where there might have been a chin, the oversized potato-esque head joined to its body directly, and there were so many chins Melancolia couldn't count them all.
And the hair! Revolting! Thin wisps of straw like grey material – 'Squirrel fur?' Melancolia wondered – were in places dyed a primary shade of yellow. These few strands were probably several feet in length and would have hung down like a balding Rapunzel. Rather, they were seemingly wound into a shape not seen since the days of Douglas Hird and were lacquered into a shape such as to accentuate, rather than disguise the nutcracker's bald pate.
The eyes were beady; the outfit gaudy. The thing wore a little red cap which only exaggerated the size of its head. The hat said 'Make America Bigly Again' – while a little label sticking out of the back of the tacky headpiece proclaimed 'Made In Mexico'.
The mouth. The mouth was revolting and never, never stopped moving. Was the thing having some kind of asthmatic attack? The mouth seemed to gasp like a basking shark gulping down plankton one moment, and the next it wore a leering smile like a Cheshire cat.
"Melancolia, what are you looking at?" asked one of the models, adjusting a leather sleigh harness and fixing her antlers to her head.
"Zat thing over there – vat is it?" Melancolia said pointing with her chin towards the nutcracker and her glossy mane flew round her perfect features.
"That guy's a nut – a real whitebread cracker who owns a model agency. Gives me the creeps myself; I try and stay clear. Calls himself Herr Drumpf or something."
"Sank you" Melancolia said, and turning now to the creature, who was wildly waving its arms and yelling at one minion or other, mouth quivering like the maw of a giant squid, she smiled. The nutcracker smiled back, or at least she thought so.
"Hey baby, you're wanted on set, and bring the gun and handcuffs, gonna be real classy. People will be talking about this shoot for years to come" the director said to Melancolia.
How right he was. Yugely right.
*                                             *                                             *
What happened that night was all a big blur for Melancolia; the traditional after shoot party was in full swing. Someone had decided to play Christmas music, and Tchaikovsky's The Nutcracker Suite was emanating from a wireless. Naturally this being an after-shoot Christmas party, there was lots and lots and lots and lots of 'snow'.  It seemed to be everywhere. People had all sorts of other candy as well.
The Nutcracker – I mean Drumpf – made its way over to Melancolia; they both pouted. Right then and there, they seemed destined to be together.
"Hey I'm Donald Drumpf, nice to meet me I know. You're not from Central America I hope?" The Nutcracker drawled,
"Nice shoot baby – loved what they did with the sleigh bells."
"Zank you, you handsome man."
"Yes, I know I'm handsome, but thanks for saying it. Wanna go for a ride in my Drumpf jet after the party? The toilets are solid gold."
"Ven do ve go?" pouted Melancolia
"I can get into some clothes in a minute or two."
"Never mind the clothes honey, just bring that gun, the handcuffs, and that photographer."
"Okey dokey as you Americans say."
From the other side of the room, the random chatter, snorts of amusement (or snorts of something) from the models echoed, and the wireless continued:
"… and the ugly Nutcracker transforms into a rich, handsome prince; he and Clara defeat their enemies, and take off in a magical flying sleigh to the world of candy and fantasy…"
Melancolia listened as Drumpf continued listing his accomplishments; but she was feeling a bit woozy by now.
"… and Drumpf Model Agency, and Drumpf whisky, Drumpf Golf links Scotland, Drumpf…" Drumpf continued without pause.
The wireless competed for Melancolia's attentions too; the announcer's voice rising:
"… and The Nutcracker and Clara visit exotic faraway lands such as China and Japan…"
The snow dazzled the East European beauty as large flakes of it fell on her tongue. The more the snow raged, the better looking the nutcracker (and his wallet) became. The room was humming harder as the ceiling flew away. Melancolia fell into a vision – giant mounds of snow appeared, she saw fairies dancing, mice with seven heads, and all sorts. Her head swam.
'Not bad party' she thought as Drumpf droned on – "…Drumpf offshore holdings, Drumpf casinos.." and she fell into a reverie (obviously not fuelled by any illicit substances, because nude models don't go near that scene, nor do their photographers).
*                                             *                                             *
Melancolia closed her eyes for a moment.
Woosh! the happy couple were suddenly flying off to Drumpf's kingdom on 5th Avenue, and all the little people – black, Jewish, Mexican and even gay ones rejoiced and worshipped their undoubted king and queen Donald and Melancolia. Everyone wanted to buy Drumpf brand clothing; everyone wanted to play golf at Drumpf golf courses, or gamble away all their money at Drumpf casinos.
The whole world watched The Nutcracker – or rather Drumpf – on television telling people they were fired; and all the women contestants on his fantastic television show were in love with the him, which goes without saying. The burgermeisters turned a blind eye to some of The Donald's colourful antics.
Black people were turned away from Drumpf apartments and Drumpf job openings – but that's just how you do business. Women were grabbed by their tutus as they competed to be Miss Nutcracker – but of course as they were dressed provocatively, they deserved it and if you're famous, you can grab all the tutu you like.
Illegal immigrants got beaten up – but in the land of freedom, justice and liberty for all, you have to expect that kind of thing. All was well.
What more could the happy couple have wanted? – they had their own son, and Melancolia might not have been as young as Drumpf's daughter from another marriage, but she was just as sexy – Drumpf himself often said as much. Melancolia had all the clothes a woman could want, and after all those years without wearing any clothes, this made a nice change.
But somehow for her beloved husband Donald, this wasn't enough. New York, New York – if he could make it there, he could make it anywhere – so where next for the Drumpfs?
*                                             *                                             *
"Hey Melancolia, ya know" said Donald Drumpf, smiling widely like a crocodile with gas,
"I think I'm gonna go be president. Whaddya think of that?"
He was reclining on a gold lame cushion on the gold divan, sitting on the marble floors inlaid with the Drumpf logo.
"Okey dokey honey – you do that. You win. You big winner. You always telling me that." 
Melancolia was admiring her face in one of the gilt mirrors.
"Lots of pictures get taken when you campaign in America no? I buy dresses. First Lady dresses. I be traditional First Lady like Mrs Ford or Jackie O. Jackie vas pretty. I prettier." 
She came and put her arms around The Nutcracker, though they barely reached around the space where a neck should have been.
"Sure honey, you buy all the dresses you want." The Nutcracker/Drumpf said, its mouth throwing otherworldly shapes,
"Mind the hair Mel, just had it woven last week."
And so it came to pass that the Nutcracker and his brood hit the campaign trail. Many wondrous sites did they see. All of a sudden wonderful worlds of opportunity appeared; the mood was jubilant. First of all, they could give all the Drumpf children official campaign jobs – that meant tax breaks, taking donation money and giving it to the family, and it was all legit – which made a yuge change.
Then they could hold parties at Drumpf hotels and resorts – and charge the campaign fund a fortune for them! Result! Never before had those fundraising dinners caused The Nutcracker to salivate so. The Donald was now so busy that understandably he forgot about a few million dollars he was going to give to some veterans, but it's the thought that counts.
Then there was money from his charities – he could raise money for charity and look good, tell people how charitable he was (which is the real point of charitable works), get tax relief, and then keep the money. He should have run for president years ago.
At the rallies Drumpf would tell his euphoric fans what his great plans were.
"Donald J Drumpf will wall up Mexico!" – the crowds cheered
"Donald J Drumpf will punish women who have abortions" – the crowds were in a frenzy
"Donald J Drumpf will throw all the illegal aliens (and some legal ones) out of the country and monitor all those Muslim types!" – the crowds were euphoric
"Climate change is just a myth made by the Chinese!" – how could he fail to win the presidency?
For some reason, not everyone in America was delighted by his candidacy. Then again, these weren't real Americans – some were even Muslims and a few Mexicans who'd snuck in.
There was one guy who pretended to be some kind of American war hero who objected to Drumpf too – but he was a big fraud who had been dumb enough to get caught, and we all like our heroes to be guys who don't get caught.
Donald might have been a great war hero himself, but he had a tragic medical flaw – there was a bone spur on his foot. This was so bad, that he couldn't always win all the college basketball games he played in while being too ill to be drafted. Playing ball with a bone spur must have hurt sometimes, so in a way a pretty heroic thing to play b-ball at all.
Occasionally undesirables would get into one of nutcracker Drumpf's rallies and try to protest – as if there were anything to protest, and as if resistance wasn't futile.
"That guy over there is a protestor, throw him out, throw him out. You know, when I was younger, this guy would have been roughed up." Drumpf told the faithful– and thus he won the heart of the right wing.
Melancolia was not crazy about the arduous schedule this campaigning meant, but it was worth it for such a good cause. She had to sometimes get up early before 11 am when the stylists arrived, and she had to wear some pretty frumpy outfits – but at least they were eye-wateringly expensive. She had to stand around at the nutcracker's side and smile for hours on end – it was gruelling work.
How hard it was to smile without throwing in a single pout! But the photographers were there, and that was all that mattered. However, things were about to get really tough.
One evening Drumpf told her:
"Honey, ya gotta give a speech next week."
Melancolia was not used to doing anything more than pouting or smiling, this was going to be a challenge.
"You will have a speech written out, and then you say the words on the paper, and smile – all at the same time. We'll get you a coach honey, gonna be fine. Gonna be the biggest, best, yugest speech anyone's ever made – well except me of course."
And the day arrived and Melancolia read her speech. It was really hard, but she managed. At least people took pictures, and she smiled.
Alas! The speech was copied by someone named Michelle! The nerve! This copying was even more annoying because Michelle did her speech before Melancolia could do hers! This campaigning was a hard business.
Anyway to make a long campaign short, Drumpf The Nutcracker won the nomination, and then went on to defeat the evil cheating lying dishonest Hillary, who should be really in prison. The next president of the United States would be a wooden figure, whose mouth was controlled by a lever in the back by unseen hands. Russian hands. Result!
*                                             *                                             *
A voice far, far away came into Melancolia's head:
"…and so The Nutcracker and Clara defeat their enemies, and take off in a magical flying sleigh to the world of candy and fantasy…"
He'd won! He defeated all comers and had been elected!
"Dahling!" she purred into her nutcracker-husband's fuzzy ear-hole,
"eet iz wonderful! I buy ballgowns now. But vat is this cabinet zey keep talking about? Do we need nother gold cabinet to put zings in?  How much money we get for being president?"
"Melancolia – it's gonna be a really big cabinet. Yuge. The best cabinet ever. No one will have ever had a cabinet like my presidential cabinet's gonna be. I'm really smart when it comes to cabinets." Drumpf reassured her, arms flailing, mouth flapping
"Vat you put in zees cabinet?"
"Nuts. Lots and lots of nuts."
*                                             *                                             *
"Honey, we're going on a victory rally tour; got the idea from this great book I'm reading by some German guy, Adolph something or other. The media will love it. They love me." Drumpf explained as the servants packed a few gold-plated essentials.
And off the couple flew, with some of the Drumpf children, a handful of secret servicemen and a press team.
The first stop on this tour was Japan.
Drumpf's daughter Iwantitall and son Donny Jr had come along on the tour, and it was heart-warming to Melancolia how her Donald was letting his children learn the ropes for the new family president business.
"Iwantitall, why don't you go to that Japanese meeting thing darling; I've got some really important Tweets to send."
"Fer sher daddy; can I have an advance on my allowance?" Drumpf's daughter drawled; she was wearing a tasteful mini dress (available from her QVC shopping channel for £499).
Perhaps it was sour grapes, but the Japanese and some embassy attaches (whatever those are Melancolia wondered) didn't think it was proper that Iwantitall was at the meeting. But what did that matter? Drumpf was running the show – the TV show that is (he was hardly going to give up 'The Apprentice' and the chance to say 'You're Fired!' on TV – that was pretty important stuff).
As to running the White House, there was some guy who would call up and give Drumpf pointers. He had a Russian accent, and was pretty knowledgeable about all this electric college and cabinet stuff – how good it was to have help.
And off the entourage flew to their next destination. Africa.
"Welcome to Africa! Hail to the Chief! You come shoot some more elephants and giraffes Mr Donny – we need the shoes and game meat your little visits supply! We're so grateful! Anything you want, anything at all!"
Donny Jr said:
"Thanks thanks – but ya know, I've not bagged one of those ferocious giraffes in a couple of months, let's go kill some and then you can show me some more gratitude."
The African ambassadors threw glances at each other for a moment:
"We'll get back to you on that soon, Donny." 
For some reason, they all had to go really suddenly.
"That went yugely well" Drumpf said as they all got back on the plane, Donny sporting an elephant's tail the grateful locals insisted he take with him.
And off they went to China.
"I'm gonna handle this one on my own" Drumpf told his fellow travellers.
"But first, I got a little phone call to make to Taiwan. They're gonna do some merchandising for me."
Melancolia thought she saw a look of shock on the faces of some of the press team, but she put that down to their being awed that she and Donald knew Taiwan was a thing.
After completing a phone order for a hundred thousand 'Make America Greatly Again' baseball caps from the Taiwanese business delegation, it was off to China.
Stepping out of the plane, Drumpf was for some reason given a frosty reception. Putting on his best 'O' shaped mouth, he descended and told the Chinese government representatives:
"Yous guys gotta stop raping America – and why didn't you ask my permission before you devalued your currency? You didn't even respond to my tweets about that! You'd better learn who's in charge – yeah, that's right Vlad – I mean me. Now if only you'd have done the right thing, I wouldn'ta had to order my baseball caps from Taiwan. So you'd better stop thinking like losers and –"
For some reason at this point the secret servicemen pulled all the presidential party back up the plane steps, and prepared for a hasty departure.
"Get ready for take off!" the pilot announced over the tannoy of Air Farce One
"Ze dress first and leave the shoes on like usual?" Melancolia asked. But no one answered, and off they jetted.
"Geez, this thing doesn't even have a gold plated can" Drumpf said, exiting the jet's toilet.
"I'm gonna cancel that Boeing contract, that'll show 'em – and get a proper Presidential Plane"
"But- but sir" said one of the press party – and it was a woman to boot,
"there are thousands of American jobs at stake at Boeing, and if you make such an announcement, you'll devalue the Boeing stock!"
"Who let this woman on the plane – are you a real reporter honey? – you don't look very pretty. Who are you to be questioning me!" Drumpf thundered,
"and don't go telling me about business. I know business really well. Dad lent me $6,000,000 – and I've only had eight bankruptcies. Go put on some makeup or something." 
And with that the hapless hack was despatched.
"Ya know, we're gonna go somewhere they really love me – not that they don't love me everywhere that is – but in Scotchland they love me. Take us over there, that's where my mother was from."
And the Presidential jet touched down in Aberdeen. A police escort took Trump to his beloved golf course at Menie. All the staff were lined up and ready to meet him.
"Sarah Malone always good to see you – how's that husband of yours doing – does he want another column for his newspaper yet, cause I got some great ideas."
Drumpf addressed none other than the very Face of Aberdeen – a stunningly beautiful creature – obviously not as pretty as Iwantitall or Melancolia.
"We're so glad to see you sir Mr Drumpf sir! If I can just -" she squealed.
"Just make sure I get plenty of clean towels honey."
He dismissed her, and then proceeded to greet all the assembled Aberdeen city and shire councillors who lined up to kiss his ring.
Melancolia thought the Scotchland visit went much better than the China trip. It was freezing cold, the place was deserted, and part of the golf course had fallen into the sea. Still, there was the tasteful Drumpf clubhouse – with the Drumpf family crest – a two-headed monstrous bird – carved or printed on every surface within eyesight. Drumpf whisky was on sale at a mere £500 per bottle, signed by Drumpf (or truth be told, signed by Sarah Malone).
Soon this state visit had to end as well, and off the party flew back towards the States.
"One more stop, just to make sure everyone knows what a winner I am" the Drumpf/nutcracker said; its hinged mouth flapping wildly, its hair more frazzled than ever. "Mexico it is."
The welcoming party at the airport seemed very festive; the peasants were all holding giant piñatas that looked just like Donald J Drumpf, and they were beating the s*it out of them. Drumpf opened his mouth to speak, but the cheering was so loud he couldn't be heard. Melancolia was told that the waving of pitchforks and torches was a traditional Mexican greeting. Drumpf, his family and Melancolia were ushered quickly away and soon sat down to talk to the Mexican president.
"It's very simple." Donald said, his mouth in one of his widest smiles,
"You're not giving us your best people. You're giving us rapist and drug dealers. You gotta keep people in Mexico or I can't get a good price on my Drumpf t-shirts that they make so cheaply here. So here's what we're gonna do. I'm gonna build a wall. It's gonna be the biggest, bestest, smartest wall anyone ever built, and it's gonna keep those bad Mexicans out of America."
"Senor – this is not possible – think of the environment, the practicalities – the cost!" The Mexican president wiped his brow.
"Not my problem – you're gonna pay for it pal!" Drumpf said, leering.
"This meeting's over and I'll send you the bill later." 
And with that, he rose, the rest of his party rose, and off they went.
"Oh wait, there's some other place we gotta go" Drumpf said to his weary pilot,
"What's it called again, it's somewhere they really, really need my smart thinking. Oh yeah, The Middle East – that's it."
Audible groans came from everyone but the first family, as the jet roared into the night.
"Time for your CIA briefing sir." said a man in a black suit.
"Ya know, I'm not one of those dumb guys, I don't need to be told the same thing day in day out." said a bored Drumpf, who was tweeting about a television show called Saturday Night Live, which was not funny or fair at all.
"But Sir!" persisted the CIA officer,
"The Syrian problem is deepening, there is a rift in Turkmenistan, there is insurgency in Turkey, human rights violations in several countries, economic instability threatens several regions, and environmental disaster relief is threatening to outstrip spending on our other missions."
"Eh?" said Drumpf
"Just do what ya gotta do; maybe I'll get time for you next month; we'll see. Don't you know I still gotta television show I gotta produce?"
Drumpf had ordered all the region's diplomats and leaders to meet his plane, which as usual was greeted by a classy red carpet, a couple of models, and some bagpipe players just in case anyone forgot his mother was from Scotchland.
"Darling you do know how to make ze entrance!" Melancolia purred.
"Here's some money from one of the charities – why don't you and Iwantitall go do some shopping."
Needing no further encouragement, the women were off. Drumpf was ushered into an assembly room and led to a podium.
"Guys you got to know – Jews love me. Muslims love me. The blacks – they love me. Now the problem is that you've got too many Muslims here in the Middle East – I'd suggest you deport some of 'em like I'm gonna do in the States – send 'em back where they came from.
"But I gotta hand it to you, ya know how to do great wall building here, and if you play your cards right, you might get some building contract work from me on the Mexican border, maybe even some security guard work, unless my pal Vlad has that sewn up already… Now if you'll form an orderly queue, I've brought a few dozen copies of my new book 'Nuclear weapons – why have 'em but not use 'em?' – a snip at only £49.99 each – £99.99 if I sign them."
Leaving the Middle East was all a bit of a blur to Melancolia, but the echoed shouts of thanks seemed to fill the streets.
"Donald Darling – Iwantitall and I have bought such darling new ball gowns – look – even titties mostly covered on mine! – we vant to go have dinner at Buckingham Palace."
"Great idea Mel – let's go do that. They love me there. The Queen – she loves me; she'll want me to stop by. Prince Philip – he and I get along great – agree on almost everything. That Charles one – he loves me. Now don't get jealous sweetie – but his ex-wife Diana – she couldn't keep her hands off me. I had to tell her – Di – darling – I'll send you a t-shirt and a cap, but you gotta get off me."
Melancolia was not pleased to learn that the late princess had such a fixation on her Donald – but it was perfectly understandable of course. So off they all flew to Heathrow.
Soon they were ushered into a Buckingham Palace state room. A gaggle of courtiers surrounded the stately if diminutive Queen.
"Hey, hey Liz – this is my wife Melancolia – shake hands there you go – give me a big kiss." 
Drumpf's attempt to slobber all over HM were blocked by the courtiers. The Queen seemed to have turned a shade of red not dissimilar to the colour of a 'Make America Great Again' hat.
"Brought you something" Drumpf said, handing over a plastic bag with one of the coveted baseball caps.
A footman took the package, holding it in his gloved hands by two fingers, holding it an extreme distance away.
"Liz, there's a guy here that wants to see you too – it's my pal Nigel Farage. Nigel – Liz, Lizzie – Nigel. You're gonna be fast friends I can tell. It will be yuge. I told Nigel he can be ambassador to the USA for your little country – that's OK right? He's got some great ideas – not as great as mine you understand – but he's gonna make Great Britain Great Again. 
"Now about these immigrants like the Irish you got here…."
The Queen was speechless, not least because Drumpf's wife and daughter were both trying to grab her tiara.
"This audience is at an end. Her Majesty thanks you and bids you good day." a guard said, ushering the whole party out of the palace with bayonets drawn.
Soon they were back on their plane, flying for the States.
"Probably an old English custom. Nigel – leave some of that Drumpf whisky; we need to sell some later, that's a good guy." Donald said.
Melancolia was in a whirl from this whirlwind world tour. As they walked to their waiting limos to return to Air Farce One, it started to snow.
Donald was on the phone; she wasn't sure to whom.
"Yes, Vlad, all good here – how's Wendy? You must come over for some golf sometime soon. Thanks again for everything. What's that? You want me to press that button thing now? OK – give you a half hour head start to get into that underground complex. 
"I'll tell the Pentagon just like we agreed. I'll tell those missiles myself 'YOU'RE FIRED!'"
Everything was a blur of mushroom-shaped clouds, Drumpf shouting, and then everything went black. She closed her eyes for a second, and everything seemed to fade away.
The snow was swirling all about her face now, landing in huge crystals around her tongue and nose.
*                                             *                                             *
Melancolia was suddenly back at the Christmas Eve photoshoot – it had all been a dream.
"So honey, you wanna blow this party and come back to 5th Avenue with me on my big gold plated jet now?" Drumpf asked, a little drool spilling over his oily o-shaped lips.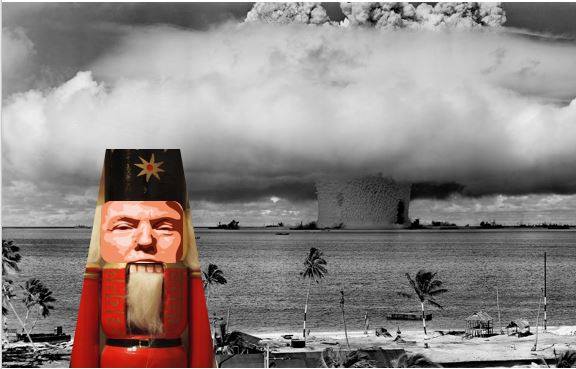 His hair had loosened from its previously lacquered condition so that several single strands of oiliness and dye reached his chest, hitting his Drumpf necktie, which at the neck seemed nearly as wide as the spud-shaped head.
Some of the snow had stuck to his polylmer hair and a dash was on his nose.
Melancolia thought of all her imagined adventures which had seemed so real a moment ago.
Turning to Drumpf, moving closer to him, she turned her pout into a wide smile and said:
"Let's get going big boy. Zees is going to be great."
Comments enabled – see comments box below. Note, all comments will be moderated.