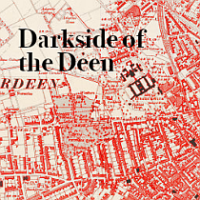 With thanks to Alec Westwood.
A new series exploring true stories from Aberdeen's mysterious and murky past has been launched.
Delivered as a podcast, 'Darkside Of The Deen' is presented by Aberdonian actor Alec Westwood.
Following on from playing Sgt Howie in the audio drama sequel to The Wickerman, Alec set up a home studio and began working remotely with writers and producers Richard Skinner (Turriff) and Cliff Hughes (Peterhead).
Known for his role Folly the Jester in cult childrens' TV show Knightmare, Davy Reins in the BBC's Roughnecks and portraying Robert Louis Stevenson on Radio 4's Great Lives,  Alec also enlisted help from a number of fellow local actors and musician/Inverurie Postmaster, Rory Will to bring dark stories from Aberdeen's past to life.