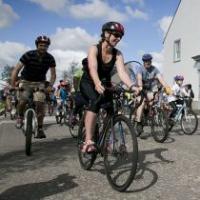 With thanks to Gemma Setter, PR Account Executive, Frasermedia.
Organisers of Aberdeenshire's newest bike ride are hoping to attract record numbers of participants through the launch of a new 5K charity walk.
The Chapelton Bike Ride returns for a second year on Sunday, September 3, with the addition of the new Chapelton 5K Walk sponsored by Liberty Retirement Living, which will coincide with the event's 42-mile and 12-mile bike rides.
Held in aid of North East Sensory Services (NESS), the event was formerly the Great Stonehaven Bike Ride, before it moved to the village of Chapelton, near Newtonhill.