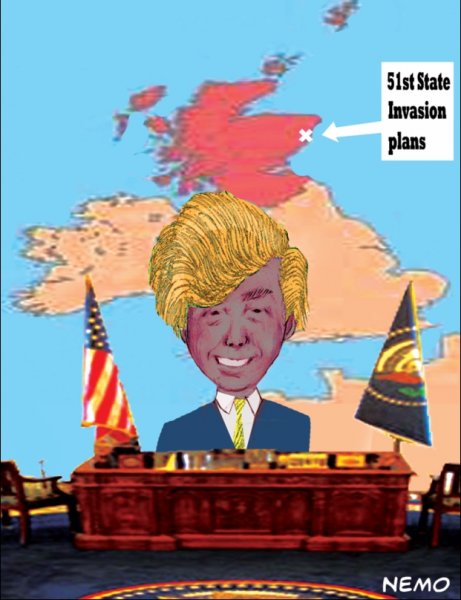 By Suzanne Kelly.
Master Bates had just parked the Maserati in his space and was making his way through the hallowed hall of the Press & Churnal.
The receptionists seemed even smilier than usual; the secretaries he walked past smiled and said "Good morning sir", and seemed to be gigglish.
From further down the corridor, he could hear voices and laughter.
"Well, they say it even looks like him – big head of strawlike grey hair."
"Well, Bates might as well give Drumpf a column; Drumpf's given his wife a column and all."
"Wonder if it'll have her looks?!
"What if it has her brains and Donald's looks?"
Bates didn't quite hear all of that however; he had a searing headache. The reporters got sight of him and scarpered, scattering to all quarters of the newspaper's offices.
Bates hadn't slept well. He knew things were going to be different – life was going to be different now. But he hadn't bargained on all that constant bawling. The whinging, the crying, the temper tantrums at the slightest provocation. That wrinkled face going beet read. The screaming. Yes, life with Donald Drumpf was trying – very trying. Thank goodness he could escape now and then to look after the newborn Malone-Bates baby, Donadina.
He pressed his fingers to his temples and massaged them as he got into his big leather chair at his big leather covered desk and sighed.
Giving Donald Drumpf his own column. He had little choice. He remembered well, how it unfolded. One day his wife came back from the Drumpf clubhouse and had told him:
"Darling, Donald wants to give you a present"
He thought at the time 'Christ, not another damned Chinese t-shirt with the Drumpf logo or another cheesy Mexican baseball cap with the Drumpf name in giant letters'.
"Precious – how are you? How's Donald? Happy to help of course."
"It's just a teeny weeny favour he's going to do you"
'Hope to hell it's more advertising revenue' he thought, 'after we printed that weekend supplement about the MacDonald hotel with its garish orange duvets dyed to match The Donald's skin makeup colour.'
That actually took a bit of pride-swallowing to print.
"it's Fabulous! Donald's going to give you a column to put in your newpaper! You're always saying you need to fill up the space between advertisements with something or other. Well, he's going to write you an exclusive column – that mean he's not going to have it printed anywhere else."
Damian remembered the little remaining colour running out of his face – something that never seemed to happen to his apparent new columnist.
"Darling, sweetheart, mother of my daughter – I'd er, love that almost as much as I love you. But angel, we've just spent a packet hiring Alex Salmond."
"Yes, that was a mistake, it's a good thing I talked Donald around about that – that was me using my great skills. I had to blink my eyelashes at him all afternoon about that, but he forgave you. Now he wants that column. Tell Alex he's to make room for his old pal Donald. Donald says they are getting along now, so that must be true."
"Sarah, darling – isn't Donald going to be a bit busy running for president to actually write a column?"
"Silly boy – he'll not actually write it – he's far too important to do any actual writing. I thought I might write it myself; he says I'm very good with words. Why I can memorise what they write for me to tell the press in just a matter of hours now that I've been practicing."
Damian was white now.
"Er darling, you'll be too busy too, running the golf course and looking after little Donalda."
Sarah wrinkled her pretty nose.
"I'm going to be too busy to look after her that much; the nanny will have to work more hours. And of course, when Donald Drumpf becomes president, you know what that will mean, don't you?"
Puzzled, Bates couldn't quite find the words.
Almost as if she could sense his bewilderment she answered:
"Silly – I'm the Vice President – remember? He made me Vice President a few years ago! I'll have to go to Washington, and go to all those fancy State Dinners and Balls and meet the Queen and everything."
The rest of that conversation seemed a blur. Bates only remembered that he gave Sarah a few thousand for a pair of rhinestone Jimmy Choos and he gave Drumpf a weekly column.
Bates had been outnumbered and outgunned. Donald's ghost writer and advertising team sent over their full page, full colour ad – although there wasn't going to be any advertising revenue! The pain of that increased Bates' now permanent headache. The ad was monstrous – Drumpf in full open mouth basking shark mode, against the drapery of the US Flag. The Scottish public would undoubtedly find this a bridge too far.
But the contents of the column. How Drumpf had won over the Scottish people. 'Me, Sarah, Woody – well, that's three of us won over anyway' thought the gloomy Bates. 'How will I ever show my face after this and damn – what's going to happen at my next RGU journalism lecture?'
His mobile phone bleeped at him. It was a text from Sarah.
"Hello darling; Donald just loves his column now he's had a chance to read it. He says don't worry – he'll have a new column for you to print once a week at least. And he's here now – will send you a photo in a sec. Love you. PS – can you get a courier to bring me your Barclaycard Platinum? Mine seems not to be working; must be the strip thingy on the back, and what's 'exceeded your credit limit' mean again?"
His head throbbed worse than ever. He put the phone down. Looking out the window of his office he could see the Maserati in the parking lot.
Was that Magritte, the new student intern who was looking at the car so admiringly? For one split second he started to wonder. Then the phone blipped at him. Picking it up, he opened the JPEG message from Sarah. Donald stood next to Sarah; he was holding the baby. His little daughter had a crop of unruly blonde hair, and she was wearing a tiny Drumpf-embroidered baseball cap.
"Donald holding little Donalda MacLeod Sarah Damiana Malone Bates." read the caption.
Bates put the phone down. He reached inside his desk for the extra strength anadin, and shook his head.
Comments enabled – see comments box below. Note, all comments will be moderated.
[Aberdeen Voice accepts and welcomes contributions from all sides/angles pertaining to any issue. Views and opinions expressed in any article are entirely those of the writer/contributor, and inclusion in our publication does not constitute support or endorsement of these by Aberdeen Voice as an organisation or any of its team members.]