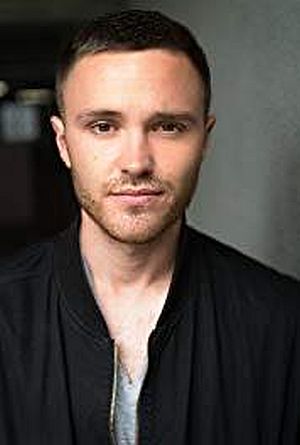 By Suzanne Kelly.
Aberdeen Voice first interviewed actor Declan Michael Laird in June 2012, when he was a determined, optimistic 18-year-old trying to break in Hollywood.
Quite a few films, commercials and experiences have gone under the bridge since then. This catch-up seemed quite overdue.
"I believe that if things are meant to be, they'll be" he said at the time – while putting in the hard work to make what he wanted to happen a reality.
Glaswegian Declan started out as a rising footballer, playing for Greenock Morton FC on a youth contract; football runs in the family. His brother Stefan is Aberdeen Football Club's Academy Head and owns his own coaching company, SJL Coaching.
A combination of circumstances, accident, curiosity, luck, and mostly talent led Declan off the pitch and in front of the camera.
"It was all amazingly sudden," Declan explained in an earlier Aberdeen Voice interview of his first brushes with acting,
"I went to the first filming and decided this was what I wanted to do – the cameras, the actors, being on set was amazing. Football, which had been my aim for 10 years, suddenly fell to the back. I did a few short films back home with independent filmmakers."
Determination and drive saw him attend the prestigious Stella Adler school on a full scholarship (the previous person on a full ride to the famous school was Robert DeNiro).
Fast forward to our present talk, which comes on the heels of the film 'Hot Air' debuting on Amazon Prime Video.
Hot Air is the latest from the inimitable, incisive Steve Coogan. Laird has a supporting role in the film, also starring Neve Campbell and Taylor Russell.
Before I knew Declan was in this film, it had my attention.
Coogan plays a far-right wing, bitter, manipulative, cynical shock jock à la Bill O'Reilly: a man who plays his perpetually furious, far-right wing listeners like a violin, creating ratings from fomenting their anger.
He has some great lines indicting the kind of journalism that is now poisoning American minds in particular (a disease spread by the likes of Breitbart and Kate Hopkins).
As someone who was on the O'Reilly Factor show some years back, I wanted to see if the dirty tricks, psychological games and ruthlessness would be captured.
They were.
Coogan's radio talk show host is emotionally wounded and the cuts have festered over time. The Dei ex Machina appearance of his niece (Taylor Russell), child of his damaged, addicted sister provides a way to see how he wound up so twisted.
He gets some killer lines ('How do you sleep at night?' Is answered by him with 'On a mattress stuffed with cash and the broken dreams of Hillary Clinton'), climaxing in his soliloquy damning politics and far-right media near the end.
This movie has a lot to say, and I like how it does it.
Declan does an impressive turn in this supporting role
It was great to see Neve Campbell as the love interest. You can see in her face her conflicting emotions – fondness, perhaps love for the rather unlovable DJ, and turmoil when he gets things so wrong at different times.
If you remember Trump's preposterous recent pronouncement that instead of a wall we should have a moat, he may have picked that up from this film
But there is humour, not least supplied by Declan's character – a trustafarian young Russian man who lives in Coogan's ultra-exclusive Manhattan apartment building who takes Taylor Russell out clubbing, to Coogan's chagrin.
Declan does an impressive turn in this supporting role, from his accent, his movements from his hands through his fingertips.
I asked how he got his accent honed.
"I was always the guy doing impressions and mimicking people growing up – it came naturally to me. I did study dialect at Stella Adler as well; there were two years of accent training."
"I asked the director 'Do you want me to play it straight or do you want caricature?' and he said 'Well, we're going to put you in an Adidas tracksuit with a thick gold chain.' – so that told me all I needed to know."
He was surprised to see Taylor Russell as a fellow actor on the project – he had met her before.
"It was the craziest thing – I met Taylor about three years earlier. We got introduced by a friend of a friend. Then she was in Lost in Space for Netflix."
He saw her name on the scripts and that meeting came back to him.
"It's funny how it's such a small world."
Ms Russell is in the acclaimed Waves, and has just had a 2020 breakthrough actor nomination for her work on the film in the Gotham Awards.
I didn't ask Declan the predictable 'So what was Steve Coogan really like?' question, but I did ask what it was like to work with him. To many, Coogan is Alan Partridge; to others like me, Alan Partridge is a small part of Coogan's work.
Declan said:
"He was kind of a quiet person, very polite. He thought I was Russian. When he asked me where I was from and I answered 'Glasgow', we got talking more. He was a great person to talk to and had lots of good advice."
It was a bit odd how Declan landed the role – it was via one Skype call. He had done a reading of one scene with only one read through, and no input came back from the director – which can be very good or it can mean they're not remotely interested.
"Forty-five minutes later my agent called and said I got it."
"It was funny… I went to see it in a theatre with my girlfriend and this couple looked at me, and the man did a double-take. I heard him say afterwards to his partner, nodding in m y direction, 'That's the guy who was in the film!' And she said 'Don't be ridiculous!'
"I laughed."
Declan tells me about his girlfriend – they met in New York; she went to NYU and plans to direct and did casting for Netflix. I ask him if he has any interest in directing.
"Directing doesn't interest me. I look at acting, writing, producing, and she talks about shots, cinematography, lightning."
What's next seems to be more acting and some producing.
"Zak Kadison has taken me under his wing," Declan says of the producing side.
Acting-wise, he will be appearing in Green Fever next year.
Green Fever is a tale of a marijuana farm in California at a time of transition, directed by Gerard Roxburgh, written by Danny Acosta and Paul Telfer.
It is based on true events, but as Declan puts it
"My role is the only real fiction in it; I play a younger brother of a farm owner. The focus is on politics around the time weed was made legal. It's an action/thriller/heist film."
I cheekily ask whether the cast are taking the method acting approach to the project; Declan laughs and replies:
"There was a strong talk from the director to everyone about not smoking!"
A Scottish coincidence arises in the film's crew;
"Gerard's (the director's) family come from down the road from my family in Greenock, and Telfor's roots are in from Paisley."
By this time, we'd talked politics, Trump (inevitably), earthquakes, San Francisco, football and more, and before I talked him hoarse, we wound up the call.
It is wonderful in such a time of upheaval and problems, and frisson between generations to see someone like Declan whose mature and hard-working beyond his years getting closer to the nearly impossible dream of Hollywood stardom.
If anyone can get there though, it's him. I can't wait to see where he'll be in a further nine years.