Suzanne Kelly asks a rather obvious question which seems to have gone unnoticed: If President Trump is not supposed to be involved with his former business interests while in office, then what is the TIGLS spokeswoman's husband doing posing at the White House and with Air Force One?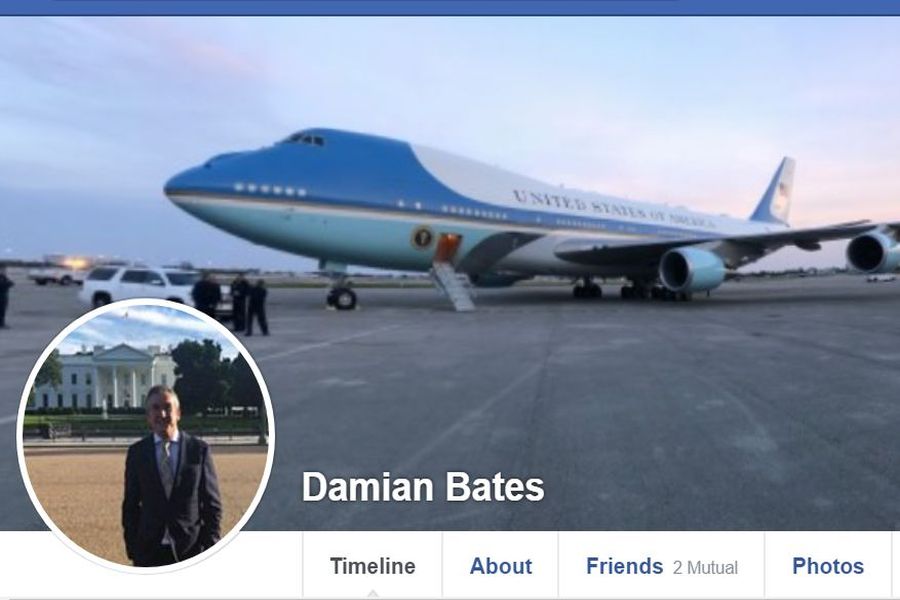 With Aberdeenshire Council soon to vote on whether or not to approve the latest amended plans for Trump International Golf Links Scotland – is Trump breaking strict American emoluments laws?
A social media account raises the question.
Upon becoming president, Donald Trump had to resign from several Trump business ventures, including Trump International Golf Links Scotland.
Sarah Malone Bates is the spokeswoman for the controversial venture; her husband is Damian Bates, former Aberdeen Journals Limited executive and editor with responsibilities at the Evening Express and Press and Journal.
On April 17, 2018 Mr Bates posted photos of himself in front of Air Force One and The White House. What exactly was he doing there? Even his friends wanted to know, with one asking 'What are you up to??'
Damian replied 'Ssshhh.'
Another friend replied 'Some of us know – but Mums [sic] the word Shssh.'
Together with George A Sorial, the lawyer responsible for ensuring compliance by Mr Trump with the relevant emoluments clauses, Mr Bates is penning a book about how Mr Trump 'won' in Scotland. The book is due out 11 June.
Aberdeen Voice contacted Mr Sorial, but has not yet had a reply as to the potential for overlap between a Trump employee's spouse being chosen to co-author a biography and being at Air Force One and the White House.
Any reply received will be published in full.
The Press & Journal and sister paper The Evening Express under Bates' management decreed it would not print any material from the protest group Tripping up Trump, declaring the group was not 'bona fide'. The group is made up of residents of the Menie Estate, people in Aberdeen City and Shire, and has members further afield.
Aberdeen Journals also failed to disclose the relationship between Damian Bates and Trump spokeswoman Sarah Malone to readership of the Evening Express and Press & Journal.
Aberdeen Voice broke the story that the two were married while the paper printed favourable articles about Trump International Golf Links Scotland without disclosing this fact.
The Press & Journal also published a column by Mr Trump while he was running for office.
Comments enabled – see comments box below. Note, all comments will be moderated.