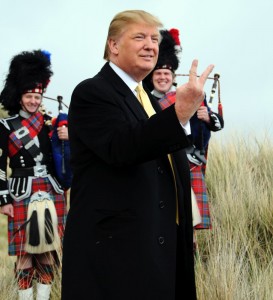 With thanks to Suzanne Kelly.
Suzanne Kelly, who launched a petition to ban Trump from the UK for hate speech, ridiculed spokesperson Sarah Malone's recent defence of his reputation.
Kelly commented: "It's risible. We are expected to take the word of a former beauty contest winner working for Trump that he's not a sexist.  The evidence is out there that he is a sexist and worse. He is damned by women coming forward and by his own words, whatever Malone might expect us to swallow."
Kelly was responding to a Sunday Times piece on the topic of his sexism, in which Sarah Malone Bates defended Presidential Hopeful Trump, saying:
"That's not the man I know,
"It's not the Trump I've dealt with." 
Malone was curator of a local museum until Trump hired her for a post she had no real previous experience for; she admitted at the time to know very little about golf.
Kelly says:
"Jumping from a museum to being Vice-President at a multi-million pound golf resort and housing building project is a leap and a half.  Please do not try to tell me she has any idea of what constitutes sexism, feminism or fair play or is qualified to tell us what to make of Trump's own words."
Malone is married to Damian Bates, the editor of the Aberdeen Press & Journal. The paper often features pro-Trump advertorial material and Bates decided not to include any material from local protest group, Tripping Up Trump.
Kelly added:
"Malone-Bates had better think again before defending a man who admits to grabbing women by their genitals and kissing unsuspecting women out of the blue.  She's certainly not been a sister to the women who live on the Menie Estate she presides over.  Photographer Alicia Bruce was threatened by a security guard who was going to smash her camera. 
"Local residents had male security guards demand identification from them, and according to one woman, guards would jump out at her late at night demanding ID and to know where she was going – when they must have known full-well she was a resident.
"This self-proclaimed icon of feminist doctrine did nothing to help Sheila and Molly Forbes when Trump cut their water supply – accidentally – and left it like that for years.  She let a woman in her late 80s carry water from a stream. Very sisterly.
"There are plenty of people who would look askance at a woman being plucked from a small local museum with no knowledge of golf to be involved in the controversial Trump. When that woman, who entered a beauty contest, tries to tell us her employer Trump is not a sexist, well – why would we listen? 
"Any credibility she might have had ended when she went for a beauty crown, took a job she had no relevant experience for, and when she sat by when women were getting mistreated by the security guards she employed."
Kelly's petition to ban Donald Trump from the UK under its existing hate speech laws attracted 580,000 signatures. She has reported extensively on developments at the estate, including severe storm damage to part of the course, and revealed the marriage of Sarah Malone to Damian Bates, editor of local newspaper Aberdeen Press & Journal, where Donald Trump had an 'exclusive' column.
Comments enabled – see comments box below. Note, all comments will be moderated.