Aberdeen-based artist Brian Keeley tells Aberdeen Voice about his new exhibition. With thanks to Suzanne Kelly.
Brian Keeley required a heart transplant. He spent months in hospital, and was able to come through the other side.
The NHS teams that helped keep him alive were the subject of a series of portraits he painted. His observations powerfully record his experience, his carers, and blend art and technology from a unique perspective.
Now he brings us new work. In his own words, this is what will be on show starting 3 November at Aberdeen University.
"The piece I am creating will incorporate imagery created from MRI scans.  I am working in collaboration with staff at the University of Aberdeen's Biomedical Imaging Centre to produce the images which will form the basis of my work.  
"It will be a 'self-portrait' showing my body from the inside, as opposed to the recognisable likenesses we see when artists generally portray the 'outside' surface.
"The title 'Renaissance' refers to my personal sense of rebirth following my heart transplant in November 2013. That experience now informs my work in a very direct way.  The long recovery and ongoing physical constraints it placed upon me has meant that I no longer work in a teaching capacity.
"It has, however, afforded me the opportunity to prioritise my energies towards revitalising my own creative practice.
"I am interested in the way that the technology of today allows us to see my new heart, which I share with its previous owner.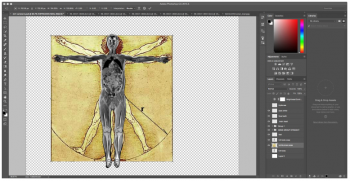 "The piece also records one year of my new post-transplant life, which I will represent by all of the empty packets from medication I have used in the last year. Without this medication I cannot survive, and so it acts as a protective 'shield' against organ rejection.
"The full-body image references the familiar image of Leonardo Da Vinci's Vitruvian Man.
"Da Vinci was an an artist with a fascination for the medical and anatomical functions of the human body – at a time when the very idea of heart transplantation – and of creating images from inside the body – would have been unthinkable."
(Artist's external website   https://briankeeley.wordpress.com)
Comments enabled – see comments box below. Note, all comments will be moderated.