Duncan Harley reviews 'The Broons' at His Majesty's Theatre, Aberdeen.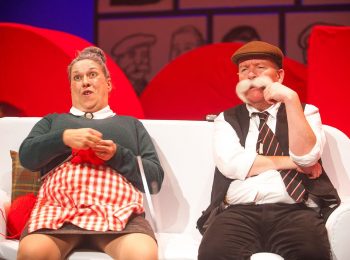 Long ago, childhood Sundays were punctuated by an obligatory visit to Sunday School, and then on to Grandma and Grandpa's for the Sunday roast. The day of course began with a breakfast of tea and groats, followed by a wee read of the Sunday Post pull-out Fun Section which, then as now, sported a full page sitcom monochrome comic strip featuring Maw, Paw and the entire Broon family.
Although nowadays relegated to page 50 or thereabouts, the Fun Section is still going strong.
Other DC Thomson titles may have gone digital, but the likes of the Broons and Oor Wullie keep truckin' along in good old-fashioned print.
That is of course until now; for in a bold step for Mankind, the tenement-dwelling Broons of No 10 Glebe Street, Auchenshoogle have taken to the tartan stage to celebrate their Oaken Anniversary in glorious 3D.
Penned by Glasgow-based playwright Rob Drummond, The Broons stage-show takes 80 years of comic-strip familial ultra-conventionality and introduces alien concepts such as personal ambition and – gasp – character development into the endearingly familiar Groundhog Day mix. Alongside the obligatory bonnets and whiskers, the Scottish Waltons are brought bang up-to-date with the addition of laptops and tablets.
As various family members announce radical career plans involving moving away to far and distant places, Torry-born Joyce Falconer's formidable Maw Broon is faced with the task of trying to keep the whole family together for yet another 80 years, or else face a lonely old age stuck in front of the telly with just Paw for company. The familiar hijinks of life in a Scotch sitting room come under threat and Maw's deviousness in the face of adversity knows no bounds!
Maggie, admirably played by Kim Allan, starts the ball rolling when she announces her plans to get hitched. Joe then decides to move to London to pursue his love of boxing. The lanky Hen, played by Alaskan born Tyler Collins, is about to take off hiking round Australia to find himself. Euan Bennet's Horace decides on a career in confectionery, and even Daphne gets a man at long last. What could possibly go wrong?
Sing-along and clap-along are never far away in this Sell A Door production, and the musical numbers cover every tartan-clad genre from White Heather Club ballad to Bay City Rollers brash ultra-pop.
Alongside the music there are frequent bursts of slapstick and lots and lots of one-liners. Some are painfully familiar such as when the desperate Daphne tells Paw that she has met up with a braw new guy while surfing. Predictably perhaps, Paw retorts "An did you fa' aff your board?" But all in all, this is a skilfully researched production and the familiarity of the dialogue and humour simply adds to the appeal of the performance.
A good measure of the audience laughed in all the right places, and that surely must indicate success.
Very much a family variety show and with an element of traditional Panto showing through at the seams, The Broons does push the boundaries a wee bit on occasion. The long suffering Auchenshoogle vicar, a grandfather of four, is the willing recipient of a gay snog or three; and in a scene worthy of a Waltons bedtime routine, Paw Broon very nearly gets his oats.
But, so help ma boab, it's all in the best possible taste and if The Bairn can take it then weans of all ages will simply love this show. Plus of course Oor Wullie makes a cameo appearance as himself, and that can't be bad.
The Broons plays at His Majesty's Theatre Aberdeen until Saturday 22nd October.
Tickets from Aberdeen Performing Arts Tel: 01224- 641122
Words © Duncan Harley and Images © DC Thomson & Co Ltd