Duncan Harley Reviews Guys and Dolls at His Majesty's Theatre Aberdeen.
Based on the short stories of Alfred Damon Runyon, the musical Guys and Dolls first took to the Broadway stage in 1950 and has been touring in various incarnations ever since. Runyon was an intrepid gambler who funded his habit partly through journalism. He claimed to have met Mexican revolutionary Pancho Villa in a Texas bar, he fought in the Spanish-American War of 1898 and seemingly has a lake in Pueblo named after him.
When Runyon died, aged 66, in 1946 his ashes were scattered from an aeroplane over Manhattan.
He wrote mainly in the present tense and many of his plots involve the seedier side of 1930s New York, featuring gangsters, gamblers and of course dolls.
Sharp suits and spectacular sets feature big time in this musical fable of the seamier side of Runyonland, an idealized version of sinful downtown Manhattan, where guys in the know can get away with almost anything. Dolls in the know take a more reformist approach. First nab your man, then change him for the better. Behind the fabulous dance routines and the show-stopping songs lies an evergreen tale of romance and coming-of-age angst.
Hot-Box-Club cabaret singer Miss Adelaide, Louise Dearman, has been engaged to grifter Nathan Detroit, Maxwell Caulfield, for all of fourteen years, and all she really wants is a cosy life barefoot and pregnant in the kitchen. Nathan however has other ideas, preferring hustling and shooting crap to marital bliss.
New York's finest are on the case in the form of Anthony McGill as the intrepid Columbo-coated Lieutenant Brannigan; and a suitably secluded spot to hold the next crap game, the Biltmore Garage, will cost $1,000 up-front rent.
Nathan is broke, but proposes an unloseable bet to raise the cash. Call the Midwife star Richard Fleeshman's Sky Masterson accepts the wager, agreeing to wine and dine Salvationist missionary Sarah Brown, head of the Save-A-Soul Mission, in far off Havana. If he fails in his quest, Nathan wins the thousand dollars and the dice game goes ahead.
After a good few Bacardis and a measure of spectacularly Diva-ridden Rumba, Sarah and Sky declare "I've Never Been in Love Before".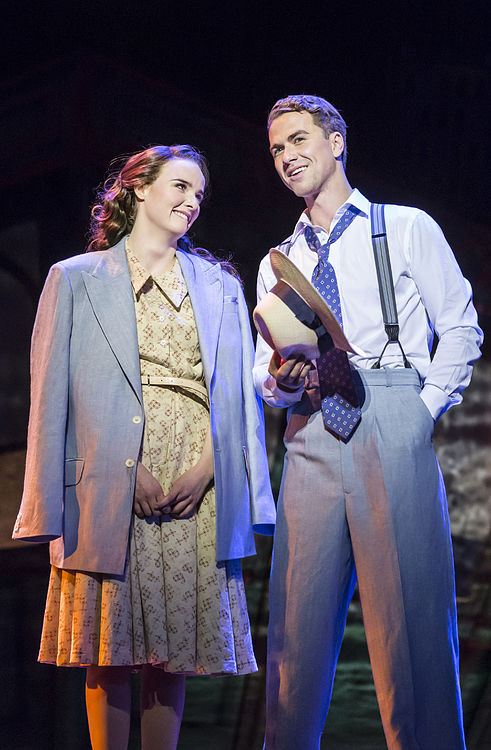 The witty punch-lines rumble on, but the dialogue wears a little thin at points.
Unbelievably, the childless Miss Adelaide has told her mum that she and Nathan have five children and a sixth on the way, and tells Nathan that, when finally married, they can easily cover the lie by breeding like rabbits.
Additionally, the spectre of Cameron Johnson's giant gangster Big Jule morphing from murderous mobster to amiable Salvationist takes some believing.
No matter! The songs and spellbinding dance routines are what drive Gordon Greenberg's revival. Familiar favourites "Sit Down, You're Rockin' the Boat", "Havana" and "Luck Be a Lady" are surely where Guys and Dolls is at in the 21st century.
This musical masterpiece may have turned 65, but the odds are two to one that there's plenty of life in the old doll yet.
Directed by Gordon Greenberg, with Musical Direction by Andy Massey, Guys and Dolls plays at HMT Aberdeen until Saturday 9th April.
Tickets from Aberdeen Performing Arts Tel: 01224- 641122
Words © Duncan Harley and Images © APA