Duncan Harley Reviews 'Avenue Q' at His Majesty's Theatre Aberdeen
Billed as unsuitable for little monsters, 'Avenue Q' pushes the boundaries of acceptability well beyond the realms of the kiddies' Saturday afternoon matinée.
Fluffy Muppetry, or the sanitized Cookie Monster-ridden Elmo's World of Sesame Street don't even get a look-in, as the Bad Idea Bears and Lucy the Slut strut their stuff in what must be the funniest musical to hit the Aberdeen stage in recent years.
Internet porn, courtesy of Trekkie Monster, and the temptations of puppet flesh are to the fore in this coming of age musical parable.
Charles Bukowski would have loved 'Avenue Q'; in fact maybe, in some forgotten way, he inspired it.
The theme of this production is simple. The sun may be shining and it may be a lovely day, but life sucks. A cast of losers inhabit a run down street in the lowest of the lowest districts of New York City, while life in general passes them by.
Enter stage left Rhiane Drummond, as the upbeat and cheery Gary Coleman, juvenile star of 1980s US sitcom Diff'rent Strokes, who infamously sued his parents for financial mismanagement before hitting rock bottom. The residents unanimously agree that it sucks, big-time, to be Gary.
Gary of course is played by a woman, and since most of the other characters in the musical are played by puppets, it is strikingly obvious that a fair degree of suspension of disbelief is required if this musical production is to be taken at all seriously.
Proving perhaps that puppets can get away with offensive behaviour where humans often can not, this show not only includes graphic puppet sex scenes, but also a host of hilarious musical numbers likely to cause offence to the unwary.
Laid back numbers include 'It Sucks to Be Me', 'Everyone's a Little Bit Racist' and that Trekkie Monster classic 'The Internet is for Porn'.
The puppets don't have a monopoly on lewdness however, and Richard Morse's quite brilliant rendition of 'I'm Not Wearing Underwear Today' presents as a classic example of finely delivered and masterfully understated slapstick.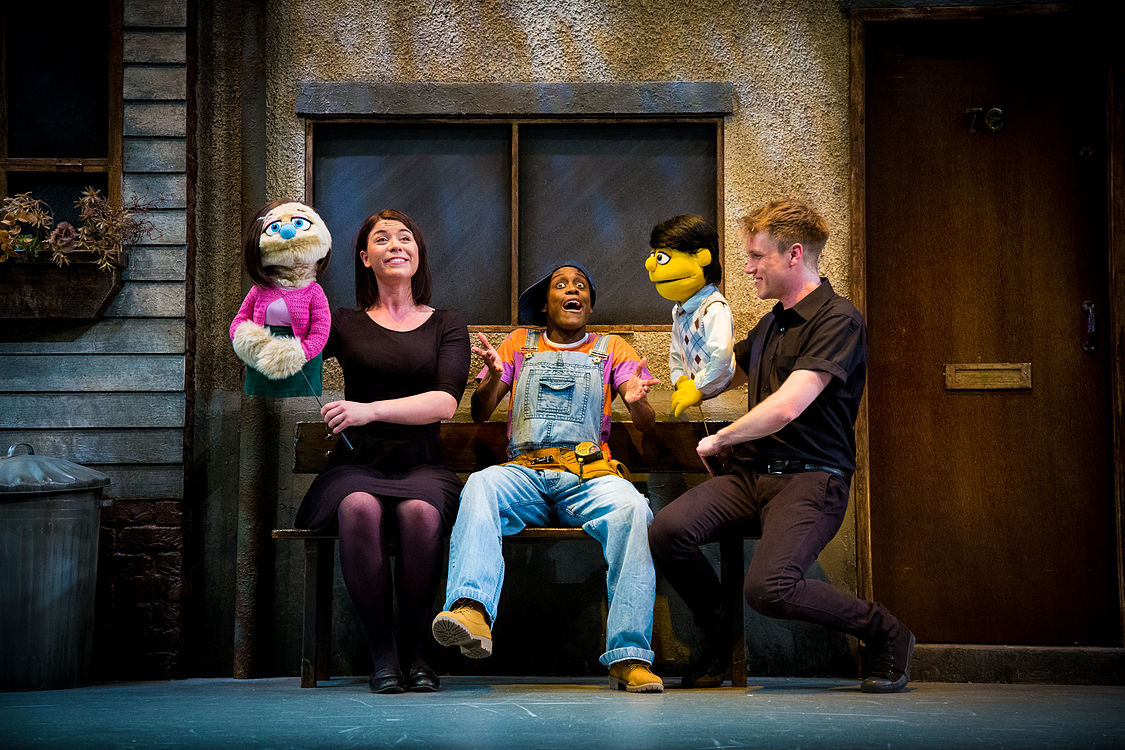 The central theme of 'life sucks' is examined closely alongside ideas surrounding commitment, sexuality, racism and of course the well known concept of Schadenfreude.
It came as a surprise to realise that the puppets outnumber the humans throughout this production; and that is a testament to the folk in black who pull the strings, work the rods, sing the songs and voice the dialogue.
'Avenue Q' makes absolutely no pretence whatsoever at treading that fine line between bawdy Bukowski and fluffy Muppetry; and as for Schadenfreude? You can Google it or simply go along to the theatre and ask Lucy the Slut to explain. Either way you won't be disappointed.
Directed and Choreographed by Cressida Carré / Resident Director/Choreographer Jessica Parker.
'Avenue Q' plays at HMT Aberdeen until Saturday 2nd April.
Tickets from Aberdeen Performing Arts Tel: 01224- 641122
Words © Duncan Harley and Images © Sell a Door Theatre Company