Duncan Harley reviews.
When dramatist JB Priestley attended an opening night of his play 'Time and the Conways' at Chichester Festival Theatre, a fellow theatregoer commented that she didn't really understand what it was all about.
"Neither do I", he seemingly retorted, "and I wrote the bloody thing!" 
Priestley's Time Plays are challenging at the best of times. Plots not only thicken but tread an intricate path through such niceties as quantum physics and Ouspensky's theory of eternal recurrence.
In 'Dangerous Corner', past dark deeds are expunged when time reverts; and in 'Time and the Conways', Dunne's theory of simultaneous time takes a theatrical bow.
The Time Plays can of course be enjoyed on various levels, and 'An Inspector Calls' is no exception. A socialist versus capitalist parable, a critique of outdated Edwardian values and a fourth dimensional take on collective responsibility all present as central themes.
Premiered in the USSR in 1945, the narrative probes the inner secrets of the prosperous but almost hopelessly dysfunctional Birling family. In the midst of a house party celebrating the engagement of daughter Sheila, played by Katherine Jack, to suitor Gerald Croft, played by Matthew Douglas, the doorbell rings. A trench coated Scotsman calling himself Inspector Goole has called, to investigate the circumstances surrounding the tragic and very recent suicide of a young woman.
In this superbly challenging revival by director Stephen Daldry, nothing is as it seems. Even the time frame remains fluid.
Set in pre-First-War 1912, the action takes place amidst the wailing of 1940s air raid sirens and the crump of Luftwaffe bombs exploding in the near distance. This provides a counterpoint, if one were needed, to the privilege and safety enjoyed by the precious few. As the interrogation of the guilty partygoers progresses, it becomes clear that Inspector Goole's goal is one of exposure, ridicule and censure. He already knows what he has come to find out.
Liam Brennan's quietly confident Inspector Goole presents initially as a somewhat awkward foil to the privileged and self-assured folk of the Birling household. Slowly and inexorably his softly spoken interrogations build one upon the other until, one by one, the accused recognise some measure of personal complicity in the events leading to the poor girl's suicide.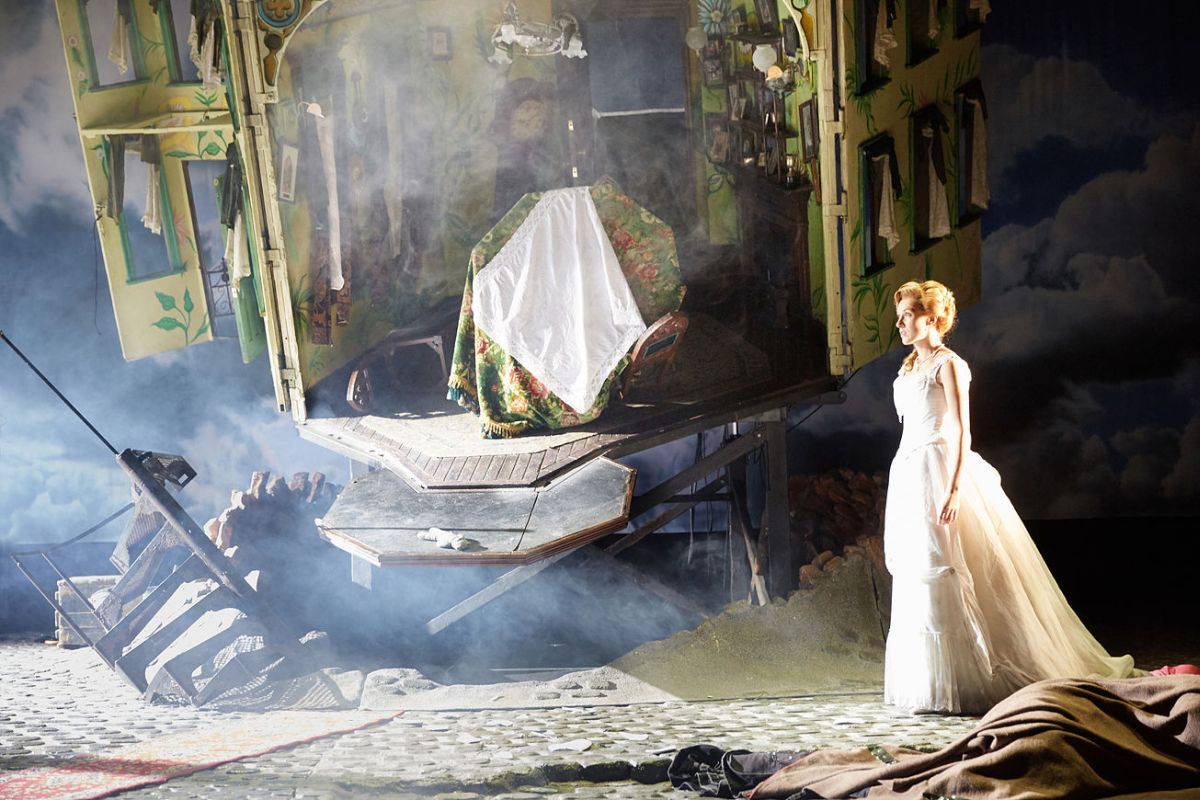 By the time Goole delivers his 'Fire, Blood and Anguish' speech in Act Three, the sharply clipped and supremely confident language of the partygoers has given way to despair and even regret. As they attempt to pick up the pieces of their shattered lives, the plot takes yet one more unexpected turn.
'An Inspector Calls' is a challenging and thought-provoking drama raising important issues which remain relevant today.
In order to sustain tension among the audience, there is no interval during this production.
Directed by Stephen Daldry, 'An Inspector Calls' plays at HMT Aberdeen until Saturday March 12th.
Tickets from Aberdeen Performing Arts Tel: 01224- 641122
Words © Duncan Harley and Images © Mark Douet