'Cabaret' At Aberdeen Arts Centre – Duncan Harley Reviews.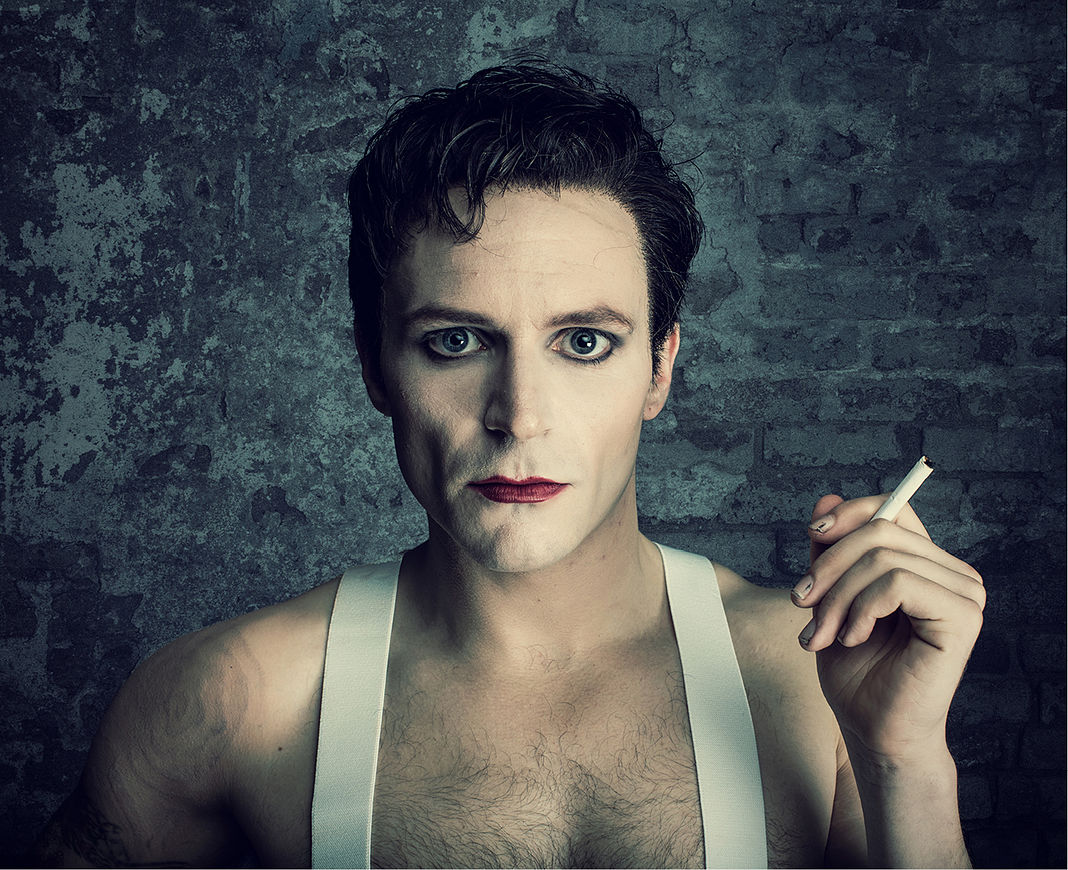 When Sally meets Cliff in this toxic tale of the birthing of the thousand-year Reich, it's obvious from the very start that the audience are in for a rough ride.
The theatre space is transformed into a seedy 1930s Berlin night-club, and to gain entry, ticket-holders have to run
the gauntlet of an aggressively authoritarian storm trooper guarding the
entrance.
Once safely inside the sanctuary of the intimate Kit Kat Club, theatre-goers can look forward to an evening of sleazily decadent entertainment, while on the streets outside the Nazi grip on Germany tightens as the Weimar Republic slowly withers.
The main action takes place within the club, where Lucas Rush as Emcee gaily struts his stuff in a delightfully menacing manner. Lucas and the Kit Kat company welcome club-goers with a powerful rendition of "Willkommen".
"Leave your troubles outside … We have no troubles here! Here life is beautiful."
Act one features a dozen classics, each powerfully delivered; including "Tomorrow Belongs to Me", "Married" and of course "The Money Song".
The second act delivers equally strong numbers, with "Kickline" by Emcee and Club Girls signalling a sea change in fortunes for the people of Europe. Indeed while Act One stresses the veiled acceptance of debauchery and the easy tolerance of diversity in pre- fascist Germany, the remainder of the action is icily shocking. Alex Wadham's portrayal of Ernst Ludwig's transition from easy amiability to dictatorial ferocity is truly frightening.
As the plot develops however, some cracks appear. The singing cannot be faulted nor can the musical score: the integration of audience and players within the Kit Kat Club works on a high level indeed, and in the main, the choreography works stunningly well.
This unfolding story is seen through the eyes of young American novelist Cliff Bradshaw, and is based around Christopher Isherwood's classic 1939 novel "Goodbye to Berlin". Traditionally a central focus is on the doomed love affair between English cabaret performer Sally Bowles, played here by Carolyn Maitland, and Cliff, played by Jonathan Vickers. Cliff has come to Berlin to finish his novel but soon finds other distractions.
In this production the sub-plot romance between James Paterson's Herr Schultz and Sarah Shelton's Fraulein Schneider is a much more central theme. Timed to coincide with Holocaust Memorial Day, the focus on this relationship, between a Jewish fruit-shop owner and his non-Jewish landlady, is perhaps quite forgivable. Both give a strong performance, the highlight undoubtedly being their duet "It Couldn't Please Me More – the Pineapple Song".
In broad terms the production succeeds and is well worth seeing. The entertainment value is there big-time and the immersive audience experience highlights the value of interactive theatre.
Directed by Derek Anderson and produced by David Adkin, Cabaret plays at the Arts Centre Theatre Aberdeen until Saturday February 6th.
Tickets from Aberdeen Performing Arts Tel: 01224- 641122
Words © Duncan Harley, Images © Darren Bell