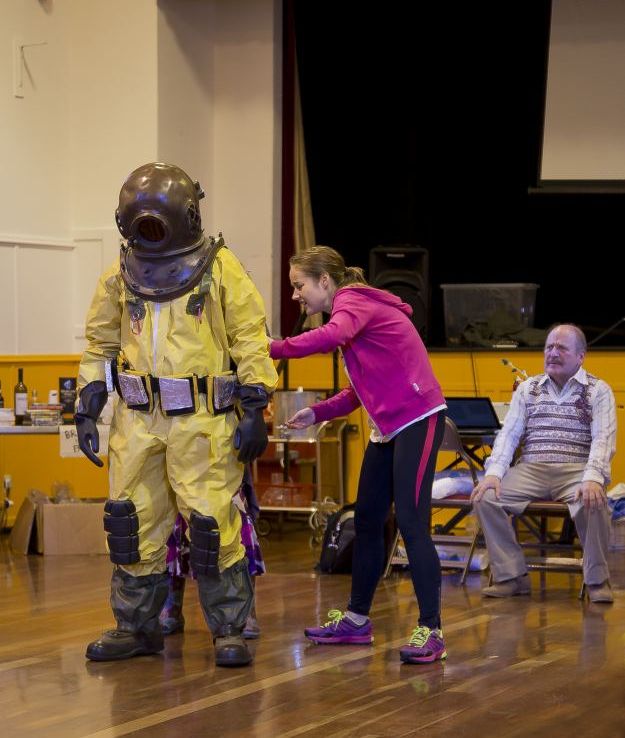 By Duncan Harley
The premise of Rapid Departure, the latest touring production by Moray-based Right Lines Productions is quite simple.
Environmental calamities are on the increase and extreme weather conditions can arise at any moment.
The surrounding area has been hit by a freak flood and the locals, aka the audience, are guided to the safety of the Boganlochan Village Hall, the designated Emergency Rest Centre.
The local council take charge of the crisis in the person of part-time seasonal grass strimmer Eric, played by Ewan Donald of River City fame. As the flood waters rise, so questions arise.
How would we all cope with such a fraught situation? Does this style of interactive theatre engage the audience? Will our hero save the locals from a watery end?
If the audience reviews are anything to go by, the production has hit a high note.
At the Kemnay Village Hall performance, audience feedback included the following:
"Fab – loved it!! Great cast and writing. Even made the teenagers laugh! Would make a great BBC special."
"A fab night. Pure genius. Great script, great acting and great singing. Well done Euan & Dave."
In all honesty, this production is a delight from beginning to end. At the Kemnay performance word must have gotten around that there would be a degree of audience participation and the front seats visibly filled up last. But no matter: no one was safe! In a series of hilarious but gentle audience engagements, the mail was delivered, food was distributed and sandbags given out. At points there was literally not a dry eye in the house!
Sing-along renderings of You Are My Sunshine and The Muckle Spate of 63 added to the fun, and within the first few minutes it was clear that a real treat was in store.
Rapid Departure is of course the latest production by Moray-based Right Lines Productions, the team responsible for theatrical comedies such as Who Bares Wins and The Accidental Death of an Accordionist.
Following rehearsals and an opening night on Eigg, the 90-minute production toured venues as far afield as Knoydart, Portmahomack and Fochabers, before swinging south to Kemnay, Pitlochry and finally Birnam.
Directed by Mark Saunders, whose professional career includes full-time lecturing at the Royal Scottish Academy of Music and Drama, the production's key elements of seriously educational farce are expertly exploited. Writers Dave Smith and Euan Martin's script intended that a drama be made out of a crisis and that is exactly what Mark has delivered!
Estrid Barton is no stranger to Right Lines. She played Trish in the hit Pitlochry Festival Theatre production of Whisky Kisses. In her Rapid Departure role as the community-spirited Gloria, she amply sets the scene from the very start, and adds a confident comedic presence to the
show.
Alongside Albert, played by James Bryce, who with over a hundred plays under his hat also wrote the music for the show, Flora, played by Helen MacKay deserves special mention; not least for her dramatic entrance and mid-show white water puppet performance.
A veteran of The Cone Gatherers and Sunset Song, her vibrant and bright stage presence added much-needed positivity to the inhabitants of the Boganlochan Emergency Rest Centre audience, just when the weather seemed to be taking a turn for the worse.
As the arguments about global warming, re-wilding, renewable energy and of course the impact of flooding flow back and forth, Barry Hunter's impressive macho presence as Connal borders at times on the Crocodile Dundee. The butt of many jokes, his vying with Eric for the affections of young Flora works well in the context of the central themes of the play.
With ultra realistic sound effects including rolls of thunder plus a truly memorable soup scene complete with a Paul Hogan-style big knife, Rapid Departure is a hilariously educational touring theatre production not to be missed.
True to form, Right Lines have triumphed yet again.
To check whether Rapid Departures is playing at a village hall near you see
http://rightlines.net/rightlines/rapid-departure/
Tickets from www.neatshows.org.uk
Words and images © Duncan Harley
Comments enabled – see comments box below. Note, all comments will be moderated.