Aberdeen hung in there to score another consecutive Pittodrie victory over league leaders Celtic, says Voice reporter Andrew Watson.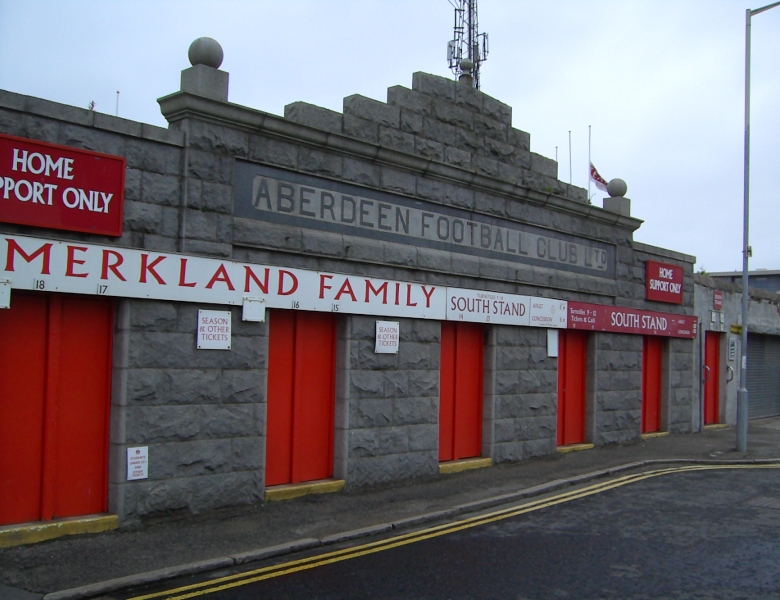 It was a clear, nippy night. The pitch didn't fare so well, though. It was torn up really badly.
There really hasn't been any respite for the surface, in these winter months.
Prior to the match, there was a derisive jeer for linesman passing ball to a Celtic player during a warm up drill.
Perhaps a sign of things to come? The conspiratorial support already sensing a bias towards the men in green and white?
However, hopefully with the tannoys blasting Hard-Fi's 'Hard to Beat', the home side would be geed up and willing to fight, even if decisions won't go their way.
Building up to the match, the place was brimming, buzzing.  AC/DC's moody 'Thunderstruck' was getting the supporters pumped.
Poor Efe Ambrose, his prior sending off gifting Ross County a cup final, didn't fare well when his name was announced for the bench. The Red Army's hero Hoop helping the Dons, and hurting the Celts, before the game's even begun.
As the players came on the pitch, fans in the Dick Donald Stand held aloft streamers of red and silver; and cards red and white.
'Stand Free' was ringing through Pittodrie, with only the Hoops huddle interrupting:
"Stand free/
Whoever you may be
We are the famous Aberdeen/
We don't give a fuck
Whoever you may be/
We are the famous Aberdeen"
Onto the game proper, Celtic threatened early on but the ball is cleared.
An Aberdeen free kick results in half chance for the Dons.
Then there's a frustrating tussle. Celtic appear to be in the wrong, but it goes in their favour with a low shot in on Dons goal.
Things are quickly becoming heated, could yet get bad tempered.
An in-swinging free kick is picked up by Hoops goalie, Craig Gordon.
Up the other end, Aberdeen are forced into conceding throw in Main Stand/Dick Donald Stand corner.
Celtic hammer in shot but deflected corner. Scott Brown held this resulting ball with authority. The subsequent free kick produced the same result.
New Don Simon Church was found wanting in linkup play with Shaleum Logan.
Celtic drilled goalward, though the ball flew over bar. It looked ominous.
Steven McLean floats promising free kick opportunity over, and well over, bar.  What a waste.
Church again tries linkup play, but nobody there. Perhaps still gelling with new teammates.
Logan forces fortuitous throw in Main Stand/Merkland Stand corner.
Leigh Griffiths jeered, falling as he homes in on goal. This was followed by Dons free kick of no consequence.
McLean concedes a stupid free kick, pushing down his opponent. Lucky to get away with it, really.
Aberdeen then have close shave after Celtic corner, the ball bobbing precariously in penalty area.
Referee at this point seems to be awarding decisions to players who tumble over blades of grass. This generally in favour of the Parkhead men.
Brown was then at full stretch, but Celtic attack goes wide.
Suddenly, up the other end, Jonny Hayes rockets in wonder ball. This time it's Gordon at full stretch. He's beaten
1-0 Aberdeen 31 minutes into the game! Pittodrie comes to the tune of KC and the Sunshine Band's 'Give It Up', replacing the lyrics with Hayes' name.
Aberdeen's Brown dives to keep Dons in lead, swatting the ball away as best he can.  He and his back four even keep Celtic corner out of harm's way.
Back in a more encouraging position, Hayes surges forward and is tackled; but wins a corner, nonetheless.
2-0!  McLean gets in an emphatic header; but it's Church who bundles it over the line, 37 minutes into the game.
"We're red/
You're dead
We're bouncing on your head/
Aberdeen, Aberdeen"

Then, having heard what's at stake for Celtic manager Ronny Deila if his team's to lose:
"Ronny/
What's the score
Ronny, Ronny/
What's the score"
Moving on, Ashton Taylor tries from distance. Right idea, but a tad high with no real power.
It was thought a hurting Celtic would be a deadly proposition, as with most top teams in any league. They seemed genuinely lacking, though.
There was a flashpoint with Logan swiped to floor, and Celtic earning a yellow card.
Not long after, the ball was thundered into bottom right corner. This was well saved by keeper, Gordon.
There was then a sliding and vital tackle to deny Celtic chance on goal. There was mass applause upon half time.
Without a third goal, it's not totally unfeasible Celtic could claw a comeback.
Halftime 1-0.
Aberdeen get early chance with corner, which glances far post.
Star man Hayes does well, beating two, three players.  He does too much, pressing his luck, not passing it, and dispossessed of the ball.
Knowing the enmity Celtic have with Aberdeen, especially regarding Logan, the Red Army get right behind the defender offering moral support. He's he taking a throw in the away South/Stand Dick Donald corner:
"There's only one Shay Logan/
One Shay Logan"
Later a ball is lofted to corner of box, via free kick scramble, but no third goal for the Dons.
There's then cat calls for Celtic's Dedryck Boyata as he makes shot-come-cross attempt. Further derision arises as Celtic player puts ball out for throw, and then trips over it.
"You are a Weegie, a fuckin' Weegie/
You're only happy on giro day
Your da's a stealer, your ma's a dealer/
Please don't take my hubcaps away"
What follows is a good passing game, but ball into box lands straight into Gordon's hands.
Down the other end, keeper Brown should've challenged for ball, though Hoops too inept to exploit Dons hesitation.
There's a scandalous lack of offside decision, going very much in Celtic's favour. Not long after, there's a scramble that almost results in goal for Glasgow side.
The home side themselves get a flurry of action, and twice. Both times Gordon making brave saves, mopping his floor.
Niall McGinn tries from distance, and the goalie palms it out for a corner.
Taylor gets into a tussle, and is taken to the ground. Somehow referee McLean decides in Celtic's favour.
The young Craig Storie puts Celtic skipper Scott Brown on the floor, for a needless free kick concession. Griffiths then caught looking for penalty.  Storie later gets booked.
McGinn was taken off, in favour of Andrew Considine after 72 minutes.
Shoring up the defence, however, didn't stop a close Celtic shave and there were unsuccessful calls for a penalty for the away side.
Then there's a scrap in the box that goes out for a Celtic corner. Ball bobbles dangerously near far corner.
Peter Pawlett was put on, in place of Simon Church after 76 minutes.
A corner of their own was overcooked by Hayes. Opposite end sees Celtic caught offside probing penalty area.
A penalty claim of their own was overlooked by McLean.
"Referee/
You're such a fuckin' penis
Referee/
You're a horse's arse"
Gordon then once again thwarted Aberdeen, mopping up a set piece.
Hayes was taken off, in favour of Cammy Smith after 86 minutes.
"You're getting sacked in the morning
You're getting sacked in the morning/
Sacked in the morning"
Storie checks opposite number and it goes out for a Celtic corner. Taker almost loses footing and's berated accordingly. There's a scramble but the Dons clear their lines.
Three minutes of extra time were added. Hayes was announced as man of the match. Cue cheers.
Celtic pounce amid poor defending, but the game is already won for Aberdeen.
2-1 (Griffiths) more or less at the death of the game.
Final score:  2-1.