Only one goal divided Aberdeen and Dundee but this belied the excitement of the fixture, says Voice reporter Andrew Watson.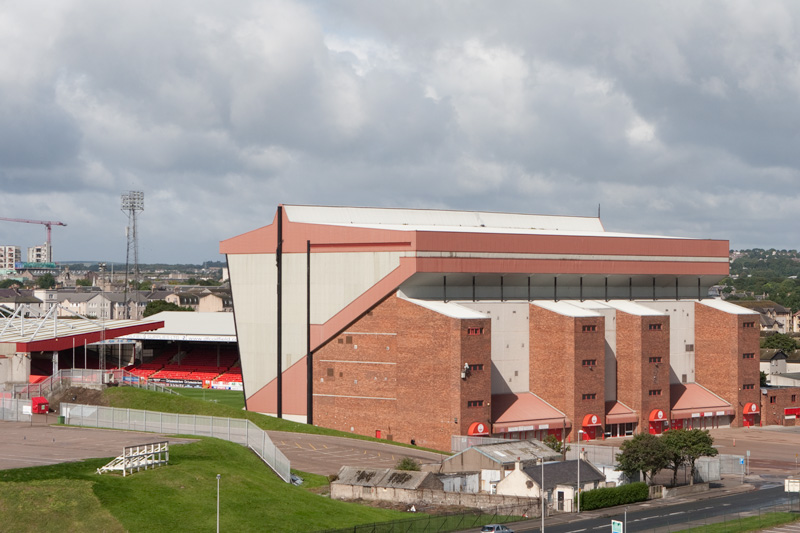 It was a chilly Friday night, and the pitch was decidedly brown and muddy. It probably wasn't even amongst the worst of grounds in the league either, especially at this time of year.
Ex-Don Nicky Low could be seen soaking up the glory after beating his own keeper during a shooting drill. Team sheets also showed Graeme Shinnie to be Dons captain.
Not long after kick off, Aberdeen's keeper Scott Brown was forced into an embarrassing concession of the ball, chasing it out for a throw in.
There was some good linkup play nipped in the bud up the other end.
Jonny Hayes then forced a corner. Adam Rooney appeared to be hustled off resulting incoming ball.
Kenny McLean later just put a tad too much on ball to corner , putting it out for a goal kick. The ball again found itself in a similar position, but went out for a corner.
A scramble in box almost resulted in a goal, going out, then back into the box, a fingertip save from Scott Bain keeping it from goal. There was then a third situation in the box, which Bain again denied with a fantastic stop.
Brown then pulled off similar heroics at the other end. His backline slipped up not long after, but recovered as Dundee put a dangerous ball across the box. Later they floated the ball completely over bar.
Despite this minor onslaught, Rooney changed things for the home team after 14 minutes.
He completed move instigated by Hayes, who powered in a low and sweeping ball to find his teammate at the back post.
1-0 Aberdeen!
Aberdeen played it safe and put ball out for throw in to quell Dundee advance.
Following that, there was a cynical challenge that put Hayes on the deck as he strode forward. McGinn was flat on his backside taking the resulting free kick.
There was then a good block to deny Dundee good crack on goal.
Back up the other end, Shinnie fought for a ball and was awarded with corner.
David Goodwillie then glanced a low shot just wide of the post as Aberdeen caught Dundee sleeping.
Dundee produced similar from a corner of their own, but Brown snuffed it out.
Heavy touches during play denied Aberdeen good chances on goal.
Then Brown made an excellent block, and teammates mopped up a potential rebound opportunity. A later defensive error left him having to make a brave challenge for the ball, but he managed to retain it in his hands.
One of his backline, Ashton Taylor, delivers an expert ball into opposition box, but Dundee rise to neutralise it.
Dundee later linkup well but intercepted outside Aberdeen's box.
Hayes wins corner but Bain leapt to catch.
Down the other end, brave goalkeeping from Brown kept Aberdeen's sheet clean.
There was then another Aberdeen corner put away by Dundee. Subsequent play resulted in another corner, which was saved brilliantly by Bain.
Halftime 1-0.
The White Stripes song 'Seven Nation Army' blasted through the speakers, the anthem for the Red Army's very own band. Maybe a lucky number seven for McLean, a gander that he may help his side to subsequent goals?
Anyway, Dundee were back on the pitch quite quick. They could be seen out doing sprint drills.
Come the opening stages of the second half, Aberdeen sweep away a Dundee advance.
Then Brown had to slide to the ground to stop Dundee attack in its tracks.
Shaleum Logan clashes with opposite number, and both went down. He's then booked for high feet.
"You're only sheep shagging bastards/
You're only sheep shagging bastards"
This was, as many are familiar, followed with the stock response:
"We're only sheep shagging bastards/
We're only sheep shagging bastards"
There was also 'We don't give a peep, whoever you may be', for 'Stand Free', sung by a younger member of the crowd. I always wondered how kids navigated that one when with their parents…
Anyway, once the vitriol subsided, Bain was forced into yet another Aberdeen a goal denial.
McGinn and Hayes were also unlucky as they bombed forward.
Further excellent play was cut out by the Dark Blues.
There followed an unbelievable scoring opportunity for the home side. It went well over the bar despite being more or less a sitter.
Shinnie then threw himself into a challenge, clattering the ball off opponent upon impact.
Taylor then put the Pittodrie men in danger with a lax header back to Brown. He was lucky to get away with the unsuccessful resulting corner.
In turn, the Dens Park men clawed a corner that should've never been, as the result of legitimate offside claim that was not acted upon by the linesman.
In fact, the general rhythm of the game appeared to be continually interrupted by a pedantic referee in Alan Muir.
Logan, however, whipped the ball into the box, but the resulting header was held securely in hands of Bain.
Goodwillie later shrugged off a barge and delivered an expert ball along the ground towards the box.
McGinn then came in with right idea, a shot as opposed to passing into net, but with just too much height on the ball.
The Red Army then had their own opportunity to pour scorn on the opposing team, after Shinnie was floored floor by a particularly bad challenge.
Cammy Smith came onto the pitch, replacing David Goodwillie after 82 minutes.
Dundee star man Bain put out a dangerous ball for a corner. It left the box, only to be put back in. Finally, it went out for a goal kick.
There was also a ball right across penalty area, but no takers.
The other Scott between the sticks, Brown, spilt a hard drive but nobody was nearby to pounce.
There followed another mad scramble. This saw Dundee with a real chance of equalising, but the dud attempt, almost clear on goal, went well over the bar. Albeit the man had his back to goal, and all he could do was hit it overhead.
Towards the end, Aberdeen were screaming for a penalty, but no cigar.
Final score:  1-0.