Aberdeen survived the first true test of their comeback against quite a stout Hearts side, says Andrew Watson.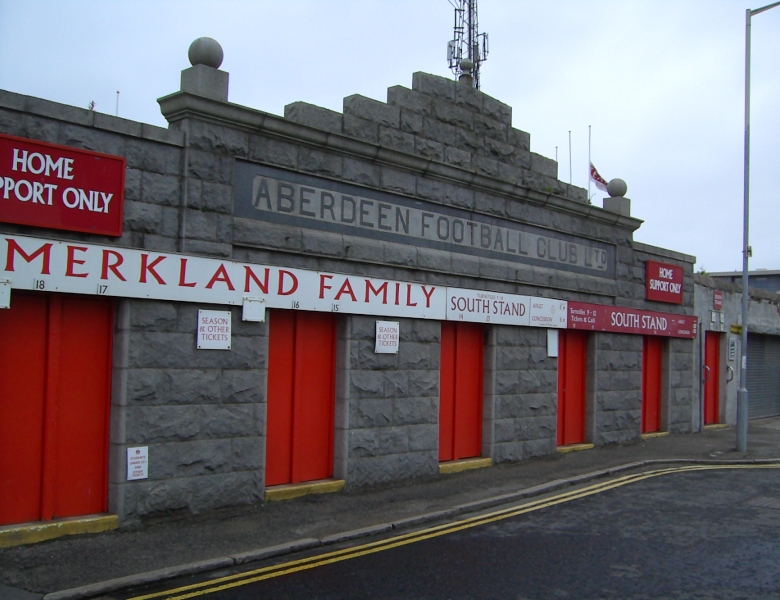 As with the Ross County game, the pitch was surprisingly good for the time of year.
Again, it was a bit chilly, but not too bad.
Before kick-off there was a sizeable, interesting and colourful display, in the Dick Donald stand, of metallic red and silver.
Aberdeen had to repel a couple early advances from the Jambos, though managed to put the ball out of play.
Jonny Hayes then had a free kick claim denied near the corner. He then knocked a high ball into the box, only marginally inaccurate.
Kenny McLean suffered at the hands of a pedantic referee in Craig Thomson, after challenging for a header. He then missed the far post by inches.
Supporters were jubilant, thinking 'goal', but had to make do with a second chance via a corner.
The Tyncastle side, however, went on the counter attack. They, then, had a second chance with a corner.
After that, Graeme Shinnie caught an excellent pass but was defeated by the defender. That eventually went out for a corner.
Generally, there were then some poor balls from Aberdeen. There was just not enough height to them to meet their receiver. However, Hearts were seemingly first to every ball.  In the air, especially.
Hayes then came in with a cross come shot, and almost scored.
Willo Flood came in with some tough tackling to breakdown Hearts, but threw away advantage with a heavy touch upon nutmegging the opposition.
Hayes then won a free kick after being fouled. After that, he came in with a timely tackle to halt a counterattack.
Hearts' Miguel Pallardo was then booked for checking Peter Pawlett. Not long after, they then received a subsequent warning which incensed the home crowd.
McLean, amidst all the physicality, wasn't afraid to get dirty and slid to knock the ball into the box.
Defender Ashton Taylor then weighed in with a shot of fine power, but slightly lacking in accuracy.
Hayes, however, not long after came sliding in on the volley. Powerful but straight at keeper, Neil Alexander.
Flood was proving to be a workhorse, chasing the ball and very determined in the tackle, but his passing was wayward; backwards and sideways.
Subsequently, McLean was caught too busy looking for the foul in the box. He should've really played advantage and capitalised.
It also became apparent that Hearts couldn't be beaten to the challenge in the air. Long balls, therefore, weren't looking likely to work against them.
Again McLean was amidst it all, dashing down the wing. He was eventually stopped, but earned his side a free kick just outside the box. This was headed straight into the keeper's arms.
Adam Rooney then pressed forward, but lost the impetus of his side's attack. It went out, albeit it for a home side throw. Then, after that, the away side took the potential sting out of things when one of their own went down.
After all this hoopla, Shaleum Logan, whether shooting or crossing, put the ball on the roof of the net after that throw.
Alexander then came to the rescue of his side with an athletic save.
There was then one minute of additional play before the half ended.
Ryan Jack came on the pitch to replace Mark Reynolds after 45 minutes, just before kicking off the second half.
Things kicked off with Andrew Considine recovering a poor pass from Flood, with an expert sliding tackle.
There was another reasonable ball into the opposition's box, but again Aberdeen were beaten by the height of the Hearts' defence. The latter then cleared the ball off the line, after another attack.
The Edinburgh men then cracked the ball off the home side's crossbar, and then got booked for a heavy challenge. This had the Red Army up in arms.
Aberdeen then had a chance glance from goal, with an almost successful cross. It didn't quite make it, though.
Hearts remained resolute despite Aberdeen's constant barrage of attacks. Alexander appeared to suffer the brunt of the onslaught, but managed to stay on the pitch.
There was then good linkup play between Rooney and Shinnie, but they were thwarted in the end.
The latter soon found himself off the pitch, but thankfully came back on.
The ball was then knocked over the bar for an Aberdeen corner.
Pawlett was felled, which resulted in a worrying Hearts counterattack. They were barely inches from scoring. Then a corner, then the ball was knocked off the line!
Hearts then accrued what would end up four yellow cards in the game, with Shinnie backed into after beating his man.
There then followed a period in which Hearts, for the first time since the opening stages, found their attacking feet.
Considine saved Aberdeen's blushes, heading away a goalward cross. Danny Ward also rised, and caught, another attempt on his goal.
McInnes made his final substitute at 73 minutes, with Pawlett coming off for David Goodwillie.
Flood then found himself lucky not to be sent off, after coming in with a late lunge. He looked to have avoided the yellow, but that would've been totally unfair to the away side.
Up the other end of the pitch, too many touches were made in the opponent's box. Goodwillie, in particular, was guilty of this.
A last gasp challenge was made, once they lost the ball, in their own box.  Luck would have it this sliding interception wasn't considered penalty worthy.
The game began to get progressively more bad tempered as time wore on.
The Dons defence was really waning with the pressure.
It was near the death when Ward made an authoritive catch to ease things for his beleaguered back four.
His team then instigated, somehow, a penalty.
It was Adam Rooney who stepped up. He did, coolly slotting it away in the bottom corner. Alexander made it a photo finish.
1-0 after 87 minutes!
Hayes, after this, ran at the defence, earning Aberdeen a corner.
There was then two minutes of additional play before the game ended.
Hearts, with their last throw of the dice, blootered the ball nowhere near the goal. It was a fine defensive display by Hearts, but they were defeated with a lowly drilled penalty when they couldn't be beaten with the long ball.
Final score:  1-0.