Aberdeen ended the half a goal down to Ross County, but rallied as winners by the end of the game, opines Voice reporter Andrew Watson.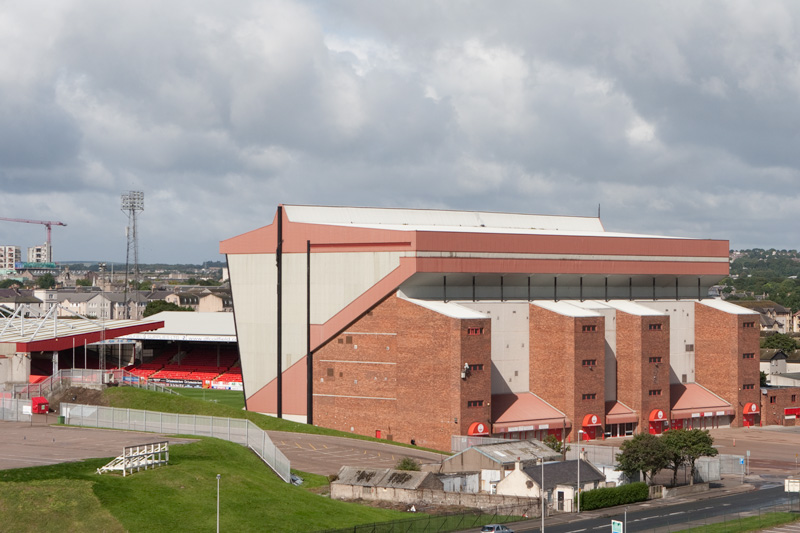 It was cold, brisk and windy. The pitch was a tad worn but looking good for the time of the year.
During warm up, the Staggies seemed to be struggling with an intense passing drill, the Red Army no doubt hoping this would be indicative of their pitch performance.
Ex-Don Richard Foster got some boos, no doubt because his history with bitter rivals Rangers.
However, Ex-County man Paul Quinn appeared to garner no sizeable reaction from the away end despite donning the red and white of Aberdeen.
The game began with the home side playing some scrappy football. This resulted in a Ross County corner, but nothing came of it.
County keeper Gary Woods was forced into a hasty clearance by striker Adam Rooney.
Graeme Shinnie then made a well-executed challenge to retain possession for Aberdeen.
One of the better chances for the Dons came as Rooney made a cut back in the opposition's box, only for the ball to be safely mopped up by Woods.
On the other end of the pitch, keeper Danny Ward's clearance falls to County and an ensuing free kick to little end is called by the referee.
A free kick for the home side, taken by winger Jonny Hayes, falls fortuitously into box, but knocked over the bar.
14 minutes into the game, a poorly held ball by Mark Reynolds is snatched as he claims handball. The Staggies play on their initiative is rewarded.
0-1 (Craig Curran).
Not long after there was a great individual effort from Hayes, beating the opposition and only his finishing touch on goal below par. His quick link up play with Shaleum Logan during a free kick was prior to this.
His involvement of a different kind in a tussle with Foster incurred more derision for the latter.
Rooney then almost cottoned onto a free kick with head.
Come this point Aberdeen's game then descended into desperate sliding tackles in their own box to avoid going a second goal down. However, they almost equalised with a good counter attack.
They then incurred some Red Army wrath with negative passing, culminating in the ball winding all the way back to keeper Ward.
Ross County were in a good position to double their lead, but a free kick just outside the box wasn't exploited.
The ball, by this point, seemed to spend half the time in mid-air and was absolutely terrible to watch.
Alternately, Staggies were almost gifted an elusive two goal cushion via a long ball. Recipient couldn't latch onto it, though.
County captain Andrew Davies was later rolling on the pitch in pain, though stayed on the pitch. This was taken as an opportunity for his teammates to have a water break, which irked the home fans to some degree.
An Aberdeen attack then went for nothing after the Victoria Park men at the back were beaten. The end product, debateable as to whether a shot or cross, let them down.
A big decision, which was arguably one of the biggest controversies of the game, then occurred. The Dons had a fortunate bobble of the ball just outside their box, but were then penalised for picking up the ball after a perceived foul upon them. They managed to remain a goal down.
Foster was never far away from the Red Army's desire to see him hooked for his infractions, kicking the ball away from Ward after a goal kick was declared.
Not long after Ward, in turn, and not for the first time, made a poor clearance and managed to get away with it. His kicking is a significant improvement upon Jamie Langfield's, but not for this game.
His defensive charges in front of him weren't faring much better, and lost the ball in their own half, which went out for a corner. Again, they didn't pay for this.
The build up to the second half seemed daftly optimistic. One song they pumped out through the tannoy system seemed particularly bizarre:
"Don't worry about a thing/
'cause every little thing gonna be alright"
– Bob Marley and the Wailers – Three Little Birds
Yet, what was more laughable were the tributes to a couple of the players. Ward had, of course, had a terrible game but somehow 'Daddy Cool' by Boney M was steady singing his praises; with minimal participation with a hacked off home crowd.
There was also 'Baby Give It Up' by KC and the Sunshine Band which extoled Hayes. Who was to know key moments in the remaining half would be at the hands, and feet, of those two; and for the good.
Things didn't bode well to begin with; with the ominous first touch of the Dandies a lumped ball into the opposition's half, and nobody there in a red shirt.
Also, when one saw Reynolds, seemingly unnecessarily put the ball over the bar for a corner, you wondered if Ward patted his backside as if to spank him for bad behaviour.
Their luck did turn when Niall McGinn offered a perfect opportunity for Rooney to score an equaliser. He hoofed into the roof of the net to jubilation.
1-1 after 51 minutes!
The Reds then went ahead two minutes after. Hayes bombed down the left and dipped his shot past Woods.
2-1 Aberdeen!
The game thereon appeared heated, with plenty of meaty challenges. Kenny McLean doing so with some fine defensive work, and also Willo Flood clearing well to safety.
Ward made yet another poor clearance, this one a low one but was lucky to be spared embarrassment.
Aberdeen fans were irate after some high feet from Ross County. Their man, Liam Boyce, in turn was rolling on the ground and earned a free kick. His teammate went for a dipping, curling effort which went over the crossbar.
At the other end, Woods came in with a dive to keep the ball out of danger and caught the resulting corner.
Ward redeemed himself when his super quick reflexes kept Aberdeen in a winning position. They earned a corner at the other end of the pitch, but the header went awry and landed on top of the net.
Hayes did go close however, keeper, at quite a tight angle, made himself big and recovered the situation.
McLean helped put it beyond the away side with a cross that McGinn pounced upon.
3-1 Aberdeen after 80 minutes!
Woods' stopped the rot for Ross County, and they managed to scupper another well positioned Aberdeen free kick. Logan was also unfortunate with a well placed shot.
Craig Storie came on for Willo Flood at the 88 minute mark.
Then Paul Quinn came off for Ash Taylor a minute later.
Storie stopped the Staggies getting a consolation goal near the death, heading the result of a corner off the line.
Goal hero McGinn took a lateral bow after 91 minutes, and was replaced by Cammy Smith.
Aberdeen turned round an utterly dismal first half performance, and, to their credit, did so finishing with a two goal cushion for their troubles.
Final score:  3-1.