Partick Thistle were impenetrable against an Aberdeen side with plenty of endeavour but not enough finesse in the final third, reports Voice's Andrew Watson.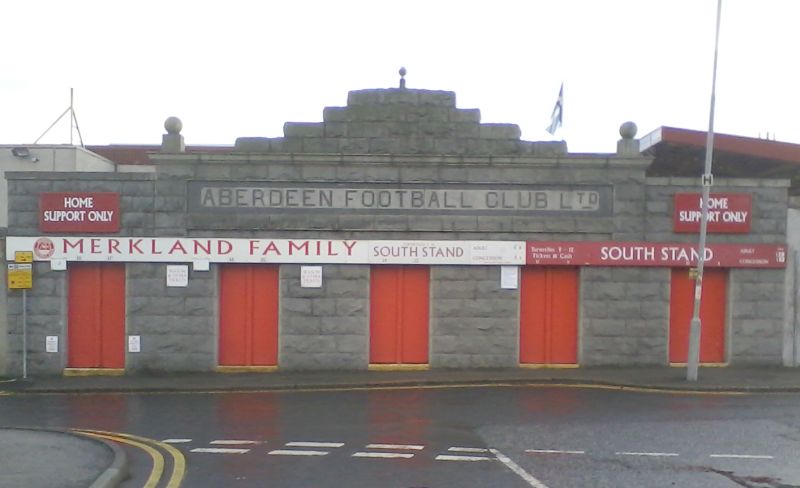 The pitch was a little more torn than it was for the Caley game Saturday past. That Boxing Day affair was a tad windy, though this night was calmer in that respect.
It would prove to be the tale of the two Thistles, both stealing a point from an at times imposing and hostile Pittodrie.
It was expected Partick would be brushed aside after the Dons struggled, and rallied against the Thistle of Caledonia.
Whoever was policing the music over the tannoy seemed quite ebullient.
First it was The Stone Roses with 'I Am the Resurrection'. This the phoenix from the ashes after a subsequent draw, aiming for flaming glory and a full three points. This bluntly segued, during the former's middle section, into the following:
"Goodness/ No, I've never known a night like this"
– Hard-Fi – Hard To Beat
This would be the night they put everything right. Perhaps a tad complacent victory would come their way, because they somehow felt they deserved it and can't be beat?
It wasn't the same announcer, either. Not the usual speaking through a crackling and faulty sounding tannoy. Maybe something in the air, a touch of superstition, to ensure and obtain victory?
Anyway, the Manchester City baby blue of Partick was sure to get off colour with such a muddy pitch and generally wet conditions.
Their goalkeeper Tomas Cerny was forced into a save with a Jonny Hayes delivery.
The latter then earned a corner for Aberdeen. He takes it, and Niall McGinn earns his side another corner. Cerny saves the resulting non threatening header.
A subsequent McGinn delivery was mopped up by the goalie.
Kenny McLean won the Dons a free kick. Hayes takes the kick, and the Cerny again gets his hands on it.
Not long after, McGinn tees himself off for a wonder shot on goal, but fumbles. Willo Flood cracks  one that goes out for a corner. This then comes to no end after a tussle in the box results in a free kick for Partick.
McLean then admirably remains on feet to header to Hayes, who hones in on goal but is mobbed by the back four. His free kick claim is rejected.
There's then some good Aberdeen defending to deny Thistle. They then go on the counter attack and are unfortunate not to score.
credible claim for a penalty turned down
Thistle are then on the counter attack themselves. There's a mazy run, but not fruitful. There's a subsequent shot at Danny Ward, but straight into his hands.
Aberdeen come into some luck with a good free kick opportunity. McGinn drives the ball into the box, but far too low.
There followed a superb, from distance, attempt on goal with Graeme Shinnie smacking his shot off the crossbar.
However, Aberdeen were almost caught out on the counterattack.
McGinn pops up again and beat the last man. However, he was denied by the keeper. Feasibly he could've chipped him, but was perhaps seeking to go down the more obvious goal scoring avenue.
Thistle then had a good free kick opportunity just outside Aberdeen's box. Following this, they'd a credible claim for a penalty turned down.
Another Partick attack was nullified after a superb interception by wingback, Shaleum Logan.
Adam Rooney then clawed play back up the pitch, his determination winning a throw in a fortuitous position.
Skipper Ryan Jack thereafter frustrated things by electing to pass rather than shoot on goal, much to the chagrin of the fans.
Hayes' dribbling strides were then too big to threaten Thistle back four.
Some hope for an eventual goal returned when Rooney almost expertly received a long ball, just outside the box. He didn't quite get it, though.
There was some good linkup play with McLean and Hayes, but the goalie cottoned onto it.
The former won a free kick for his team. This, though, was batted away by Thistle.
McGinn then overcooked his shot after beating his man. Shinnie soon did similar, overcooking his delivery into box.
In turn, even McLean admits fault for slipup on pass. A later mishap from him puts Flood in danger and on the back foot.
Cerny couldn't even be beaten at close range
There was a double clash in the middle of the pitch, both arguably late tackles. Perhaps from this point a sign that the game was about to get bad tempered.
This was followed by one minute of additional play.
Bob Marley and the Wailers' 'Three Little Birds' were yet again reassuring the fans over the tannoy at halftime that victory would yet come.
Human League's 'Don't You Want Me' stated 'Peter Pawlett (Baby)' as a hopeful substitute for after the break.
Furthermore, KC and the Sunshine Band were extoling the virtues of Hayes' first half performance, with 'Give It Up'.
Kicking things off again was McLean, who was denied on goal after a commendable mazy run.
Defensively, Ashton Taylor leapt to deny opposition ball into box. His team then went on a counterattack, but were snuffed out.
Aberdeen then absorb a worrying and persistent foray into their box.
Generally, Aberdeen were trying too hard to pass it into the net. There was no sharpshooting with this side.
Flood then conceded free kick for challenging header.
Logan afterwards delivered a deft ball but McGinn couldn't latch onto it and beat the keeper. Cerny couldn't even be beaten at close range, with good reflexes.
The other man between the sticks, Ward, was almost caught out with a poor kick out that could've been costly.
Flood then came up with a through ball, but was a tad elusive for fellow teammates.
Two of them, the centre backs, combined well to help Ward comfortably catch a potential threat in the box.
Pawlett did eventually, it turns out, come on the pitch on the 65 minute mark, with Jack subbed.
Aberdeen were fortunate not to go a goal down
Generally, Partick were never say die, and keeping their game alive. They clawed away torrent of attack after attack, which started with a corner.
Hayes then won a free kick on corner of the box.
Cerny later dived low to absorb Aberdeen attack. It was all thick and fast, yet they still held on.
Taylor delivered a fine ball, but teammates were marked out.
The man to potentially change things, Pawlett, instigated another barrage. No luck. His muscular runs beating everybody bar the keeper.  The latter rising to beat every man in red, no matter how far away from his two sticks.
Thistle then have what could be an essential crack on goal, with a rare corner. No luck.
Aberdeen were fortunate not to go a goal down with some lax marking, leaving a man totally free not far from goal.
Thistle then have another rare corner. Dons manage to bat it away.
Shinnie was integral to the back fours clean sheet aspirations, snuffing out a dangerous attack and deflecting a goal bound ball out for a corner.  Thistle are really getting into the game, attacking wise, by this point.
Then 83 minutes into the game Cammy Smith came on for McGinn.
Finally, Ward's beaten. Off target, though.
Logan, though, is later booked for what was arguably a cynical challenge.
Yet again, Aberdeen cannot beat this resolute Partick side. Even up close, where scoring seems a given, there's no goal to be seen.
There looks to be plenty additional play, especially with an injury in the Main Stand/Dick Donald Stand corner. A Firhill man is on the floor, and looks it might be serious.
This was followed by five minutes of additional play. Cue boos from Red Army when Partick take their time for a substitution.
One last lash on goal for Aberdeen, but over the bar. Ward has last kick of the game before whistle sounds.
Final score:  0-0.