Aberdeen couldn't capitalise on the luck they had going ahead in this game, and ended up with only one point, remarks Voice reporter Andrew Watson.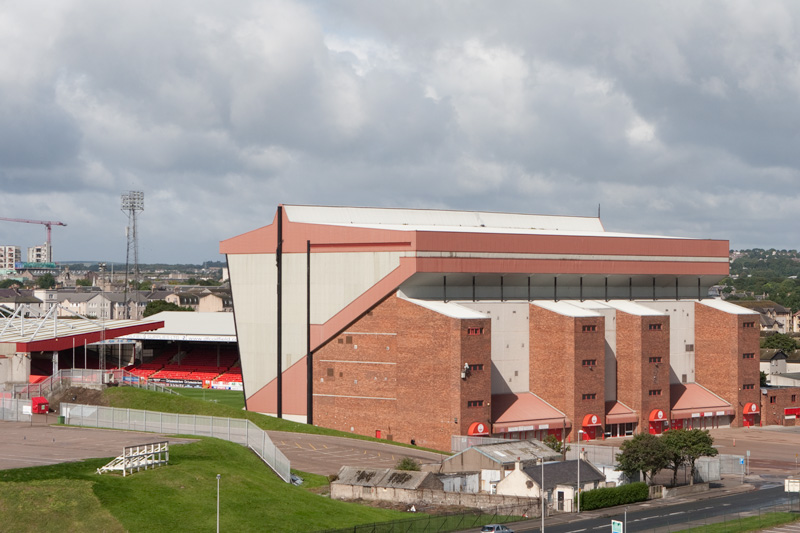 In the build-up to the game it looked like miserable weather for a potentially miserable spectacle.
Fortunately the conditions warmed and cleared up slightly.
Aberdeen almost threatened early on, with winger Jonny Hayes delivering an inviting cross into the box, but beaten by a good diving defensive header.
Conversely, it took a sliding Shaleum Logan to deny Motherwell a good chance on goal.
There was a good cross put out for a corner for the Reds, though Motherwell cleared for an unsuccessful counter attack.
Some lax defensive work almost saw Adam Rooney snap up the ball just outside the Motherwell box, but keeper Connor Ripley recovered the fumbled ball and picked it up.
Down the other end, Aberdeen's man between the sticks, Danny Ward, then made an excellent diving effort as a shot just went wide.
Dogged defending by the Steelmen denied Peter Pawlett as he launched a powerful run into their box.
There was also some good linkup play from the Dons, but Logan's cross into the final third fell short.
Motherwell came agonisingly close afterwards, beating an outstretched Ward but still going just wide.
The aforementioned Logan was unfortunate not to get a free kick for high feet. Credit to him, though, no complaints.
The Fir Park men broke free, but the ball was put out.
Hayes threatened, doing well to beat his man. However, he seemingly opted for an impossible shot at an impossible angle, instead of simply making the pass with a cutback.
Again Hayes was involved in the next run of play, with some good linking with Niall McGinn. The latter making an incisive pass to the former, only for the former to overcook his finish.  Easily best chance of the game so far.
Switching halves, Ward almost undid his good work leaping for a high ball by dropping his save. Thankfully picked it up in time, though.
The stalemate was then broken, with Logan winning a free kick due to a poor challenge. Rooney headed down a ball that then deceived the keeper with a wicked bounce that went in for a goal.
1-0 Aberdeen after 43 minutes!
Captain Ryan Jack then had an impressive half volley effort go above the crossbar by not too great a height. Not much happened between that and half time.
Opening the second half was a Motherwell attack, though this was only a tame headed effort saved comfortably by Ward.
Pawlett then comfortably shrugged off 'Well's captain Keith Lasley but the Dons were then dispossessed. The latter was then taken off.
Aberdeen came close, just over the bar. Motherwell came close, just chalked for offside.
The Reds then got painfully close with good play between Rooney and Hayes, the former playing provider instead of taker. Hayes had it bobbling just past the post.  Agonising.
The ball did eventually cross the line, but Mark Reynolds' effort was deemed offside.
Motherwell's Scott McDonald then came on the pitch. This was to prove decisive towards the game's conclusion. Until then, the Red Army marvelled at Pawlett's spectacular overhead effort that just went over the bar.
It became apparent that Ashton Taylor was struggling with some form of back pain, but was soldiering on. However, Paul Quinn came on for Taylor come the 70 minute mark.
Pesky Pawlett then got almost clear on goal, his low driving effort just wide.
Three minutes after that substitution, Motherwell hit back. McDonald dived to head past Ward. He turned to the Main Stand, goading the Aberdeen support.
1-1.
Not long after this Aberdeen had a good effort almost take a fortuitous deflection, but the errant ball was caught by Ripley.
After 80 minutes Pawlett came off for David Goodwillie.
Hayes drove into the box but the angle was too tight to beat Ripley.
The only joy post-Rooney-goal for the Dons support was when Graeme Shinnie put McDonald on his backside with a gamely shoulder barge. They erupted with derision.
Ripley reared again with an amazing fingertip save, catlike reflexes. His opposite number, Ward, pulled off similar heroics, too.
Near the death McGinn was substituted for youngster Ryan McLauglin.
Ward then made another decisive stop, earning his side a point. It's all they deserved.
With the last chance of the game Hayes almost turned things around, though nobody tagged onto his searching pass.
Final score:  1-1.