Aberdeen were almost comeback kings against Inverness but had to be content securing a point against their Highland rivals, says Voice's Andrew Watson.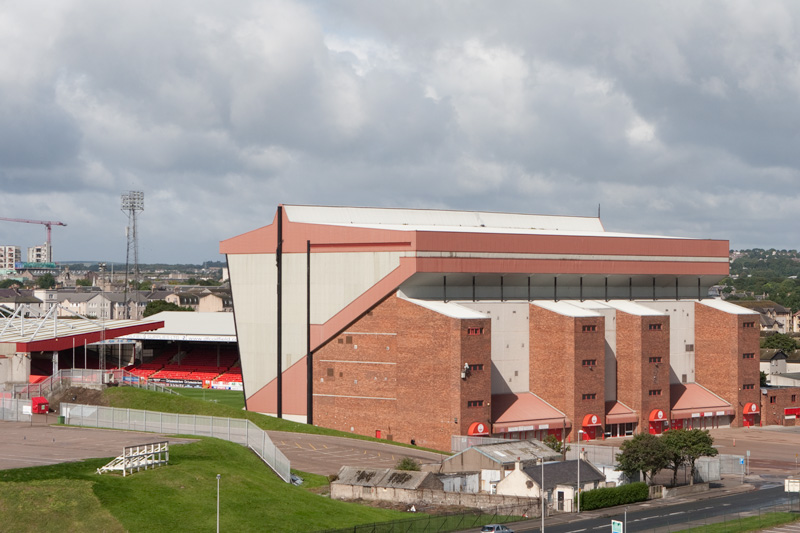 The pitch looked not bad considering the weather.
Having said that, it looked the game might descend into a mud bath quite quickly.
The groundsmen did all they could to keep the playing surface level.
There were boos when Willie Collum was announced as referee for the match, a man that has never been popular with the Dons support.
The rain was absolutely lashing down, and Pittodrie being so near the North Sea perhaps it was little wonder.
The Real Madrid white of Inverness looked set to go off colour fairly quickly in this mucky contest.
Opening the game, there was some pretty good link up play between Shaleum Logan and Jonny Hayes. The ball unfortunately went out of play, though.
Captain Ryan Jack also teamed up with the aforementioned duo not long after. The trio were, however, swiftly dealt with.
Adam Rooney had slightly more luck, but his low drive towards goal was slightly lacking power and precision.
Steven McLean figured in things, winning a header, but couldn't be kept in play.
Logan couldn't quite keep in a speculative attacking delivery, too.
Some close up action in the box followed, but with no red shirts getting a foot on the ball.
Danny Ward then saved Aberdeen's blushes, coming out to shut out an Inverness advance. Further to that, a good opening for the away side was thrown away as the ball was skied over the bar from distance.
Down the other end of the park, Ashton Taylor lofted a ball beyond his teammates and straight into the hands of the opposing keeper.
There was then a contentious offside decision as Aberdeen closed in on goal.
Graeme Shinnie then found himself fouled, inviting a free kick opportunity. The resulting run of play saw McLean come close with a drive on goal.
There was another set piece which went out for a corner. There was some good attacking play, but Caley managed to scramble it away.
A ball from Andrew Considine was caught by keeper, Owain Fon Williams. From thereon the Caley Jags carved open Aberdeen and almost scored.
Niall McGinn put in a good ball into the opposing box, but nobody rose to the occasion and fought for it. Williams catches.
Referee Collum brought forth the ire of the Red Army for seemingly awarding a foul that was arguably a slip on the wet surface.
Considine then showed endeavour with a run down the wing into the box, and though unsuccessful, won a throw in for his troubles.
Not long after, there was an in-swinging corner headed over the bar. Just as inaccurate was Logan's overly clever long ball, nowhere near any of his teammates in that final third of the pitch.
On the other hand, there was some encouraging work with McLean tussling to maintain possession. However, his dribbling direction was anticipated by his opposing number.
There was a good ball into their box, though Considine's header was a tad weak.
Keeper Ward mopped up another Aberdeen slip at the back.
Inverness almost scored an own goal trying to put out an Aberdeen cross, this resulting in a corner.
Then came a moment that was perhaps inevitable. Paul Quinn was pushed aside far too easily, and the resulting cutback was guided into the goal.
0-1 (Liam Polworth) 41 minutes into the game.
Aberdeen were carved open again and were lucky not to be two goals down. That moment would come, though.
Half time was called when Aberdeen were advancing toward goal. This incurring boos from the Red Army.
Bob Marley and the Wailers' 'Three Little Birds' were once again reassuring them over the tannoy that everything would be alright. Boney M's 'Danny (Ward) Cool' stated the only positive of the game so far, that our keeper's cool head under pressure was keeping us in the game.
By this point the pitch was looking pretty torn up. It was also getting a tad windier.
The Red Army was told to 'Place Your Hands' and put them up by Reef. This quick post-interval snippet was hoped to gee up the fans and, in turn, the players.
However, it was only two minutes into the second half when Inverness found themselves with a penalty, and a potential two goal cushion over the home side. Again, Quinn was at fault.
0-2 (Greg Tansey).
In response Hayes fired in a cross, but skied it for a goal kick.
David Goodwillie came on the pitch at the 49 minute mark, with Quinn coming off.
The run of play had the Caledonian Thistle faithful singing 'You're not famous anymore'. They were almost shut up with a good attempt on goal.
Hayes redeemed himself retrieving a wayward ball, but came unstuck – as did the team as a whole. They appeared to have little desire, fight, to chase the ball if not a pinpoint pass.
There was, though, a flurry of action in the Inverness goal but nothing of note happened. After that, there was also some expert last gasp defending holding back the Aberdeen attack.
Williams ended up on the floor after an incident in his box. His teammates took this as an opportunity to restock on fluids whilst his head got bandaged up.
Following this there was some silly long range shooting from Aberdeen, given how windy conditions were.
An instance in which this almost worked was a cross whipped in but Williams punched it away.
Considine was then fortunate that a foul was awarded in his favour. He was well and truly beaten by his opposite half.
Aberdeen were throwing everything and the kitchen sink against Inverness, but did it with little of the guile needed to be successful in the final third of the pitch. The ball did almost cross that line, to be fair.
McGinn eventually pounced to claw one back 73 minutes into the game.
1-2!
Not long after, Aberdeen had a curling effort wide of the post. During this, also, Collum incensed the home support with the soft awarding of yet more contentious free kicks.
Logan then intervened in the nick of time to keep away that third goal.
McGinn could've been the hero, but touch in front of goal was poor.
McLean, arguably with the moment of the match, thundered a shot that appeared to rattle off the underside of the crossbar, but no luck.
Adam Rooney then picked out to score from the penalty spot after a hand ball.
2-2 90 minutes into the game!
Six minutes followed that penalty. A winning goal could feasibly come from either side.
Goodwillie slid well to battle for ball, but lost it.
Game over. A tough way to go about earning a measly point. Good fight back, though. Perhaps the weather went against, though that's often a leveller for anyone in football.
Final score:  2-2.