Aberdeen took some time to breakdown an in form Dundee side, says Voice's Andrew Watson.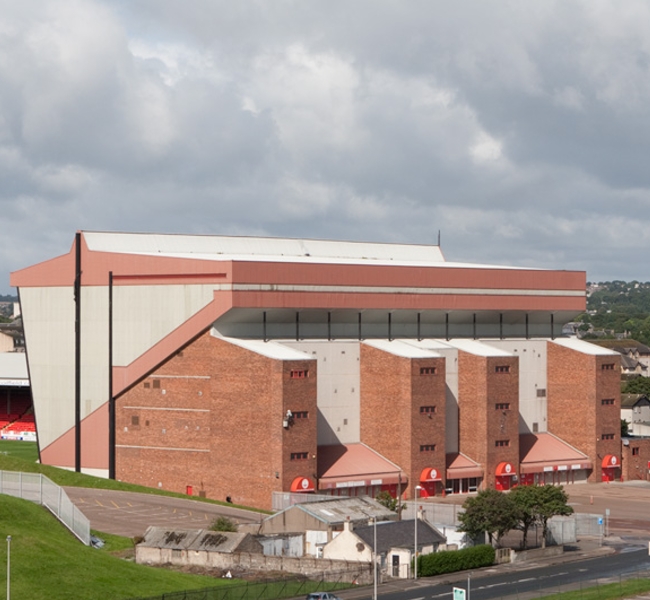 There were grey skies and slightly overcast conditions, though the weather remained settled enough to make ideal conditions for football, in Scottish terms anyway.
Generally speaking the home side had more possession in the final third of pitch, but what little of the ball the Dark Blues had they were a bit more productive within the host's box. This wasn't necessarily reflected in the score.
On top of that a very so slightly pedantic referee in Bobby Madden ensured the heated moments in the game sometimes boiled over, with four bookings and a dismissal.
The Dons finally got going in the second half, 66 minutes into the game, with Jonny Hayes crossing the ball to find Adam Rooney. He headed coolly into the net.
1-0 Aberdeen!
Goodwillie was then substituted eleven minutes later. He was replaced by Josh Parker, who's currently on loan from Red Star Belgrade and has also spent time at Queens Park Rangers.
There was a moment Parker got onto the ball well within the box. Expected to shoot, he elected to pass the ball further into the penalty area. A measured move, but still it was hoped he'd go for glory himself.
Aberdeen then made their second and final change after 87 minutes. This was to take off Hayes and bring on Paul Quinn.
A few minutes into injury time and Rooney was chopped down for a penalty. Dundee's Gary Harkins was duly sent off for the challenge.
Taken from the feet of the Dublin man himself, Aberdeen went a second goal up with the last kick of the game.
2-0 Aberdeen in the final minute of the three minutes of injury time!
The only main point of criticism is that Shaleum Logan of late hasn't been bombing down the wings and hitting into the box, like his usual self. Instead, he chooses, yes to come forward, but to pass sideways and even behind himself.
Anyway, let's hope Aberdeen can keep up their winning streak, this the fourth of four, and again push for that second place spot. This will probably to be hotly contested with the likes of the returning Hearts side especially.
Final score:  2-0.