Hairspray at His Majesty's Theatre, Aberdeen – Duncan Harley reviews.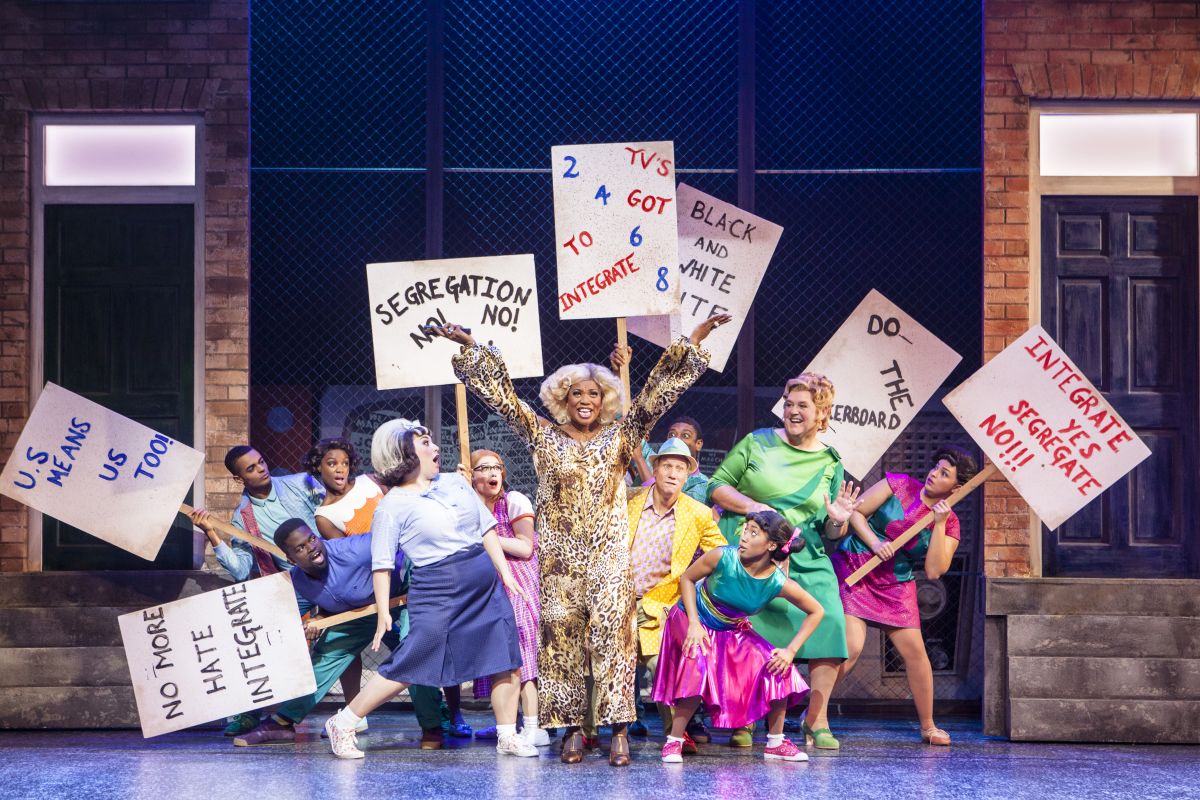 Baltimore might seem an unlikely setting for a fun-filled glitzy musical romp; after all, the city today ranks amongst the top ten US cities in terms of homicides. In the racially segregated 1960s, however, events in Baltimore mirrored those in many US cities as both debate and mass protest began to challenge the racial politics of the era.
Hairspray is set firmly within that period of change, and the plot explores not only the racial and minority stereotypes of the time, but also challenges perceptions regarding acceptable body image.
Freya Sutton's Tracy Turnblad is a big girl with a big heart and a big hairdo. Her mother Edna, played amply by Tony Maudsley, is similarly challenged in the body-size department. However with the love of a good man, in the shape of Peter Duncan's diminutive Wilbur Turnblad, she shrugs it all off and just gets on with life. This is body politics at its best.
Following a dream sequence, clearly mirroring Martin Luther King Junior's 1963 speeches, Tracy embarks on a musical journey which will ultimately transform the politics of segregation in her native Baltimore, and overcome deeply held prejudice.
Along the way she nabs the man of her dreams, local heart-throb Link Larkin, gets on the telly and does some jail time.
Tony Maudsley's portrayal of Edna Turnblad is an absolute delight. Imagine if you will, a gruff voiced Fred Flintstone in drag morphing into a sparklingly sophisticated Dame Edna Everage, and you've got it in one. Add in a good dose of irreverent humour plus a measure of slapstick and it just gets better and better.
Peter Duncan's confident and witty portrayal of Tracy's dad, Wilbur, brings to mind those Donald McGill seaside postcards of old. Cast as the diminutive foil to the super-sized Edna, he brings a lifetime of experience to the production. The jokes may be corny but the man who once crossed the Irish Sea in a VW Beetle still manages to get a laugh.
Historical context references within the script pop up with alarming regularity. The 1962 Cuban Missile Crisis and an aside about Khrushchev's shoes were clearly lost on younger audience members, but no matter, a few script changes could easily sort that out.
Alongside the politics and the humour this show is all about glitzy fast moving musical entertainment, and it is on this level that Hairspray excels. From the opening "Good Morning Baltimore" to the "You Can't Stop the Beat" finale, Hairspray grasps the audience firmly in its hand.
The Baltimore pastiche provides a fabulous backdrop for a high-energy performance laden with toe-tapping bubblegum retro-numbers, glitzy costumes and explosive dance routines.
Following the standing ovation, an Aberdeen theatre-goer was overheard telling her friend:
"the only thing I need now is an ice-pack to cool down my hands from all that clapping."
Praise indeed!
Directed by Paul Kerryson with choreography by Drew McOnie, Hairspray plays at HMT Aberdeen until Saturday February 6th
Tickets from Aberdeen Performing Arts Tel: 01224- 641122
Words © Duncan Harley and Images © Ellie Kurttz – UK tour cast 2015