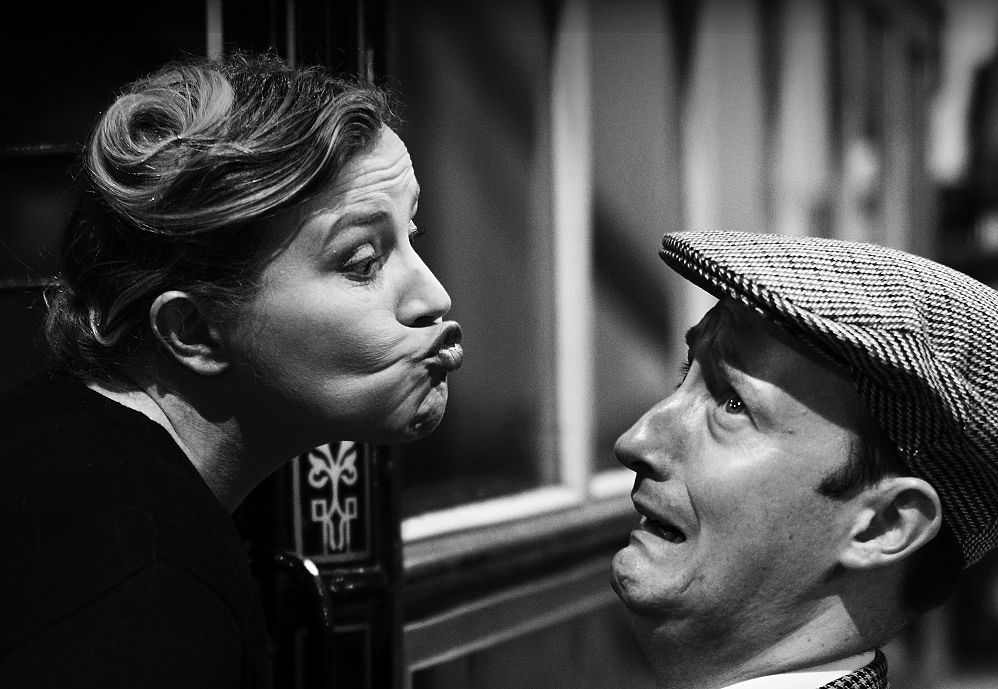 Duncan Harley reviews 'Dreich Encounter' at His Majesty's Theatre Aberdeen,
In the classic 1945 David Lean romantic drama, Brief Encounter, Laura famously meets Alec at the local railway station and the chance encounter leads to unexpected consequences including an emotional love affair
In the classic 2016 Flying Pig's comedy drama, Dreich Encounter, both Celia Johnson and Trevor Howard are conspicuously absent.
Mither meets Faither on the sofa and then in the bedroom and then yet again in the sitting-room. Screenwriter Noël Coward would have simply loved the unconventionality of the Pig's production.
Dreich is such a wonderfully emotive adjective. In a 2013 YouGov Plc opinion poll, which asked adults across the country to select their number one Scots word, it ranked well ahead of sleekit, glaikit and even blether; and a recent Tripadvisor review of the shortbread tin favourite Eilean Donan Castle really put the welly in when it concluded that the place was "dreich AND disappointing".
Aberdeen's very own Flying Pig's latest offering 'Dreich Encounter' is far from dreich and certainly far from disappointing.
'Father Ted meets Ivor Cutler' utterly fails to describe this production adequately. With past classics such as 'Stanley Cooslick's Clockwork Sporran', 'Finzean in the Rain', 'All Quiet on the Westburn Front' and 'How to Look Glaikit' firmly behind them; this new production elevates the Pig's very own brand of parody-punkesque Doric humour to completely new levels.
From the moment the show opens with the startling announcement that "this evening's performance has been sponsored by naebody" to the final sketch where Cooncillor Croonie introduces the theatre audience to the new and improved Aberdeen Town motto, no-one and certainly no public institution is safe from gentle ridicule.
As musical comedy sketch revue, 'Dreich Encounter' goes bravely where no-one else usually dares or wins. In fact anyone daft enough to emulate the Doric dynamos risks being put up against a wall in Broad Street and executed by firing squad.
Predictably, the Donald gets a mention, as does the Robbie Shepherd. Less predictably Anuptaphobia, medically defined as "a morbid fear of staying or remaining single" features briefly, and the Rodgers and Hammerstein classic 'You'll Never Walk Alone' is sung with more up-to-date lyrics including the hilarious line "When you walk through the storm, hold your head up high and don't be afraid of the duck."
There are 28 laughter-strewn sketches, featuring the likes of grand piano player Hilton John, the dulcet-toned, tartan-trewed Delmonte-jacketed Buckie Drifters, and of course Archie and Davie: this is a show which has something for everyone. Classics include the Bakery Wifies, a Doric A to Z, and Meikle Wartle TV, surely a parody of the Garioch's very own household favourite, Kintore-based Turnip Radio.
Then there are the words and phrases. Best not repeat the punch line "I'm aff for a shite" perhaps; however lard arse, wobble-bottom and pleiter certainly make it into the non-expletive top ten.
For my money, Mither's Happy Days and Mither's Happy Anniversary represent the best that 'Dreich Encounter' has to offer. Reminiscent of Cutler's Glasgow classic "Life in a Scotch Sitting Room", "Mither" gently parodies the folk memories of the North east.
In fact you can almost taste that delightfully carbonated Blue Nun and those cheesy pineapple hedgehogs.
A Flying Pig Production, Dreich Encounter plays at HMT Aberdeen until Saturday 11th June
Tickets from Aberdeen Performing Arts Tel: 01224- 641122
Words © Duncan Harley and Images © APA