In her series of articles on The Menie Estate and Donald Trump's planned resort. Suzanne Kelly has documented part of the course being eroded by the North Sea. She has documented the draconian security activities on the site, and the construction of huge earth bunds blocking existing residents' access to sea views and sunlight. She has also documented deteriorating road surfaces. Further articles will focus on key players in the Menie story, but a recent development has led her to write this supplementary article for Aberdeen Voice.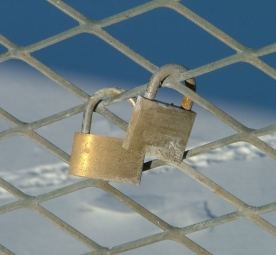 A wedding was solemnised this past weekend: Miss Sarah Malone married Mr Damian Bates. There are a few points which make this wedding of interest and importance to a wider circle than their family and friends.
Ms Malone was selected in the Evening Express's beauty contest as the 'face of Aberdeen'. That was in 2007. Mr Bates was editing the paper from 2006, having started there in 2003; he is now the editor of sister paper, The Press & Journal.
Ms Malone was plucked from the relative obscurity of the Gordon Highlanders' museum by Donald Trump to serve as a Vice-President for his controversial golf development on Aberdeen's coastal Menie Estate. She has no previous experience of real estate developments, or of golf.
It's wonderful when two people meet and fall in love.
It is not quite so wonderful when there seems to be a whiff of bias in favour of an editor's wife's business interests.
For those who don't know, the DC Thomson papers in Aberdeen, the Evening Express and the Press and Journal have given a huge amount of positive press to Donald Trump and the real estate development of which Sarah is in charge. When Trump or relatives flew in or out of Aberdeen, front pages were decked with positive stories and large photos. The paper has supported the development from the start.
In doing so, it printed not only positive, glowing Trump articles. It also vilified Aberdeenshire councillors who voted against the scheme, which went against existing planning guidelines and meant the destruction of a Site of Special Scientific Interest, the highest kind of environmental protection there is. Andy Wightman puts it best in his excellent report:-
"Perhaps the most notorious example of this was following the planning decision on 29 November 2009 to reject the planning application. The Evening Express published the pictures of all seven councillors who had voted against the application under the headline 'You traitors'.
"The paper's editorial, 'Betrayed by stupidity of seven', described the councillors as 'small-minded numpties', 'misfits', 'buffoons in woolly jumpers', 'traitors to the North-east' and 'no-hopers'. …Furthermore, Aberdeen Journals have taken a conscious editorial decision to exclude critical voices from being heard in the Press and Journal and Evening Express.
"On 12 December 2009, the Press and Journal ran what it called an 'Exclusive Report' which alleged that the main critics of the development, a pressure group called Tripping Up Trump (TUT), consisted of many people with 'tenuous or no connections with the Aberdeenshire coastline they claim to want to protect.' Martin Glegg, one of the TUT campaigners, was alleged to be co-ordinating the campaign from Glasgow. And, in a bizarre interpretation of what makes a news story, the paper revealed that TUT's legal adviser was based in Paisley. [Note – Trump's lawyers are in Edinburgh, but that was not deemed newsworthy]
"The Press and Journal editorial then went on to make the remarkable announcement that it would no longer be reporting what TUT might care to say."
http://www.andywightman.com/docs/trumpreport_v1a.pdf
Wightman's report also covers the planning aspects, boundary disputes and how the residents were treated; it makes for excellent factual reading.
For reasons of journalistic integrity, some might find this pro-Trump editorial policy a touch unseemly.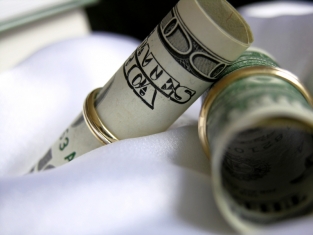 There are some basic, albeit not legally binding principles of journalism which include accuracy, objectivity, truthfulness and the like. Can you be objective where your wife is concerned?
If a newspaper editor had been someone's partner for months, perhaps years, and intended to form a marriage with their partner, would any financial gain their betrothed stood to make, such as having a highly-paid job on a multi-million pound project, also in effect be to the editor's financial gain?
Bates, it should be added, is on the Press Complaints Commission's Editors' Code of Practice Committee.
Sarah and Damian Bates might have tied the knot legally, but many of the other players on the board are also interrelated. Here is a brief listing of how some of the players are coincidentally linked together.
Sarah Malone Bates – married Press & Journal editor Damian Bates February 2013
"[Resident David] Milne's allegations of harassment are baseless and untrue … His views are not representative of the 'community' … The course opened this summer with phenomenal success and glowing international reviews. It has enhanced the area and the environment immeasurably, and brought thousands of visitors from around the world to the north-east."
http://local.stv.tv/aberdeen/news/196354-trump-opponent-pressing-for-fresh-inquiry-into-golf-course-handling/
Donald Trump: "Sarah, I want to get rid of that house [David Milne's home]."
Malone Bates replies: "It's going to create a bit of a stir but if we're up for it let's do it."
http://www.andywightman.com/docs/trumpreport_v1a.pdf
face of Aberdeen for Evening Express beauty contest;
rumoured to be dating Damian Bates, formerly of Evening Express, now Press & Journal editor;
recruited from her job at Gordon Highlanders' museum to be a Vice-President for Trump despite having no knowledge of golf;
was on a panel for Visit Scotland, a quango, and partner of Scottish Enterprise.
Damian Bates – married Trump Int, Golf Links' Executive Vice President Sarah Malone in February 2013

"This newspaper has given a voice to all those who have wished to become involved in the debate about Donald Trump's plans. That courtesy was extended to Tripping Up Trump in the belief that it was a bona fide group of local environmentalists. Today, it has been withdrawn." – Press and Journal 12 December 2009
"Newspapers like the Press and Journal….provide one of the few platforms for the little man to take on the big institutions"
http://www.kaimhill.net/?p=2729
Editor Press & Journal, formerly Evening Express editor;
his papers published only two articles on 'You've Been Trumped', both after the BBC screening, but nothing when it was first shown in Aberdeen nor when it won awards around the world;
the first of these articles, by David Ewen said that Anthony Baxter was not available for comment, when in fact he had spoken to the author on the same day the article came out. No subsequent correction was made in later editions;
the Press & Journal accepted a controversial full-page ad from Trump linking Salmond, windfarms, and Salmond's attempt at recruiting Trump to support the release of convicted Lockerbie bomber, Al-Megrahi. Yet it rejected advertising, before any referendum was announced, by local group 'Friends of Union Terrace Gardens', for being 'too political';
David Ewen, who had reported that Baxter was not available for comment in his first article on the subject, has authored a book with a foreword by Trump. Entitled 'Chasing Paradise: Donald Trump and the Battle for the World's Greatest Golf Course', the book was available for sale in the Press & Journal shops and advertised in the paper;
Donald Trump

"I do play with the bankruptcy laws — they're very good for me" http://www.thedailybeast.com/newsweek/2011/04/24/the-trump-backlash.html
real estate developer with a past history including controversial developments,incomplete developments, litigation, and bankruptcy;
purchaser of Menie estate and developer of Trump International courses at Menie;
former alliance with Alex Salmond while the project was still in planning;
awarded an honorary degree from RobertGordonUniversity, amidst a high private security presence. RGU has Sir Ian Wood as its Chancellor.
Sir Ian Wood
"We are very pleased to honour you today in recognition of the significant contribution the Scottish Trump International golf resort will make to diversify the economy of the North East of Scotland."
http://www.bbc.co.uk/news/uk-scotland-north-east-orkney-shetland-11493040
chancellor of RobertGordonUniversity, which saw fit to give Trump an honorary degree;
Former Chairman of Scottish Enterprise, board member of Scottish Enterprise;
Wood added Jennifer Craw, formerly of Scottish Enterprise, to the Wood Family Trust. Craw appeared in the Trump Organisation's pro-development film in her Scottish Enterprise role, which also used the SE logo. SE never gave permission for this implied support for Trump and yet no formal complaint of this misuse seems to have been made. There will be more on this in a subsequent article.
Alex Salmond:
"I believe that the economic and social benefits for the North-east of Scotland substantially outweigh any environmental impact"
http://www.eveningexpress.co.uk/Article.aspx/919658
His government took the unprecedented step of calling in the Trump planning application;
Met with Trump representatives just before it was announced Scottish Government would have the final say on the billionaire's plans for a golf resort;
Controversially wined and dined Trump on both sides of the Atlantic while the course controversy raged;
Asked Trump to back his government's stance on Lockerbie bomber Al-Megrahi's release;
Has a close relationship with Sir Ian Wood, rector of RobertGordonUniversity, and ex-Scottish Enterprise.
Image Credits:
The Ring © Andrei Mihalcea | Dreamstime.com
Marriage For Money © Vangelis | Dreamstime.com
A Pair Of Padlocks © Ragne Kabanova | Dreamstime.com
Comments enabled – see comments box below. Note, all comments will be moderated.