My inaugural visit as a gig reviewer to The Tunnels ( Voice article here ) was what could be said as time spent in a shite venue reviewing reasonably good bands. This time was a 'battle of the bands' of sorts; so overall quality was much higher, in my opinion. Andrew Watson reviews.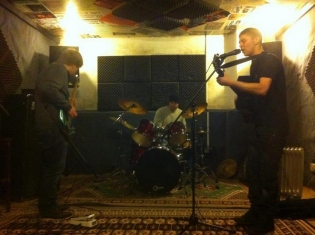 Like the first review, I'll be quoting the words of
Dead Hermit Peepshow
/
Obscenities
guitarist Johnny Morrice.  He'd probably want a cut of my pay for this article, were my involvement with
Aberdeen Voice
anything other than voluntary:
"We're playing with a few other bands, including
Street Pastor Disaster and Gutter Godz, both of whom I've seen before."
says Johnny.
"Street Pastor Disaster play sleazy noisy rock.  They're sound loons, too!  Obscenities played with them at Transition skate park. GutterGodz are a RAWK band like Guns N' Roses and friends.
"Other bands I've not seen include Thirsty Locust.  They have a Britpop sound – major key, walking pace, clean electric guitar, continuous lead melody. Blood Stained Notes are another rock band.  They've a neoclassical feel at points.
"We're also playing with a band called Inversion Theory.  I don't know what they're like, but when I search it I end up with millions of hits about maths.  I'm assuming they're a metal band, because maths is metal."
Nothing more to say, really.  Peace.
…nah.  I'll fill you in on the blanks, and more.  Fantastic gig.
First up were Thirsty Locusts ( pictured above ).  Easy to pigeonhole as your typical drab, inconsequential indie band upon initial inspection.  Then I heard the bass player during soundcheck.  Funky bastard.  Honestly, chin jutting out like a boss (I wish I wouldn't use that word), slapping that shit like a motherfucker.
Though more restrained during the set, he honestly gave what were already finely crafted pieces of music a distinction that'd easily set them apart from their generic peers in the local scene.
Some songs, and I feel bad singling him out all the time, I felt he opted for trundling along on root notes when taking his opportunities to shine would've taken them to another level…to Level 42?
Another aspect I enjoyed were the 'world music' elements in their set.  Not really knowing what precisely constitutes 'world music', I'd simplify it by saying the almost African-esque drums  in their set rightfully demanded attention.  Brilliant.
Seriously, although the bass player himself would maybe draw comparisons to Mani of The Stone Roses , the introduction of those 'world music' drums is easily within the realms of Eighties-era Scottish New Wave heroes, Simple Minds. I say this because it would do the latter and Thirsty Locusts a great disservice to describe them as merely pop or indie groups.
The guitarist, tastefully dressed in waistcoat, was equally tasteful in his playing.  Posture somewhat reminiscent of Clapton in The Yardbirds days.  The singer, a spunky individual, was raw and powerful.  He sang with an attitude akin to Tom Clarke of The Enemy.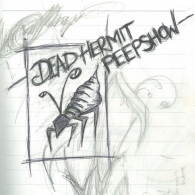 Dead Hermit Peepshow were next.  They were an engaging opening act, playing riffs a night crawler would probably use as a backdrop to a totally dastardly, though slightly comical, jewel heist – shifty eyes, and all.
Even just the novelty of hearing headbanging guitar work played out on a semi-acoustic was enough keep punters interested.
The crowd asked Johnny he were indeed a member of The Smiths, rather than an unorthodox guitar hero and puritan punk rocker…
Ironically, they're best described as melding the lyrical mores of 'goth' bands like The Cure, spider-eating-me-for-dinner and all that, and well…the blues!
Certainly one number that stuck out, towards the end of the set, had the rhythm of the blues infused with the subversive, youth corrupting values of films like the The Rocky Horror Show.
Burlesque dancer Magenta D'Lust, joining Johnny on vocals, aptly helped conclude the set with 'Time Warp'.  A sight to behold, and as curious as their adaption of one of nasal rockers Placebo famous works.
Next up were Inversion Theory.  Forgive this writer if he's got slightly more insight into this band than the others, for he used to be the bassist.  I tend to review bands I know, or have been in, to gain free entry.  I will try my best to branch out in the coming months, though.
Debuting a new bassist, obviously, they rocked  (I wish I wouldn't use that word) Zakk Wylde style.  You know, when he was still relevant and played for Ozzy Osbourne?
Their guitarist, sharing leads with Chris Brew, Ewan Hill, can solo his arse off and plays with plenty of feel.  It's in the blues, man.  It would be no lie to say there aren't many guitarists I've played with that excite me as much as this guy.
Don't disappear into a myriad of booze, heroin, fast girls and fast cars, big man!  I won't tell anyone you ride the bus home from work.  Their female singer's got a bit of gravel in her, too, so quite an interesting band all-round.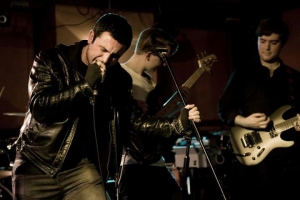 Blood Stained Notes came on afterwards, and were a heady mix of metal dissonance and punk immediacy.  Their guitarist, and it's often a bone of contention who plays lead and who plays rhythm, hogging most of the limelight was definitely one of punk's more visceral proponents.
Think Bonehead of Oasis fame (where's he nowadays, anyway?), trying to upstage Noel Gallagher; but complete in 'down-with-Queen-Lizzy' t-shirt and skinny black jeans with black boots.
Their bassplayer really did upstage someone, namely Thirsty Locusts.  This done by taking his band to another level with his supremely tidy playing, glasses and haircut…instrument strapped tightly and as highly-strung as his Mark King Level 42!
The main support act for the night, Street Pastor Disaster, were a powerful mix of funk and metal.  I honestly recall one of their numbers to be like Inversion Theory on speed; somehow hashing it together with a mathematical mindfuck that seemingly had the fantasm and glory of Faith No More at their finest.
…and with that they became my new favourite local band.  In Andrew Mahoney I've got a new unorthodox guitar hero and majestic metalhead to stalk on my way home from venues.
Shove your Johnny Morrices, Johnny Marrs and Uli Jon Roths.  That includes that German guy from local punk heroes, Escape To Victory.  What's his name…Michael Schenker, or something?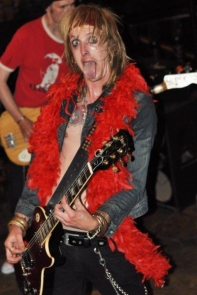 Headliners
GutterGodz
seemed every bit as dangerous as they looked. 
Guns N' Roses
is indeed a correct assertion.  An aspersion, however, would perhaps be to liken their frontman/guitarist to Paul Stanley of
Kiss
.  Fantastic if slightly feminine range, though.  Girls love vulnerability, and guys like me love it more. 
Kiss
ROCK!
( I have had to be picked off the floor after the Aberdeen Voice editor told me that he recently caught up with the aforementioned frontman, Jon Davie actually performing as Paul Stanley in a local Kiss tribute. I should not have been surprised, but at the time of writing, I honestly had no idea ).
To get to the heart of it, though, one song in particular was, like all their songs, audacious; yet relied upon dynamics such as drum, bass and sparse guitar.
This is a formula not exploited enough by bands of any stature; though I'm sure they'd do it to death if they stumbled upon it as some new, fandangled way of making shit loads of money.
Thankfully, this GutterGodz didn't do.  Summing them up would be to say their song, 'Blood', I believe, is like listening to card-carrying members of the Bloods (red Gibsons, Converses and, of course, bandanas); with a love for Puerto Rican girls, switch-blade knives and revving up to 'Wild Child' by W.A.S.P.
A trying night, given the number of bands playing; but absolutely excellent, nonetheless!