By Andy Kite.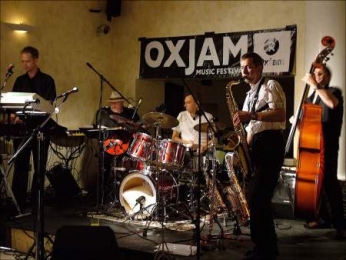 The Oxjam Music Festival is really hitting a note across Aberdeen.  With just over a month remaining till the big day, activities are starting to pick up with a view to raising funds and awareness for Oxfam.
Having already generated over £1,000 in the city through events such as a music quiz and a guitar hero tournament confidence is high for breaking targets in the run up to the festival, titled "The Takeover".
Taking place on the 23rd of October, the festival will showcase some of the top artists from across the city with 25 bands performing across five stages.  Headlining The Tunnels will be Weather Barn and Le Reno Amps with both acts hugely popular with music fans in the north east.  The Wildcards and Kashmir Red will rock Cafe Drummonds while Jo McCafferty and The Kitchen Cynics will bring ambience to Enigma.  Finally, local favourites The Lorelei and Gerry Jablonski and his Electric Band will light up the Blue Lamp.
Oxjam Music Programmer Shawn Skinner declared "We are absolutely delighted with the quality of acts we have playing The Takeover and feel there is something for everyone.  We aimed to capture a cross section of the music scene in Aberdeen and believe we have that.  We've booked some local big hitters, renowned acoustic acts, blues and folk bands for a party atmosphere and encapsulated the spirit of rock and roll.  The best part is we can make a difference to people's lives by listening to some of our favourite bands.  It's incredible to think that around a billion people in the world don't have access to clean water and while we can't rectify this issue, we can certainly attempt to raise awareness and play our part in changing it."
Tickets can be bought for £5 and provide unlimited access to each stage.  Hopes are high that each venue will be full to deliver a night to remember with every penny going to Oxfam with the money used to fight poverty and climate change.  A little money can go along way as, for instance, £429 is enough money to build a library and fill it with books and £720 can supply clean water for a village of 800 people.
At present the Aberdeen team at Oxjam have already raised enough funds for both of these initiatives.  Those attending The Takeover can also take part in "signing" a visual petition by having their pictures taken with the Oxfam "Fair Deal" handstamp with the photographs being put together in a collage and sent to world leaders.  Tickets for The Takeover can be bought at One Up on Belmont Street and at www.wegottickets.com.