By Andy Kite.
Musicians in Aberdeen play their part in the UK's biggest ever charity music festival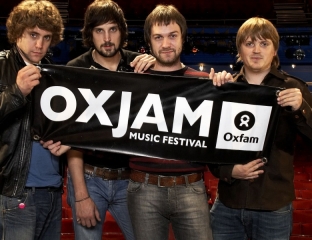 Local bands are set to take to the stage in support of Oxfam next month as part of Oxjam, the UK's biggest music festival. On the 23rd of October, the Oxjam Takeover festival will see around 25 acts play across five stages in the city centre with all proceeds going to fight poverty around the world.
The show forms part of Oxjam's Month of Music which runs through the whole of October. Oxjam is a festival with a difference.: Thousands of fundraising music events are put on by ordinary people – from large-scale festivals to local sponsored busks – making it the biggest line-up of any music festival in the UK.
Among the artists playing include Weather Barn, Le Reno Amps, Jo McCafferty, The Wildcards, Gerry Jablonski, The Deportees, The Kitchen Cynics and Turning Thirteen. For just £5, wristbands for the event can be purchased allowing access to any of the stages in The Tunnels, Cafe Drummonds, Enigma and The Blue Lamp.
Laura Darnell, regional manager for Oxjam Aberdeen, said:
"We're really excited to be playing our part in making Aberdeen part of a month-long musical celebration right across the country. Even more importantly, this gig is all about showing that the best in local music can have a global impact too – for example, just £7 could feed a family, and £10 can buy five bags of seeds. So everyone who comes along can rest assured that as well as having a great time, they'll be helping to change lives around the world too."
During October, more than 950 venues, 2,000 volunteers, 6,000 bands and musicians and 135,000 audience members nationwide will enable Oxjam to raise £500,000 to help Oxfam fight poverty.
It's exciting to think that anyone can get involved and every single gig will help to raise loads of money to change lives around the world
Since 2006, more than 36,000 musicians have played to an audience of over 750,000 people at almost 3,000 Oxjam events, raising in excess of £1.2 million to fight poverty around the world. Oxjam 2010 is expected to take the total past £1.5 million, enough to buy safe water for 1.6 million people, 750,000 bags of seeds or 60,000 goats.
From 27th to 30th September, a diverse range of the biggest names in music, including pop princess Diana Vickers, Razorlight frontman Johnny Borrell, and Britpop legends The Charlatans performed their most unusual shows to date – inside an Oxfam shop – as the official launch events for the Oxjam month of music.
Former X-Factor star Diana Vickers, who headlined the Oxfam shop show on 28th September, said:
"The best thing is that everyone who takes part – from singers like me to musicians, promoters and audience members – is the real star of Oxjam. It's exciting to think that anyone can get involved and every single gig will help to raise loads of money to change lives around the world."
Razorlight frontman Johnny Borrell, whose new band performed for Oxjam, said:
"Our gig is only the beginning of a movement of thousands of gigs, club nights and events right across the country, all raising money to fight poverty. "
In the lead up to the festival, there will be a campaign night held at The Belmont Cinema on the 15th September between 6pm to 8pm. Campaigners from Oxfam along with representatives from the Aberdeen team will be present to answer questions and demonstrate what funds will be going towards.
To find out what Oxjam events are going on in Aberdeen and the full line-up for the Takeover festival visit www.oxfam.org.uk/oxjam. Tickets can be bought at www.wegottickets.com and donations made at www.justgiving.com/oxjamaberdeen.
Oxjam Takeover events take place on 23rd & 24th October in the following locations:
Aberdeen, Bath, Birmingham, Bournemouth, Brecon, Brighton, Bristol, Canterbury, Cardiff, Coventry, Edinburgh, Glasgow, Guildford, Huddersfield, Leeds, Leicester, Liverpool, London (Brixton, Leadenhall Market, Brick Lane, Kilburn, Kingston), Manchester, Neath, Newcastle, Nottingham, Sheffield, Southampton, Stirling, Stoke-on-Trent and Wiltshire.
More than 600 Oxfam shops across the country sell second-hand music – double the total number of independent record shops in the UK*.
Oxfam shops sell around £6 million of music every year, which equates to around 1.8 million CDs and records every year, all donated by the British public. The largest single donation was of 4,000 vinyl albums to an Oxfam shop in Devon in 2008.
Oxfam has been one of the lead charities at Glastonbury since 1993, raising £2.7 million through stewarding the festival and signing up more than 400,000 people in support of its campaigns at the festival. Oxfam works at seventeen music festivals across the summer, stewarding, campaigning and selling festival fashion.