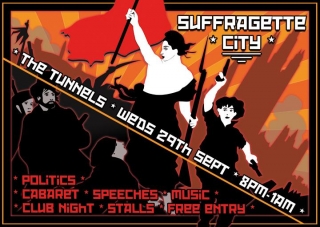 By

Keava McMillan.
Suffragette City is a free evening of anti-establishment politics, music with performances, speeches from activists in the area and a club night. With stalls from environmental, humanitarian, and left wing political groups.
The night opens with a political cabaret: a series of short talks from different activist and groups interspersed with musical acts, followed by a revolution themed club night to give people a chance to mix, find out more information from the speakers, and have a look at the stalls run by the local activist groups.
Essentially, it is an experiment to recreate the intimacy and entertainment of a cabaret mixed with the excitement and engagement of a political meeting. The aim of the night is both to promote awareness of various causes and to provide a space for a good night out. The format of the night means the event will be quite informal and fun, giving people who are new to Aberdeen a chance
to meet others with similar interests and to find out more about the different activist groups in the area.
We have inspiring speakers lined up and some exciting acts booked for the night, including the performance poet Rapunzel Wizard and the Edinburgh based feminist duo The Zorras.
Wednesday 29th September.
Tunnels 1.
8pm-1am.
Free entry.
See Also 'Campaign Against The Cuts' 29th Sept …. Upcoming Events … Click here