Voice's resident wordly-wise sage, Old Susannah, dines, defines and discourages the whines.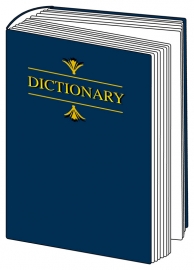 Old Susannah is having quite the week – on Tuesday it was off to the Marcliffe for a spot of lunch, courtesy of the Dirty Dancing musical which is coming to Aberdeen in March 2012.
The food was a nice mix of appetisers and the steak in ale on an Irish pancake was most memorable. The Berlin cast of the show danced beautifully, and the event closed with a rousing duet.  I particularly dislike bad musicals. I walked out of Seven Brides for Seven Brothers once – it reminded me of when my cat was poorly.
For me the real surprise was learning that the producer for Dirty Dancing is Karl Sydow, whose list of credits in the theatre is, well, awesome.  He's worked around the world with talent such as Sir Ian McKellen, Fiona Shaw, and Old Susannah's favourite, Ian Hislop.  Sydow is also on the board of Out of Joint, the UK's leading producer of new writing for the theatre.
So, what's new in Dictionary Corner, Susannah?
Irony
Irony can be defined as per Miriam-Webster's online dictionary "the use of words to express something other than and especially the opposite of the literal meaning". It is also a well-known fact that Americans can't understand irony, and it is a term often best explained by illustration. Happily, the Press & Journal has supplied one.
"City 'one of the safest in the country'" announced a P&J headline on 7 January. The story went on to quote a police spokesperson on safety in Aberdeen over the festive period. This wonderful safety which we all noticed in the streets was, by coincidence, at the very same time as an increased police presence in town.  The Council should be told – before they announce yet more police cuts. And what were the other headlines appearing in the same issue?
"Theft of equipment worth thousands over Christmas"
"Attacker who broke man's jaw spared jail"
"Man, 22, jailed for stamping on victim – unprovoked attack in the street"
"Probation for teacher over online sex chats with pupil"
"Man admits owning dog which mauled elderly horse" (NB this was Gary Pearce, 42, of Marischal Street),
"Disabled bus passenger mugged after being followed – victim says attackers robbed him after pretending to help him off vehicle"
and..
"Nightclub owner admits vicious assault" – with a rolling pin no less.
the sufferer is usually trying to compensate for something they lack, or something they feel guilty about
It is safe to say that by comparison, these headlines make the 'Safest in the Country' headline look just a touch ironic.  But if the P&J says we're the safest city, maybe we can stop locking our doors at night.  I know I'm going to.
Ozymandias Complex
Ozymandias is a poem by the great Percy Bysshe Shelley, which in a few lines sums up the futility and ego of an ancient Egyptian king, Ozymandias. Ozymandias believed in his own superiority, and sought immortality and power by erecting huge monuments to himself and his empire – which, inevitably, the sands of time literally destroyed after he himself was long forgotten and his people dead.
The Ozymandias Complex is a psychological term concerning someone who is inwardly insecure or inadequate, but is desperate to make an ostentatious – which means 'showy' for any City Councillors reading – display of wealth and power, in the hope of winning admiration. The person blighted by this complex wants others to fear, respect, admire or envy them and the sufferer is usually trying to compensate for something they lack, or something they feel guilty about. Of course the psychological motivation of the person suffering Ozymandias Syndrome doesn't matter in the end, because the grateful populace get a new statue or car park or giant pink glowing stadium, and their gratitude will know no bounds.  They will sing the praises of the person who creates these monuments to their own greatness, and will, as Shelley wrote, 'despair'.
Old Susannah was able to give an example of irony in the previous definition, but cannot think of any suitable local dignitaries with the Ozymandias Complex.  If I knew of any wealthy local tycoons tying to erect pompous monuments to themselves, I Wood let you know. For now, I'm just Milne it over. If any readers can offer examples, please get in touch.
Ozymandias
I met a traveler from an antique land
Who said: Two vast and trunkless legs of stone
Stand in the desert. Near them, on the sand,
Half sunk, a shattered visage lies, whose frown,
And wrinkled lip, and sneer of cold command,
Tell that its sculptor well those passions read
Which yet survive, stamped on these lifeless things,
The hand that mocked them, and the heart that fed;
And on the pedestal these words appear:
"My name is Ozymandias, king of kings:
Look on my works, ye Mighty, and despair!"
Nothing beside remains. Round the decay
Of that colossal wreck, boundless and bare
The lone and level sands stretch far away.
Percy Bysshe Shelley
Climate Change
Climate Change is a trendy phrase people throw around these days, but Old Susannah suspects climate change is just a lot of hot air. Granted, this is a rarely-used term and you probably won't come across it, but as the City Council finds it important, I will try to define it.
Apparently, the use of fossil fuels might possibly be giving off C02 gases and choking our atmosphere, causing damage to the ozone layer and trapping heat, thus warming the planet over time.
we all deserve a pat on the back for saving energy and reducing the production of C02 gases
I doubt there is much to this, as there would be some kind of evidence to support so wild a claim, such as a correlation between the burning of fossil fuels and temperature change, or freakish weather in terms of droughts or floods – like in Australia for instance – or changes in the oceans.
This is the 'greenhouse effect'. Let's see what our City Council makes of it all….
"The Council has signed up to the 10:10 climate change campaign, pledging to cut 10% of its carbon emissions during 2010.
The UK-wide campaign encourages individuals, businesses, schools, community groups and councils to work together to achieve a 10% cut in the nation's carbon emissions by 2010.
Aberdeen City Council was the first Scottish local authority to sign up to the campaign and was followed by Edinburgh City Council.  The UK-wide campaign encourages individuals, businesses, schools, community groups and councils to work together to achieve a 10% cut in the nation's carbon emissions by 2010″.
According to the Council's website, we all deserve a pat on the back for saving energy and reducing the production of C02 gases, which contribute to the greenhouse effect.  We have changed street lighting and we've got people off the roads into our efficient public transport system.
Our far-sighted councillors have also said that "The City Council also now measures all its policies, plans and purchases against their potential environmental impact".
This is why Union Terrace Gardens will be turned into a car park, and why we will take green fields supporting wildlife and build a stadium, miles from the town centre, so 21000 people can come to the 1400-space car park and marvel at the local teams and the glowing red light. Maybe we can all turn off our household lights and just see at night by the new glowing stadium, which will be lit in a lovely shade of red? I will try to find out if that's how the stadium meets the environmental impact statement.
Coming next week: a few definitions, and feedback from this Friday's open hearing on the Loirston Stadium development.
PS: I am dismayed to hear that some City Council employees are openly complaining about losing 5% of their salaries. Can these people please refrain from discussing the matter at work? You might cause some dissatisfaction with your co-workers, and that is something the Council has so far completely managed to avoid.
Remember – be happy and cheerful! After all, Lib Dem councillors have agreed to take the cut, so you should gladly do the same. Making funny remarks is not helpful either. I understand that your line managers have acted swiftly to stop these outbreaks of complaining – and rightly so – with a sympathetic, kindly, fatherly, gentle word to those few involved.  Thank you.