With thanks to Andy Kite.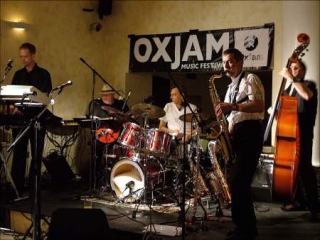 A fantastic opportunity to catch up with some of the best musical talent the city has to offer will take place this Saturday [23rd]  in venues across the town as part of the Oxjam Takeover music festival.
Oxjam is a UK wide event with festivals taking place in around 30 cities.
With 25 local bands performing across five city centre stages this Saturday, there has been a huge amount of preparation to get things ready for the Aberdeen gigs.
Andy Kite, Marketing Coordinator said;
"We've been working at getting the festival in place since May and there has been a great deal of planning to put it in place.  From arranging line-ups, venues, timings, promotion and fundraisers things have been very hectic but we've all enjoyed every minute.
"The bands have all been great and seem really keen to get involved so we are really confident of putting on a great event so we urge everyone to come along and have a great time.  We really want to contribute to the charity and raise as much money as possible while using the festival as a showcase of the talent we have in Aberdeen."
An eclectic line-up ensures there is something for everyone.
Both rooms in the Tunnels will be used with performances from Weather Barn (formerly Cast of the Capital), Le Reno Amps, The Deportees, Turning 13, Marionettes, Cuddly Shark, Eric Euan, Duke, Carson Wells and Katerwaul.
The Blue Lamp will serve up a party atmosphere featuring The Lorelei, The Gerry Jablonski Band, The Oxbow Lake, Chris Carroll and Flora Cook.
For those looking for something more reserved and intimate Enigma will host an acoustic night with the vocal talents of Jo McCafferty supported by The Kitchen Cynics, Craig Davidson, Sarah J Stanley and The Scandal Extracts.
Finally there will be a night of rock and roll on display at Cafe Drummonds with The Wildcards, Kashmir Red, Energy!, Emerald Sunday and Talking Sideways.
Tickets cost £5 and allow unlimited access to all stages and can be bought at One Up and www.wegottickets.com as well as on the door of each venue on the evening.  Doors open at 7pm with the first acts taking the stage around 7.30pm and there is an aftershow party at the Tunnels.  All money raised on the night is donated to Oxfam and contributes to Oxjam's overall fundraising targets.
More about Oxjam nationwide –
Oxjam Takeover events take place on 23 & 24 October in the following locations:
Aberdeen, Bath, Birmingham, Bournemouth, Brecon, Brighton, Bristol, Canterbury, Cardiff, Coventry, Edinburgh, Glasgow, Guildford, Huddersfield, Leeds, Leicester, Liverpool, London (Brixton, Leadenhall Market, Brick Lane, Kilburn, Kingston), Manchester, Neath, Newcastle, Nottingham, Sheffield, Southampton, Stirling, Stoke-on-Trent and Wiltshire.
More than 600 Oxfam shops across the country sell second-hand music – double the total number of independent record shops in the UK.
Oxfam shops sell around £6 million of music every year, which equates to around 1.8 million CDs and records every year, all donated by the British public. The largest single donation was of 4,000 vinyl albums to an Oxfam shop in Devon in 2008.
Oxfam has been one of the lead charities at Glastonbury since 1993, raising £2.7 million through stewarding the festival and signing up more than 400,000 people in support of its campaigns at the festival. Oxfam works at seventeen music festivals across the summer, stewarding, campaigning and selling festival fashion.