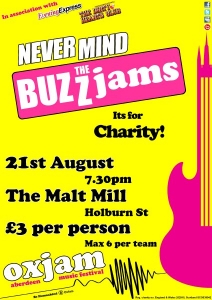 By Fred Wilkinson, with thanks to Andy Kite
Aberdeen music fans can look forward to a wealth of entertainment in October, whilst contributing towards efforts to tackle poverty.
Oxjam is a national event which hopes to raise money for Oxfam whose aim is to improve conditions for those living in poverty. It will take place at a number of venues in Aberdeen on the 23rd October.
Locally, the main event is the Aberdeen Oxjam Takeover featuring over 25 bands playing across five stages in the city. Marketing coordinator Andy Kite told Aberdeen Voice,
"The line-up is still to be confirmed at the moment but I intend to start releasing names towards the end of the month. It will mainly be local acts and we have secured some top names already"
Meanwhile, a number of fundraising events have already been rolled out in the lead up to the main festival day. One hair-raising event which took place last weekend was called 'waxjam' – a sponsored event which involved a pair of 'victims' being publicly waxed for the cause!
However, Andy assures us, "There are other events that are more civilised!
"We have our music themed quiz entitled Never Mind the Buzzjams this Saturday at the Malt Mill from 7.30pm, and The Battle of the Bands is the following Thursday (26th) at Cafe Drummond. We're just finalising the line-up for this and there are various prizes including a spot at our main festival day on October 23rd
For more information regarding Oxjam fundraising events this week, see Upcoming Events
Aberdeen Voice would like to thank Andy Kite for the above information and wishes Oxjam all the best of luck and success.