An exhibition of art celebrating the centenary of Alan Turing, the father of computer science, opens this week at RGU's Georgina Scott Sutherland Library. With thanks to George Cheyne.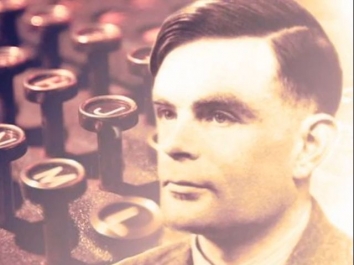 2012 is the 100th anniversary of the birth of Alan Turing (1912 – 1954), one of the greatest minds Britain has ever produced.
From inventing the digital computer and helping to decode the German Enigma machine to founding the science of Artificial Intelligence, the world today would have been a very different place without Turing and his ideas.
This exhibition, which reflects Turing's enduring influence on art and contemporary culture and has previously been shown at Kinetica Art Fair in London, brings together a number of important artists from digital art pioneers such as William Latham to emerging contemporaries such as Anna Dumitriu. 
Jane Kidd, curator of the RGU Arts and Heritage Collections says:
"This exhibition breaks down the artificial barriers between science and the arts.  
"RGU is at the forefront of Computing research today with the School of Computing and at the cutting edge of Art with Gray's School of Art, so it's great that we can bring both together in this exciting show to mark RGU's participation in the British Science Festival."
The exhibition is showing at the Georgina Scott Sutherland Library, Robert Gordon University, Garthdee Campus, Aberdeen from Wednesday 5th September until Friday 12th October, 2012.
Opening hours:
Monday to Thursday, 10am – 8-pm
Friday, Saturday and Sunday, 10am – 5pm