The latest online bulletin from Aberdeen Cycle Forum (hey, we're friends, let's call it ACF) carries items of interest to anyone who's taken advantage of the warm summer we've just enjoyed, to commute, exercise or just trundle a unicycle for leisure through Duthie Park. As their message says, 'It seems like autumn may be sneaking up on us'. Thanks to ACF.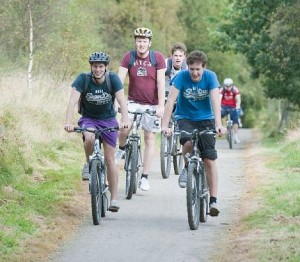 Aberdeen City Council has succeeded in persuading Pedal for Scotland to bring one of its rides to the city on Sunday 15 September.
It's a short ride of about four miles around the Beach, and it will be motor traffic-free.
It's specifically aimed at families or occasional cyclists and there's a small cost to enter
If Aberdeen and the NE's cyclists turn out in numbers, there's every chance that we might see bigger and better Pedal for Scotland events offered here in the future.
The council's also supporting In Town Without My Car on Sunday 22 September as part of European Mobility Week. ACF will be among several cyclist-interest groups at the event and will have a stall there on the day.  If you're interested in coming along to help out, and to talk to your fellow Aberdonians on the delights of pedal-powered transportation, you can contact ACF at info@aberdeencycleforum.org.uk  We'll carry the start time in Voice when it's been confirmed.
There's welcome news for those city centre two-wheelers, or unicyclists indeed, who stoically suffer jarred wrists and pain to their more delicate parts. The resurfacing of Union Street near Belmont Street, to replace the badly broken-up tarmac, is imminent. The Council has let ACF know that the smooth surface will be extended westwards over Union Bridge.
However, during the resurfacing, planned to take place between 9 and 27 September, the current cycle parking in the area is going to be replaced. New cycle stands have been ordered but may not be in place until mid to late October.  ACF's website will keep interested cyclists updated.
ACF has been working to identify potential Quality Cycle Corridors for Aberdeen and make them available on the Forum website. The first of these is the Westhill route, in the form of a .PDF outline suggesting what needs to be done to raise standards for cyclists along this major commuter corridor. Comments are invited from anyone interested.
Finally, Facebook users, asks ACF, don't forget to follow the ACF page. It's growing fast from a slow start and there are more than 100 Facebookers who now like ACF and get automatic updates as they are posted. One recent post was viewed by over 700 people. There's also been a significant number of new sign-ups to the Forum mailing list, probably connected to ACF's increased visibility.
So, goes the plea, 'Like, share, re-post or whatever, and we will slowly but surely raise the profile of cycling issues in Aberdeen'.
The next ACF monthly meeting is on Tuesday 27 August at 1930 in the Town House on Broad St. New faces are always welcome.
www.aberdeencycleforum.org.uk
Comments enabled – see comments box below. Note, all comments will be moderated.