A charity is appealing to cyclists to come along and pedal at Aberdeen's first ever bike powered pop up cinema on Sunday 7th August.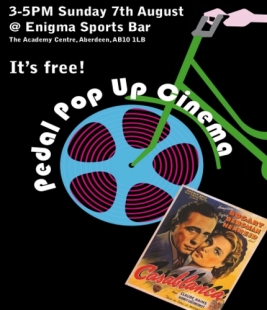 Cornerstone's pop up cinema, which will take place at Enigma Sports Bar between 3pm and 5pm, uses six stationery bikes to power a 2500 lumen digital projector, which will screen the classic Oscar winning film Casablanca. The event marks the launch of the Cornerstone Challenge, a new Oscar themed fundraising challenge.
Running from 1-30 September the Cornerstone Challenge invites participants to walk, cycle and run as many miles as they can to travel around to different Oscar themed destinations on a virtual map.
Vanessa Smith, Regional Corporate Relations & Fundraising Co-ordinator at Cornerstone explains:
"We thought a biked powered pop up cinema showing a famous Oscar winning film was the perfect way to launch the Cornerstone Challenge.
"We'd like to invite people to come join us for a pedal at this one off, free event. We need to keep all six bicycles going throughout the film for the projector to work, but no one will be expected to cycle the whole time and there will be plenty comfy seats to have a rest in. This really is an opportunity to see Casablanca as you've never seen it before, in Aberdeen's first ever pedal powered pop up cinema"
For more information, visit http://www.cornerstone.org.uk/event-details.php?id=pedal-powered-pop-up-cinema 
Cornerstone is one of Scotland's largest charities and a leading provider of services for people with disabilities and other support needs.
Cornerstone was founded by Nick Baxter in 1980 when he brought together a group of parents and professionals who were concerned about the lack and quality of services available to people with learning disabilities and their families.
Anyone interested in attending Cornerstone's pop up cinema should email:
lisette.knight@cornerstone.org.uk