In contrast to the local established press's slavering over the crazy golf antics at Menie, Andrew Baxter's film You've Been Trumped, premiered at The Belmont Cinema last Friday, gets behind the hype to expose the darker side of the saga. This is Sean Ashley's view.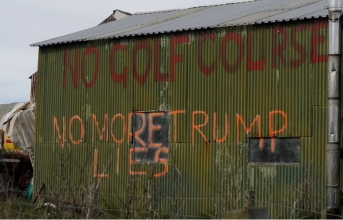 Last Friday evening I was very lucky in being able to attend the Scottish premiere of
You've Been Trumped
.
Tickets had sold out very quickly and although the Belmont Cinema had laid on an extra screening the following day, I wanted to be there for the premiere.
It was indeed exciting.
The film, produced by Richard Phinney and directed by Anthony Baxter, tells the story of unprecedented environmental destruction and the effect on families by the development of Donald Trump's golf resort at Menie.
In NE Scotland, the reality of what has been happening has often failed to be published by the local press and I wanted to see with my own eyes a truthful description of events.
The film began with a look at the family history of Molly Forbes, her son Michael and their close connection to the land and sea in this part of Scotland. This, if I were to be asked, was my favourite part of the film as it reminded me of Scotland's heritage and identity which could easily be forgotten if it were not for old sepia pictures and film stills, and, more importantly, memories of folk like Molly.
Further on in the film I witnessed the bullying and intimidation experienced by the families living in their own homes, but surrounded by Trump's estate. The level of contempt held by the Trump Organisation towards their peaceful living neighbours was astonishing.
Whilst watching, I felt angry and upset at the injustice the Forbes, Milne and Munro families experienced. Care and support for them from the authorities was blatantly non-existent.
I was also touched by the dignity of the residents and the suffering they have endured, often  unreported, but am very glad their voices have been allowed to be heard through this documentary.
I hope You've Been Trumped will be seen by many, many people.
* Stop Press – Additional screenings will be held at Belmont Picturehouse, Aberdeen:-
Friday 24 June at 6.30pm
Saturday 25 June at 1.45pm
Sunday 26 June at 6.30pm