As Voice reported previously, the Get-About Commuter Challenge 2011 ran between 18 and 26 June as part of National Bike Week. Its successes are highlighted by Carl Gerrard, Secretary of Aberdeen
Cycle Forum (ACF).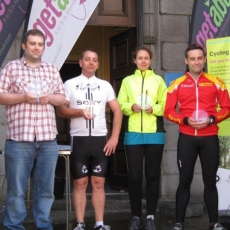 During
National Bike Week
, thirteen companies participated in the
ACF/Getabout Commuter Challenge
.
During the Challenge, now in its seventh year and its fifth in partnership with NESTRANS Getabout, a total of 958 return journeys were logged totalling nearly 5,000 miles. The majority took place between Monday and Friday, with a median distance of 4.2 miles.
With many participating saying that had they not cycled they would have driven, that's a significant reduction in traffic congestion, a saving of an estimated 800 litres or £1000 of fuel and a considerable contribution to alleviating parking problems in the city.
Carl himself said,
"The Forum has run the Challenge for a number of years now. Every year participation increases as employers realise the benefits to both themselves and staff from cycling to work. The mean distance shows that cycling to work is a viable alternative for many, and as transport costs and congestion increase, more and more are making the shift to two wheels"
This is the first year it has been a totally corporate challenge and twelve employers ranging in size from 12 staff to 15,000 competed in four categories, Small (12-50), Medium (51-300), Large (301-3000), Mega (3001-15,000).
Points were scored for the numbers cycling, journeys undertaken and for encouragement to people to cycle to work for the first time. Distance travelled did not affect the scores.
Once the scoring was totalled, the results were: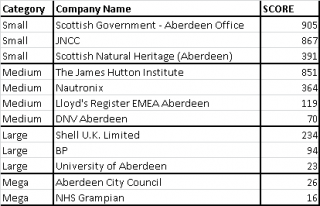 The calculation and a worked example can be seen on the Challenge website
Statistics don't tell the whole tale, of course, and anecdotes from some who enjoyed commuting solely by their own efforts show that cycling can be a fun, safe and healthy addition to the working day.
"Many of our staff already choose to cycle to work, but challenges such as this have encouraged
those that haven't previously done so, to give it a go. Some of this year's participants told us that they first started cycling during last year's challenge [as the Macaulay Institute, they came second],  and have been regularly cycling to work ever since"  – Ben Watt, James Hutton Institute
"We're delighted to have won a trophy in the Cycle Challenge. It's the first time I've cycled to work in Aberdeen and I was amazed at how quick the journey was. I'll definitely be cycling to work again". –  Pauline Innes, Aberdeen Office of the Scottish Government
"We were delighted with the response we got from so many diverse companies and hope we can build on the progress we've made in future events." Donald Kent, Getabout Coordinator
"I'm delighted that our campaign of encouragement has paid off and we now have more bike commuters than ever. The benefits for cycling to work speak for themselves – our staff are leaner, greener and keener than before." –  Paul Hasting, Shell's Bike User Group Coordinator
Aberdeen Cycle Forum began in 2003 as a voluntary organisation campaigning for better facilities for cyclists in Aberdeen and has worked with stakeholders to deliver improvements for cyclists in the city, such as advances stop lanes at junctions on Union Street, and on capital projects such as the upgrading of the Deeside Line.
It now has 250 members and is recognised by the Scottish Parliament, local authorities, police, other governmental bodies and the media as representing Aberdeen cyclists; its recent count showed cycling levels in Aberdeen have increased in the last 12 months in line with national data.
http://www.aberdeencycleforum.org.uk
NESTRANS is the regional transport partnership for Aberdeen and Aberdeenshire. Its objective is to develop and deliver a long-term regional transport strategy and strategic transport improvements to support and improve the economy, environment and quality of life across the region.
http://www.nestrans.org.uk
Getabout, operated by NESTRANS, is a consortium working to promote a healthy and sustainable transport choice for everybody travelling within the region, and beyond.
http://www.get-about.com