With thanks to Carl Gerrard and Grampian Police.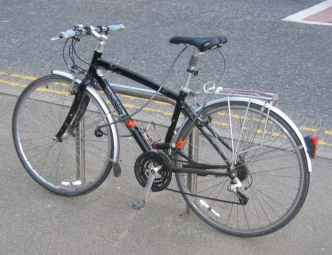 Bicycle theft in Aberdeen is on the increase and police say it's largely because people are not taking simple precautions. As bicycle use increases it appears that opportunities for thieves is also on the rise.
Grampian Police are delighted to be working with The Aberdeen Cycle Forum to try and remind all cyclist across Aberdeen to take proper security precautions to look after their bikes.
Constable Kevin Murray of Aberdeen Division Crime Reduction Unit Advised:
"I would ask all bike owners to take a little time to think about the exact location you are going to, how you will secure the bike and what you are going to secure it to in the street.
"This thought process can assist in preventing the bike from ever being stolen in the first place.  Most thefts are still opportunist and even if you are just going into a shop for just a couple of minutes that is sufficient time for someone to steal your bike."
Constable Murray continued:
"A simple but effective method of securing your bike in the street, is to lock it, using a good quality lock such as a 'D' lock, at the dedicated bike bars found in and around the city centre. Also consider securing it to immoveable street furniture which is in line of sight of a public space CCTV camera."
Carl Gerrard, secretary of the Aberdeen Cycle Forum told Aberdeen Voice:
"Since 2008 cycle use has increased 20% inAberdeen. It's a sad fact that cycle theft has also increased.  The good news is that by following a few common sense tips on the ACF website (www.aberdeencycleforum.org.uk) cyclists can both greatly reduce the chance of becoming a victim and increase the chance of getting their bike back should the worst happen."
"Having your bike stolen results in both financial costs, and the inconvenience of having to use another mode of transport.  We are delighted to be working with Grampian Police to raise awareness in this area."
Only 10% of the bikes recovered by Grampian Police are returned to their owners due to the poor descriptions, however, owners can ensure their chances of having their vehicle returned is increased.
Constable Murray added:
"In an effort to improve descriptions provided to police  I would like to remind all bike owners to utilise the Bike Passport form which can be found on the Grampian Police website under the crime reduction pages of the advice centre section.
"It is difficult to give the police or your insurer an accurate description of your bike once it has been stolen, however if once you purchase your bike you security mark it, complete this form, which includes an image of your bike and keep it safe, it will provide a more accurate description of your bike to increase the chance of officers being able to reunite you with your stolen pedal cycle if recovered."
For more advice on bike and shed security visit The Aberdeen Cycle Forum website at www.aberdeencycleforum.org.uk or contact your local Crime Reduction Officer on 0845 600 5700.