Voice's Suzanne Kelly joined those gathered outside Lush cosmetics in Union Street in Aberdeen to welcome the 5 campaigners from Lush in Edinburgh who had cycled all the way from our capital city,  collecting support, and highlighting opposition to Aberdeen City council's proposed, unnecessary cull of roe deer on Tullos Hill.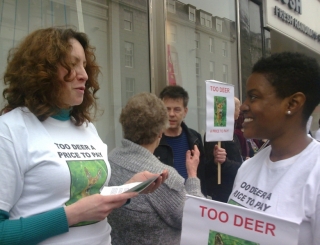 12:30pm on Wednesday 20 April – an intrepid group of 5 Lush Edinburgh staff cycle the last few minutes of an epic trek from the Lush Edinburgh shop to Lush Aberdeen.
They are all kitted out in T-shirts with a photo of a deer, with the slogan 'Too Deer A Price To Pay.'  They are here in answer to Aberdeen City's Council's threatened – economically motivated – deer cull.
The Committee told Aberdeen citizens and animal lovers:  Give us £225,000 by 10th May for fencing and tree protectors – OR WE WILL CULL THE TULLOS HILL ROE DEER.
This shocking, outrageous move by the City has prompted outrage throughout not only Aberdeen, but also throughout the world and amongst the major animal rights organisations.  The City has been largely silent on the matter, and was not answering this writer's questions and the many pleas against the cull.  Local groups became active against the cull; Animal Concern started campaigning, and Lush got involved.
A team of over a dozen local animal lovers, animal rights activists and concerned people from all walks of life were on hand to give the cyclists a warm welcome. There were anti-cull campaigners from all over Aberdeenshire, Philadelphia, Australia and everywhere in between.  They carried signs and handed out hundreds of flyers to passers-by and many passers by stopped to chat and voice their concern – and anger – over the Council's threatened cull.
I spoke with Helen Patterson; she had heard about the cull on SHMU FM, Aberdeen's local station.  She phoned into the programme and has been following the matter ever since, and in her words:
"this cull is just terrible."
The Lush involvement pretty much started when local campaigners had asked Debbie, manager at Lush Aberdeen if Lush would make the petition available in its shop for customers to sign.  She sought approval and then things began to take off.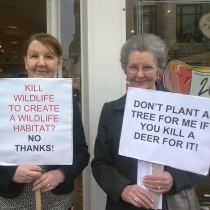 These Lush employees who spent days cycling here to highlight this sad state of affairs, also did it on their own personal
holiday time
.  The Lush team – who are cyclists: Alan (trainee Manager at the Edinburgh shop), Hannah, Karen, Ross and Josette – truly gave a shot in the arm to campaigners here.  Within an hour of their arrival, local radio Northsound and Scottish TV came down to cover the story. Lush had successfully given the issue much-needed publicity.
The cycling event is only one part of what Lush is doing – Erica from Lush did not cycle up – she had been working round the clock managing this event and its many aspects.  She tells me:
"Each Lush shop has a green helper and environment representative – which is what I am.
"We keep an eye on issues, and I have been working on press releases, posters, and Facebook updates."
Lush are giving the campaign a boost by promoting the issue on their famous, long-running 'Charity Pot' moisturiser.
Lush supports an astounding number of environmental, animal and human welfare initiatives around the globe; sales from the 'Charity Pot' moisturiser go to these charities.
The labels for the pots describe the different projects; I bought one some time back which was for an organisation opposed to the massive 'wall of death' fishing techniques which are depleting our oceans indiscriminately and killing seabirds.  Hundreds of people visiting the Edinburgh shop were shocked to hear of this situation, and have been signing the petition and buying the 'Charity Pots.'
Lush has always shown this dedication to environmental causes.  Its products are never tested on animals; the natural ingredients are responsibly sourced and worldwide producers are paid fair value for their ingredients.  There is no animal testing – but there are moves afoot in the EU which may make animal cosmetic testing a horrible reality again.  If this worries you, then please contact your MEP, do some research, and say NO to this potential bureaucratic threat.
How can you help the deer?
Sign a petition – information can be found on Facebook – search for 'Tullos Hill Roe Deer'
– or drop into Lush (Union Street near Market Street)
Write to Aileen Malone, Convener of the Aberdeen City Housing & Environment Committee
Contact your local City Councillor and tell them what you think.