On Friday December 14, The Tunnels played host to Bin Laden's Daughter plus a generous selection of four support acts. Andrew Watson was in attendance to review for Aberdeen Voice.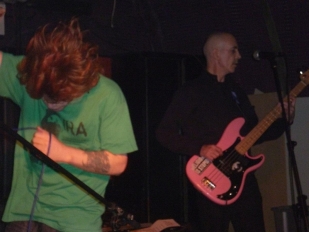 My inaugural visit as a gig reviewer to The Tunnels could be described as time spent in a shite venue reviewing reasonably good bands.
Anyone who gigs regularly will tell you that, usually, venue quality ascends from the pits of The Tunnels, to Cafe Drummond, The Moorings and then The Lemon Tree. After that, you're usually in the limelight in places like the Music Hall and the AECC.
The only place possibly worse than The Tunnels is Cellar 35.  Not only is the sound crap in the latter, but there's barely any room to move.  Forget nonsense about intimacy and all that!
Anyway, enough bashing of The Tunnels because the sound wasn't too bad this time round.
First up were Dead Hermit Peepshow, fronted by Obscenities guitarist Johnny Morrice:
Dead Hermit Peepshow are NOT a blues band.  Blues was developed by black musicians. Goth was developed by musicians who dyed their hair black.  Important distinction.
Yeah, a quirky lot they were. They were an engaging opening act, playing riffs a night crawler would probably use as a backdrop to a totally dastardly, though slightly comical, jewel heist – shifty eyes, and all! Even just the novelty of hearing headbanging guitar work played out on a semi-acoustic was enough keep punters interested.  The crowd asked Johnny if the instrument in question was the one with the hole in it…
Erm, well it had an excellent varnished surface.  Maybe a mahogany table put together with pinewood neck and cheese wire strings? Ironically, they're best described as melding the lyrical mores of 'goth' bands like The Cure, spider-eating-me-for-dinner and all that, and well…the blues!
Certainly one number that stuck out, towards the end of the set, had the rhythm of the blues infused with the subversive, youth corrupting values of films like the The Rocky Horror Show. Did I tell you they also, complete with a corset-wearing woman sharing vocal duties with our Johnny, concluded with 'Time Warp'?  A sight to behold!
Next up were The Obscenities.  Forgive this writer if he's got slightly more insight into this band than the others, for he used to be the bassist! Anyway, currently touring their The Judge Is Guilty EP, they did what could only be described as blowing the door off the hinges.  Debuting a much faster, more intense version of the aforementioned title track, they rocketed through their set with panache.
A lot of pent-up angst and frustration was particularly personified by the singer
The world of difference between a band that often ended their performances with this barnstormer, and this new-look line-up, was sizeable. The audacity to begin proceedings with this song paid off as the reaction surpassed anything they ever received from the punters when deploying this 'finale' previously.
Bry Parasite, switching from guitars to his first instrument, the bass, played with an almost overwhelming electricity on his overdriven four-stringer. New boy Johnny gave, to put it bluntly, a clarity to the six-string scratchings, originally penned by Bry, unseen until now.  Put succinctly, the band were far more comfortable in their playing than they've ever been.
They flagged somewhat between the middle and end of the set, but recovered remarkably. Whether that can be put down to yours truly contributing bass on one of the tracks, I couldn't possibly say!
Slave System came on afterwards, and were a band said to be performing for the last time. They had the mark of a band amidst an acrimonious swansong.  A lot of pent-up angst and frustration was particularly personified by the singer and how he interacted with the guitarist, "No. You're playing the wrong song," etcetera.
Without doubt the focal point, the singer had an androgyny about him that was a cross between David Bowie and Trent Reznor of Nine Inch Nails. The guitarist was more like his glam rock foil:  white jeans, cowboy boots, scarf.  All very T-Rex.  Or perhaps more like Bowie's late axeman, Mick Ronson?
Truth be told, I wasn't looking forward to this band.  The last time I'd seen them was my last gig with The Obscenities, and they didn't seem to have the courtesy to 'blood' their bass player properly. By that, I mean have mercy on them and let them gel into the band, before exposing them to the potential ridicule from an audience.
This is nothing to do with whether or not they only picked up a bass yesterday or the day before, but giving them sufficient time to absorb song structures and riffs. If you have the attitude that it's 'only' the bass so-and-so's playing, then your performance will suffer and it will be your fault, not theirs.
But I digress.  Slave System now had yet another bassist, and, thankfully, he seemed to get right into the pocket rhythmically for most of the songs.  It's strange, though, how his difficulty with some of the material, probably sprung on him the night before, complemented the performance. The undercurrent bubbling away seemed to come to the fore, in an explosion of what could only be described as awkward. When he figured out what he was meant to be playing, the song kind of lost its magic!
Way up the fretboard, his high-register fills were a joy to watch
It was only venerable members of established instrument shops embarrassing themselves in drunken stupor that enhanced viewing pleasure during the rest of the Slave System set.
The main support act for the night, [ ], or Wall, are a powerful duo of drum and bass.  The casual observer would probably draw comparisons to Death From Above 1979, though I'd say, bar overdriven and effects-laden bass, there's slightly more to them than that. The sound they produced wasn't too far off from the thump you'd hear in a club, yet the drummer was a powerhouse and very inventive. This belied the general focus upon brutality and rhythm, rather than melody.
When the bassist broke free from holding down three jobs – bassist, lead and rhythm guitarist – he was somewhat reminiscent of Chris Squire from prog-gods Yes. Way up the fretboard, his high-register fills were a joy to watch. If Chris Squire roared like a lynx, you'd get to somewhere approaching how this ace of bass sounded when he began introducing vocals to an almost entirely instrumental set.
Think Anders of In Flames before those death metal gods began toying with keeping with the times and, erm, nu-metal.
The front of the stage draped with a Palestinian flag, and lead singer resplendent in an emerald green IRA t-shirt, headliners Bin Laden's Daughter looked every bit as controversial as they sounded. Though your erstwhile reporter was likened to a member of the National Front, he enjoyed himself as much as one could after such an accusation.
If I were a tad more self-conscious I wouldn't have had any fun at all.  Seeing as I couldn't respond in affirmation of whether or not I was a Chelsea-supporting Head Hunter, what, with my track record of poking fun at sons of Rangers legends, my reputation as a fairly upstanding member of society remained intact!
However, my position as contributor to Aberdeen Voice is perhaps under threat due to my positive response that I was indeed a fan of The X-Factor. Well, if he can have a joke at my expense, why not vice versa?
All round, a good night!