Aberdeen Voice's David Innes reviews ¡No Pasaran! (They Shall Not Pass) – Scots In The Spanish Civil War (Greentrax Recordings)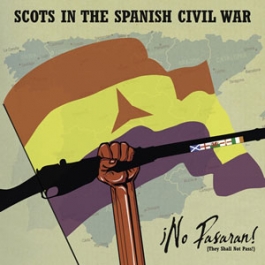 Alas, there are few, if any heroes left of the International Brigade who fought for democracy in Spain in the 1930s. They were in the vanguard in fighting the inevitable battle against Fascism which would result in the slaughter and waste of a second World War in less than a quarter of a century.
Those who left the UK, and Scotland in particular, are enduring heroes of the left, and of freedom fighters everywhere.
There are memorials and books and commemorative gatherings for these brave socialists, but their dogged idealistic commitment and shared suffering led to great folk art.
Greentrax Recordings are to be commended for compiling the best of the Scottish Civil War songs and poems on a terrific and moving collection.
When the idea for the album was suggested, the compilers were staggered by the wealth of songs and poems available. They were heartened too, by the offers of new material on the theme. Editing the selection down to fifteen songs and a poem must have been a difficult task. Might we expect a second volume?
The collection veers between stirring anthems, none better than the joyous singalong Jarama Valley/Bandiera Rosa, the tender – Jamie Foyers and Si Me Quieres Escribir and simple stories of working class idealists who saw beyond the romantic adventure of the fight for freedom, yet still regarded it as a calling and their duty to enlist. Hasta Luego, a moving tale of a football fan leaving his younger brother at the turnstile to travel to Paris there and then, en route to Spain, is among the best of these.
A highlight for Aberdonians, though, will be local Brigadeer Bob Cooney's Hasta La Vista, Madrid. Some of us were privileged enough to hear Comrade Cooney read this himself at meetings in the 1970s. This version, impeccably inhabited by Radio Scotland's Iain Anderson, gives wonderful and moving expression to a rich, celebratory poem full of defiance and hope, scarce currency these days.
It is a fitting coda to a heart-stirring and emotional tribute to the immortal International Brigade.
Tracks: The Peatbog Soldiers (The McCalmans); Jamie Foyers (Dick Gaughan); Jarama Valley/Bandiera Rosa (The Laggan); Another Valley (Geordie McIntyre); Si Me Quieres Escribir (If You Want To Write); (Christine Kydd); These Hands (The Wakes); Owt For Nowt (John Watt); Viva La 15th Brigada/Viva Nicaragua (Carlos Arredondo); Picasso Paints Guernica (Robin Laing); Graves In Spain (Eileen Penman); When The Call Comes (George Archibald & Ian McCalman); Salud International Brigade (Jim Brown); Viva Los Brigadistas (Alison McMorland & Geordie McIntyre); Hasta Luego (Frank Rae); ¡No Pasaran! (Gallo Rojo); Hasta La Vista, Madrid (Iain Anderson)
Comments enabled – see comments box below. Note, all comments will be moderated.