For those who love Led Zeppelin, this film has been a long time coming.  Was it worth the wait?  Did it capture the concert as it was?  Does it give the viewer the real taste of the legendary O2 concert? Absolutely. Suzanne Kelly reviews Celebration Day.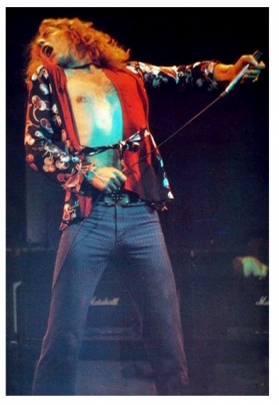 If you  have the remotest interest in the fathers of all things metal, you have to see this film.  It delivers the concert as it happened.  I was one of the lucky 20,000 who managed to get a ticket to the  O2 for the one-off Led Zeppelin concert (over 4 million people applied for tickets via the online email lottery), and I can honestly say I felt as if I were back at the O2 and that no time had elapsed between the movie and the concert.
The problem for most bands playing live let alone making a concert film is that a certain level of musicianship is essential.  A concert film is going to capture for posterity any errors, wrong notes or bad musicianship; undertaking to do a concert film of a one-off concert is an act of bravery.
By way of illustration, one of the worst acts live I will ever see was the Scandinavian outfit, The Cardigans. 
Their music was never very complicated, yet when they tried to play the Astoria some years back, they had to re-start one particular (otherwise wholly unmemorable) number three times.  Every member of Led Zeppelin is a consummate, dedicated, hard-driven professional, and the years haven't remotely changed this fact.
The sound mastering in this film is genius; even without the film to back it up, the soundtrack would assuredly be flying off the shelves on the release date, 19 November.  This is as expected; Page's standards in particular for delivering sound are unrivalled.
The pressure on all the acts performing on the night was immense.  Pressures included the fans and their expectations; the desire to give a fitting tribute to Ahmet Ertegun, the man behind the iconic Atlantic Label; the movie being made and so on must have been an immense weight to perform under.  As Jones told a German interviewer earlier this week, the first thing they said to each other after the show was 'We did it.'
The certainly did.
There was much speculation what the first song would be; it was in the end 'Good Times Bad Times' – the first track on the first side of their first album, fittingly enough.  The film takes you through the concert song by song just as it happened.  Visually there are nods to the earlier (and shall we say 'quirkier') Zeppelin film, 'The Song Remains The Same'.  Special effects  from that earlier work are gently given the nod, particularly in some of Page's solos.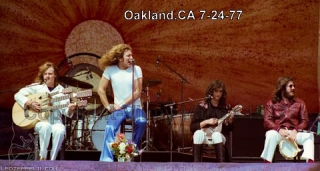 Perhaps the best thing for me is the film's close-ups of his unequalled solos.  I could single out work during 'In My Time of Dying' or 'Dazed and Confused' as personal favourites, but every bit of Page's solos are blistering.  When not in frenzied guitar attack mode, the film captures the spectrum of his work from ice cold blues (opening of 'Dazed') to triumphant pure rock ('Rock and Roll' – an encore).
Robert Plant in some ways had the most pressure on him of the four.  He had to relate to and engage with  20,000 fans as well as turn in as flawless a vocal performance as possible.  You can tune guitar and keyboards, but achieving vocal perfection is another matter.  Plant's voice was required to span quite an octave range and sustain notes for longer than most of us can even hold our breath.  Performing this repertoire was a very tall order.
Verdict:  complete success on all counts.  Whatever it is Plant had in his 20s, he's still got it now.
They say an army marches on its stomach; complex, layered metal with intricate time signature changes is reliant on a rock solid rhythm section.  They said in the past that John Paul Jones was part man,part metronome, and part god; I'll give him that.  One minute he's finishing a bass performance, the next instant he's playing the introduction to 'No Quarter'.  This film has in Jones the best all-round, most versatile rockstar musician of our (or any) age captured perfectly, as he turns in a perfect turn.  Jones is one of the reasons this band was far more than the sum of its parts.  If the word 'gestalt' hadn't existed before Zeppelin, it would have had to be coined because of them.
It was very pleasing that the film's creators devoted many frames to Jones; it was well deserved. Likewise was the attention paid to original percussionist John Henry Bonham's son, Jason.  Jason Bonham was amazing, and the camera has caught moments of his performance that you just couldn't see well enough on the night.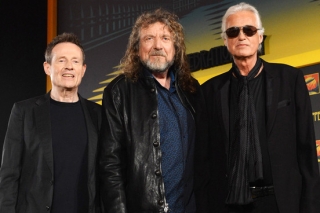 Words fail me – everyone who cares about Zeppelin (dare I say loves them?) missed John Bonham – but it was fitting his son got this coveted percussion role – and the son did his father proud.
This is the quintessential metal / rock / blues / innovating act of our time captured honestly and if you don't mind the word 'vibrantly' in their brilliant final performance.  It does what it should do, and if you are of the Led Zep loving set, you gotta see this movie.
Note to the woman who I stopped from taking photos of the screen during the show.
You were astonished and asked 'why not?' as to why it was wrong to make any recordings/take pictures.  I don't care if you wanted pictures for  personal reasons or to share – you quite simply don't  have the rights to a piece of work people spent years creating.  Your £10 ticket was for looking at the show.
Note to everyone: 
Please buy the official product when it comes out – and help the  music  and film industry which are suffering – definitely from piracy.  It might not be the top stars who suffer financial crunches caused by free sharing of product – but there is a whole long list of people behind the scenes who are going to suffer if people don't pay for product.
No, this isn't a very popular line to take – that's fine with me.  But remember the fifth member of Led Zeppelin who sadly is no longer with us:  the best manager in the world ever, Peter Grant.  Grant fought long and fought hard for musicians to be treated well and paid well.  There is a memorable scene from 'The Song Remains the Same' in which Grant confronts people selling illegal/unauthorised merchandise; Grant says  sarcastically and angrily
"as long as there's an extra nickel to be drained by exploiting Led Zeppelin, that's fine…" (with a few choice expletives thrown in).
It is because of Grant that Led Zeppelin didn't suffer the fate of many American blues and Motown artists and writers, who died in poverty.  Thanks to Mr Grant, and I'm glad themusic industry gives out a Peter Grant manager award marking his achievements.